6 amazing villas in Elounda that you have to visit | Traveler by Unique
Crete, Lasithi, Elounda
16 GU | 8 BD | 8 BA | Private Pool | From: € 1880/nt
By perfectly balancing the cosmopolitan atmosphere of Elounda with the ultimate serenity, Ikaros Villa is a unique property in the area. Within the 456 square meters of the interior, Ikaros Villa has a total number of eight spacious bedrooms. The architectural design follows a contemporary and modern style while showcasing the Greek minimalism at its finest. Travelers choosing Ikaros Villa will be able to enjoy the modern and lavishing setting that the villa has to offer. More precisely, Ikaros Villa has a spacious and open plan common areas with high ceilings. Elegant touches that create a sense of coziness, such as the fireplace in the living room, were carefully selected to provide the maximum comfort.
Ikaros Villa offers exceptional views over the deep blue sea from the outdoor area. A private pool with comfortable lounges and sunbeds are also available for the visitors' entertainment. The property also features a private gym room for those who wish to follow their everyday exercise program even during the holidays. The breathtaking views over the sea, along with the sense of seclusion are among the main characteristics of this exceptional property in Elounda.
Book now: villas.byunique.com/ikaros-villa-elounda
Crete, Lasithi, Elounda
9 GU | 4 BD | 4 BA | Private Pool | From: € 590/nt
White Pearl Villa is an exceptional accommodation option located in the cosmopolitan area of Elounda. Just 300m away from the beach and with an incredible sea view, this property provides the perfect combination of a peaceful environment with elegant comfort. White Pearl Villa covers a total area of 285 square meters and can accommodate up to 8 guests. The architectural and interior design is characterized by a minimalistic approach with the necessary luxury doses.
Along with the spacious and modern bedrooms, guests can enjoy some extra features that provide the maximum possible comfort. These features include, among others, a playroom with a pool table and a private gym. In the outdoor area, sophistication and minimalism are once again paired and produce an exceptional result. Guest can swim in the large private infinity pool that the villa has and enjoy sunbathing in the garden. White Pearl Villa is an exceptional property as it provides privacy in a cosmopolitan environment and amenities that make guests feel like home.
Book now: villas.byunique.com/white-pearl-villa-elounda
Crete, Lasithi, Elounda
8 GU | 4 BD | 4 BA | Private Pool | From: € 2875/nt
The Royal Spa Pool Villa is located in the cosmopolitan area of Elounda and forms an exquisite example of extravagant architecture with an overdose of luxury. The property can accommodate up to 8 visitors in spacious, comfortable and elegant bedrooms. This villa provides the necessary privacy due to its size and its location. Fully furnished with an influence of modern and upgraded luxurious style, the Royal Spa Pool Villa provides the ideal landscape for those who seek to feel like home. Open plan common areas, a sauna room, and a private gym, are some of the key characteristics of this extraordinary and extravagant property.
The villa was designed to provide a sense of tranquillity and relaxation to its guests. In accordance with this, the outdoor area illustrates an elegant character and a flawless relaxing atmosphere. More precisely, the outdoor space includes a large infinity pool, a Jacuzzi and a garden where guests can enjoy sunbathing. From the garden, visitors can also enjoy imposing sea views and a truly irresistible landscape.
Book now: villas.byunique.com/royal-spa-pool-villa-elounda
Crete, Lasithi, Elounda
8 GU | 5 BD | 3 BA | Private Pool | From: € 1490/nt
Villa Elounda majestically stands on the infamous Elounda beachfront. With a total capacity of 8 guests, this property is the ideal luxurious getaway for memorable and pleasurable vacations. Villa Elounda is a great example of splendid architectural design that is perfectly paired with the beautiful landscape. The interior includes touches of fine elegant design with a modern twist and meets even the high end expectations. The property has ample open space common areas that are ideal for gatherings and features large windows that allow sunlight to enter the Villa.
In what regards the outdoor area, Villa Elounda includes a pool where guests can enjoy swimming and sunbathing. The outdoor area is ideal for majestic and breath-taking views over the blue sea. In addition, the Villa has a specially designed barbeque area for joyful moments. As Villa Elounda is located right next to the sea, the property has direct access to the beach for those visitors who wish to spend some time under the Cretan sun and swim into the crystal clear waters of the bay.
Book now: villas.byunique.com/beachfront-villa-elounda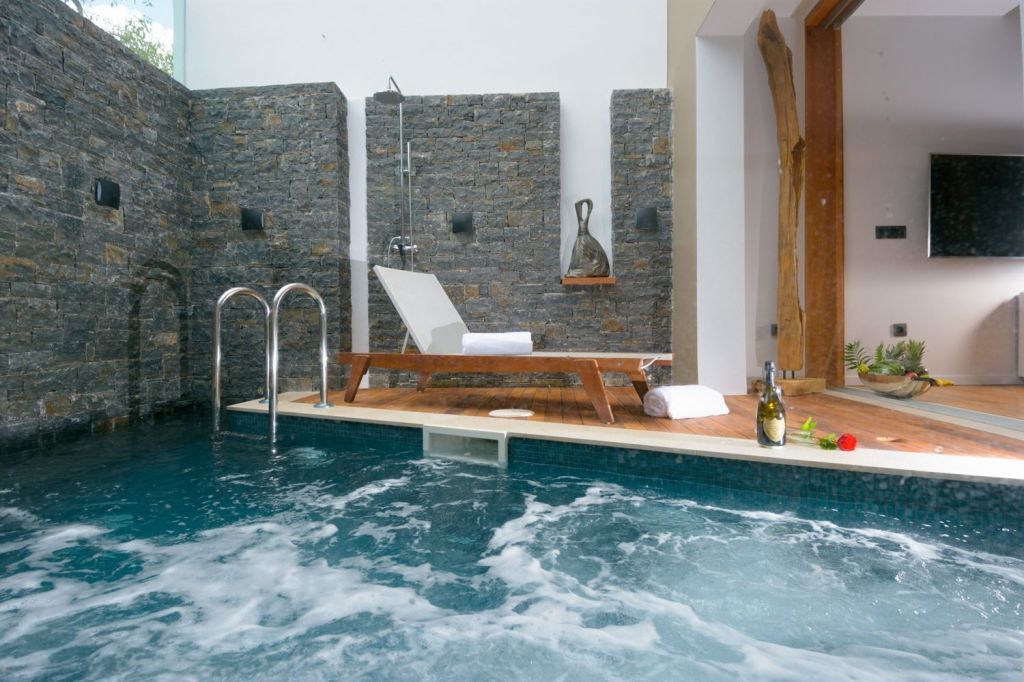 Crete, Lasithi, Elounda
5 GU | 2 BD | 3 BA | Private Pool | From: € 300/nt
This newly constructed villa in Elounda forms a great option for small groups of friends or for families who wish to spend their holidays in an exclusive and elegant setting. With two bedrooms designed to provide the necessary doses of comfort, relaxation, and serenity, Casa di Plaka Elounda is definitely what you are looking for. The property is fully furnished, equipped and follows a minimal, yet contemporary style.
The open plan designs of the common areas, as well as the large windows which allow ample daylight, create a unique sense of warmth within the villa's interior space. In the outdoor space, Casa di Plaka has a large terrace with a private pool. Sunbeds and comfortable lounges are available in order to enjoy the most of your experience. The most interesting highlight is that Casa di Plaka overlooks the Island of Spinalonga which forms a famous tourist attraction.
Book now: villas.byunique.com/casa-di-plaka-elounda
Crete, Lasithi, Elounda
6 GU | 3 BD | 4 BA | Private Pool | From: € 790/nt
The list with the most amazing villas to visit in Elounda also includes the astonishing Spring Villa. This three-floor property is the perfect option for those who wish to enjoy as much privacy as they want. More precisely, the villa has a bedroom, a living room, a dining area and a kitchen on every floor. The abovementioned allows visitors to act autonomously while enjoying their holidays. With an interesting architectural design that combines contemporary with traditional Cretan elements, Spring Villa has everything needed for pleasurable holidays. This property targets visitors' entertainment by featuring a private heated swimming pool, a Jacuzzi and an outdoor bar. From the villa's garden, travelers can enjoy breath-taking and magnificent views over the Mirabello Gulf.
Book now: villas.byunique.com/spring-villa-elounda