Probably you will prefer to do a sailing trip for 1 week (7 days) in the Aegean to see many islands. If you want so, you can find many sailing companies which are able to rent you a sailing boat (of course if you have a diploma of sailing a boat) or, if you want, you can travel with a captain at a private cruise to this two islands! Of course, you have the opportunity of sailing from Mykonos to Santorini without making stops but if it is more preferable, you can have a small taste of other Aegean islands like Naxos, Paros and Ios! The sailing cruise starts in Mykonos, and the cruise will be your ultimate fun trip!
Sailing cruise is the perfect thing for adventurers who are looking for fun and party, for those looking for super activities like swimming in the Aegean sea, free fall (if it is possible) from the sailing boat, doing a body painting party onboard or just for those wanting to explore the hidden gems of Aegean Sea!
Starting with Mykonos where you will be able to find the perfect beach party locations like Cavo Paradiso, Paradise and Super Paradise beach or explore the sparkling white island's architecture in contrast to the blue colors of the sun and sea reflected in their walls you will make your next stop at the island of Naxos!
An amazing island which you can explore its huge beaches like Agia Anna and Agios Prokopis beach, eat amazing ice cream at Plaka and then, meet the extraordinary registered trademark of the Naxos, Portara! Portara; is the only and one sign in the middle of the Aegean sea which will make you believe that everything else is lost in front of its endless blue! Don't forget to take a bottle of Kitro Naxou, a liquor with a lemon taste that can be perfectly be accompanied with the traditional cheese of Naxos island, "graviera"!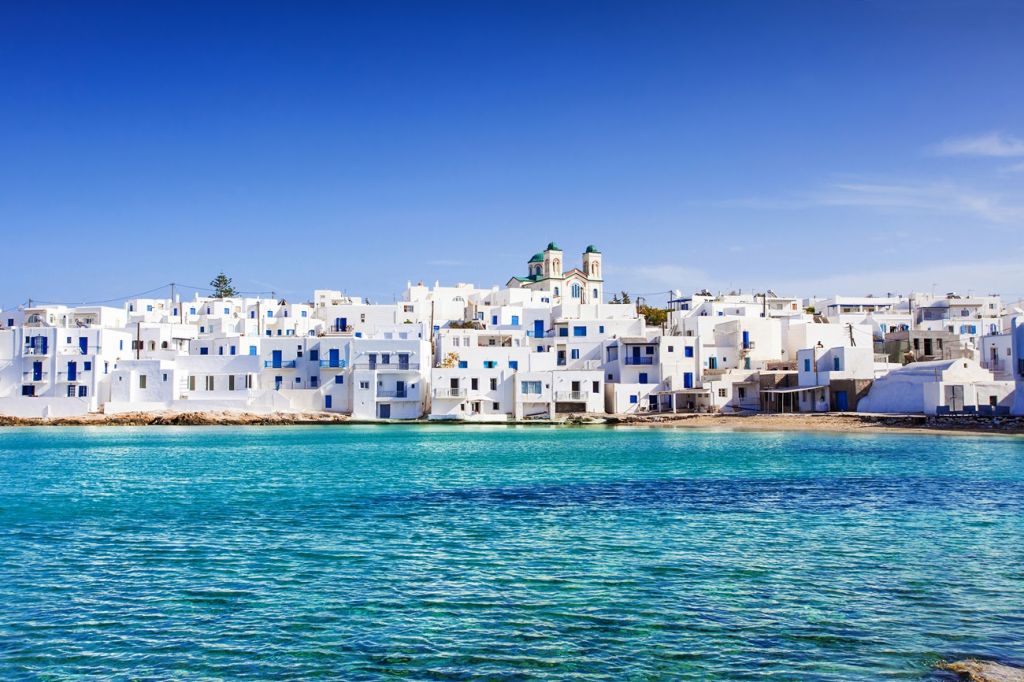 After that, get ready to sailing again, this time to Paros island! A very close island to Naxos where you will have the time to explore the white washed houses and the beautiful old town. If you want to explore the beaches, then take your boat at every beach but especially at Santa Maria or the New Golden Beach! The most of the beaches in Paros island are wind-surfers friendly! Leave your sailing boat there and let's explore the beaches of Paros island and Paroikia the capital of the island which is one of the most typical Cycladic settlements.
Now it is Ios island turn! When your sailing boat will arrive at Ios island, try to leave it at the Mylopotas beach! There, you are able to take a speed boat to do your safari on the beach! Also, you are able to book a jet ski and jet packing or doing whatever of waterspouts you want! Ios is an island all about fun!
Departing from this island, you will be sailing for a couple of hours before facing in front of you the extraordinary island of Santorini! The first thing you will see is Oia! You should stay at Oia and watch the magnificent sunset which is the best in the world! If you want to know more about the sunset in Oia, then check your Instagram feed and get inspired from the stunning colors! Everyone posts images from the most picturesque island (and sunset) in the world!
Also, the whitewashed houses make your view a little bit more amazing! At your sailing boat, you can have a romantic dinner during watching the sunset and after that, you can leave your sailing boat and go to Oia for a drink or for a romantic walk. The next day, you will explore the rest of the island. You will find amazing beaches like Kamari beach or Perissa beach! On this island, you will find beaches with black sand, white and red sand too! Amazing feeling! Also, you will go to the Santorini's volcano! You will love this place especially if you are in case to walk next to the craters! Don't forget that Santorini's volcano is an active volcano and perhaps you will see a little bit of smoke from its craters! You will have many things to see and fall in love with them. Of course, most of all, you will love Santorini island and definitely, you will love the Aegean Sea with its islands and its amazing blue water! Greece is the most beautiful place in Europe!
Greek islands are the most amazing islands in the whole world! Try to explore them!