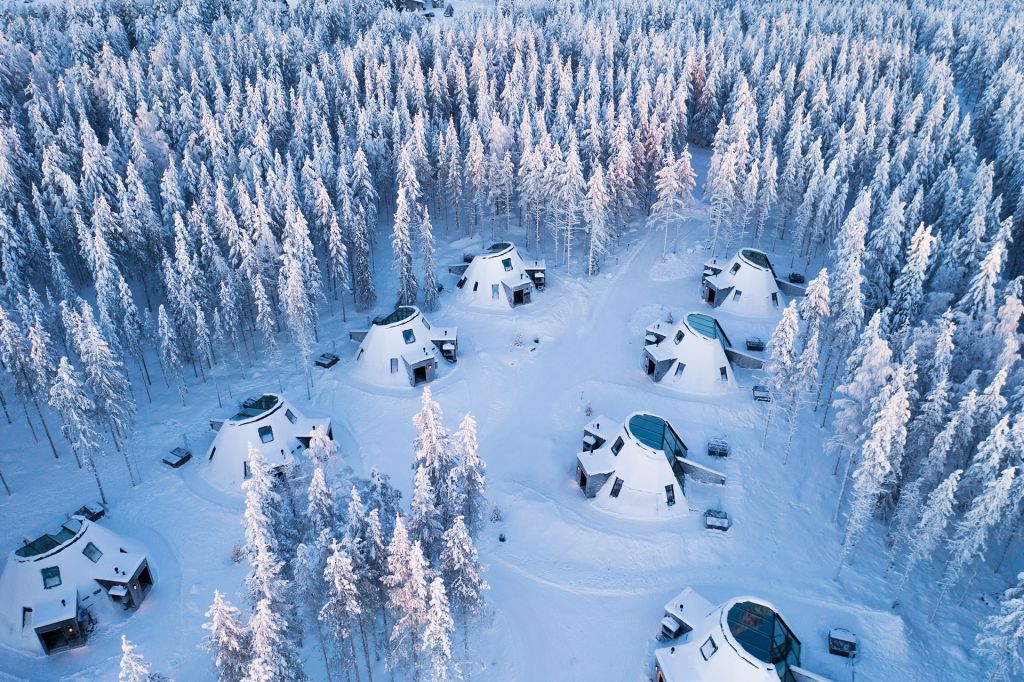 Glass Resort is nestled amidst the natural beauty of the Arctic Circle, far away from everyday worries. Yet the activities, attractions and services of Santa Claus Village lie only a minute's walk away.
The 24 Superior Glass Apartments at Glass Resort are designed to combine Lapland tradition, modern comfort and the pure nature of the Arctic Circle for a relaxing stay away from the stress and noise of hectic city life. Glass Resort's unique form of glass igloo type accommodation is inspired by the "kota", a tepee-shaped hut used by the indigenous Sámi people of Lapland. The window walls and glass ceiling provide an unrestricted view of the northern sky and natural phenomena such as the Northern Lights (Aurora Borealis).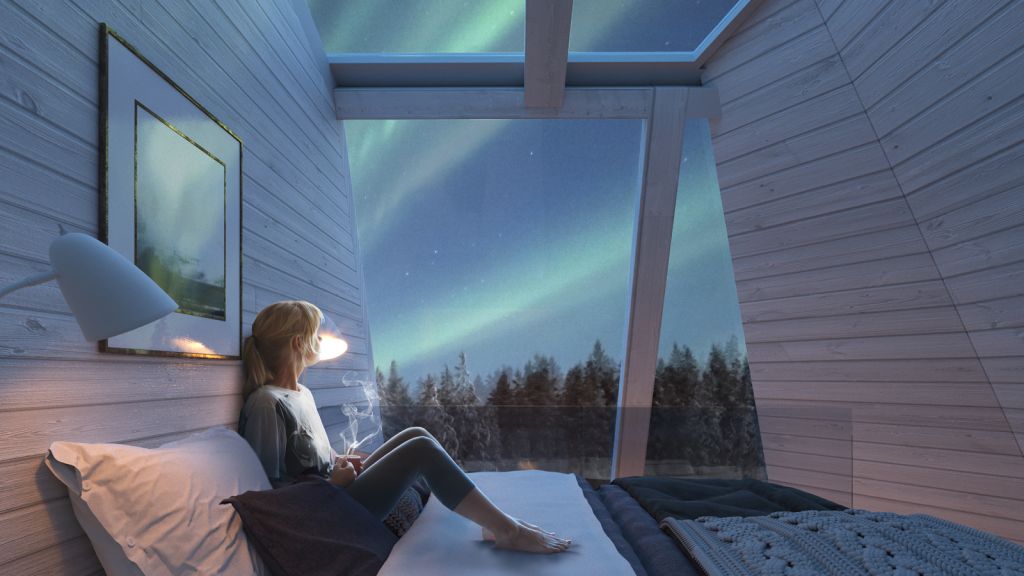 The apartment interiors are decorated with Lappish handicrafts and Scandinavian design brands. Each apartment (44 m2) has a lounge, kitchenette and upstairs loft with a glass ceiling as well as a private Hot Spring outdoor hot spa and a sauna.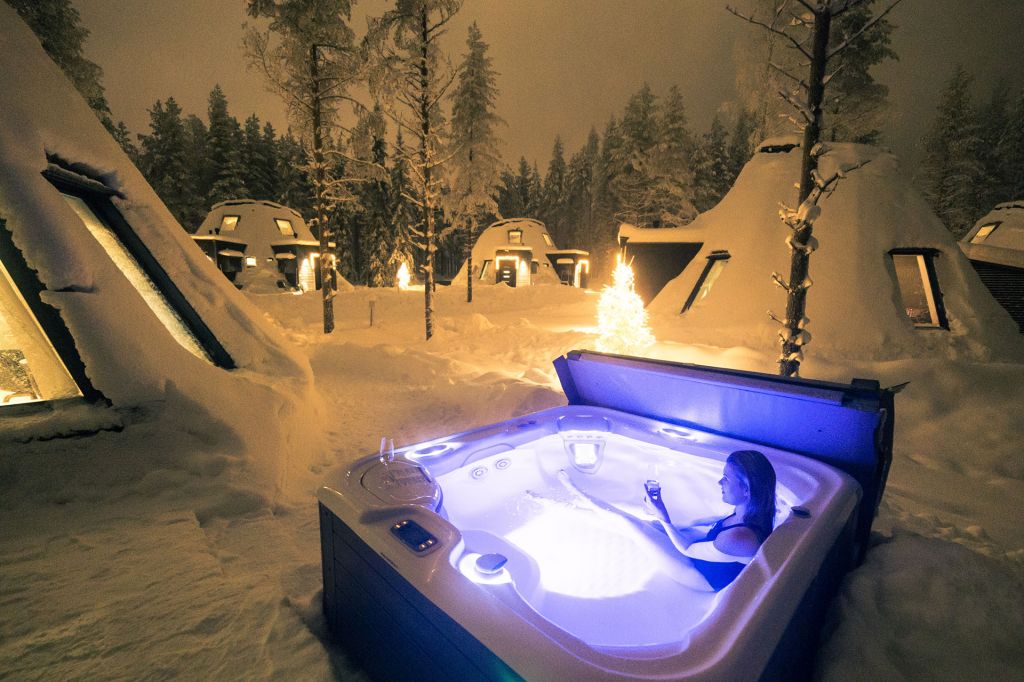 Overnighting in Glass Resort includes a superb local breakfast buffet in the Glass Resort Restaurant.
SNOWMAN WORLD
Feel the fresh winter breeze, have fun in the snow, touch the glittering ice and witness the lucid colors of the Arctic Circle. Get hugged by a friendly snowman and see the wild dance of the Northern Lights. Snowman World features the Ice Restaurant with Ice Bar, beautiful snow & ice sculptures and a selection of winter activities.
Make the most out of your northern experience in Snowman World. Have a drink in the Ice Bar, dine in the Ice Restaurant and admire beautiful ice and snow sculptures. Try out fun snow activities or join the wild safari tours.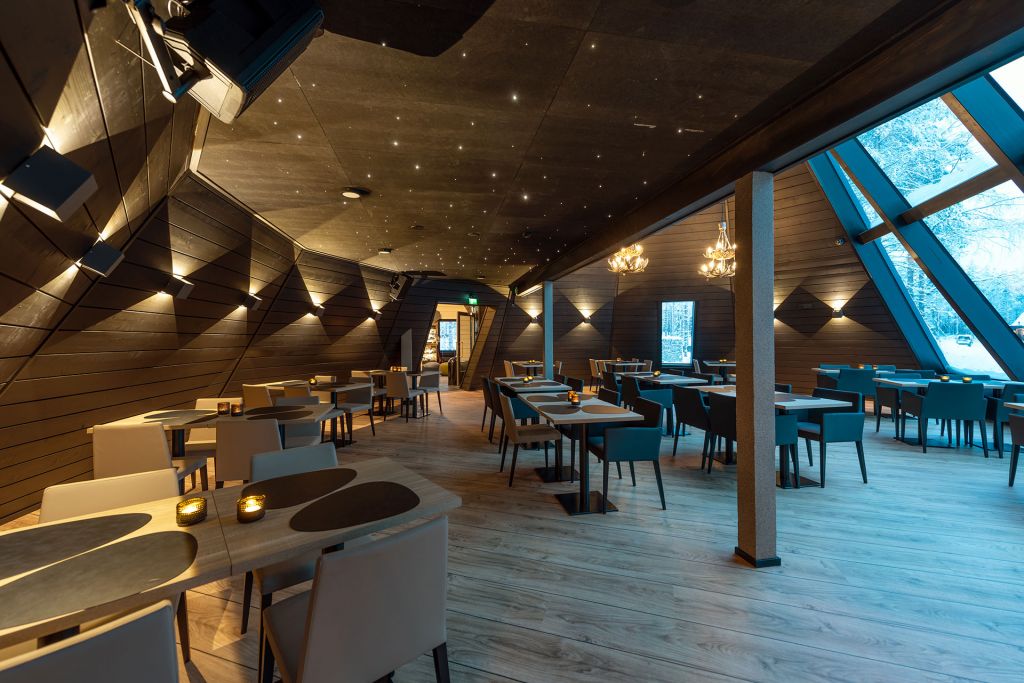 The Snowman World Glass Resort offers luxurious accommodation in modern glass structures with spectacular views over the northern sky for aurora spotting. Restaurant Ensilumi serves quality dishes prepared from locally sourced Lappish ingredients.
Snowman World is located in Santa Claus Village in Rovaniemi, Lapland, Finland. Arctic nature is right at your doorstep, yet Rovaniemi city centre lies only 15 minutes and Rovaniemi airport only five minutes away.
SANTA CLAUS VILLAGE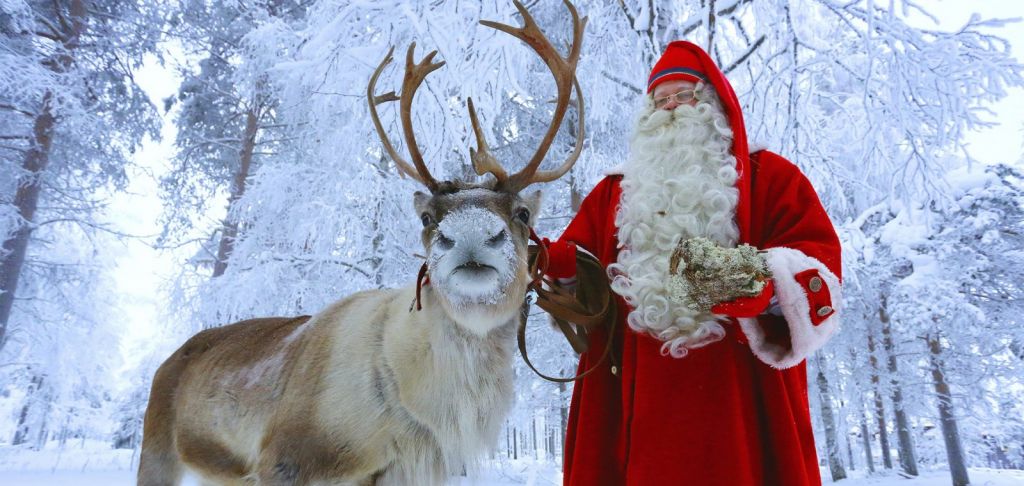 You can meet Santa Claus and cross the magical Arctic Circle every day at the Santa Claus Village in Rovaniemi.
There are many souvenir shops as well as Santa's Main Post Office, program service companies and cafes and restaurants in the Santa Claus Village. And of course, Santa is there too, in his chamber every day of the year.
With numerous activities for all ages, playing in the Santa Claus Park, and tours such as Reindeer rides and ski safaris, the whole family will have the time of their life.