aaaVeee Nature's Paradise Private Island | Traveler by Unique
Its rich morphology above and underwater makes this one of the most beautiful islands in this atoll. Having employed local architectural materials and having been faithful to local architectural lines, this is the ultimate eco-resort featuring minimalistic designs paired with all the necessary amenities which blend perfectly with the natural environment.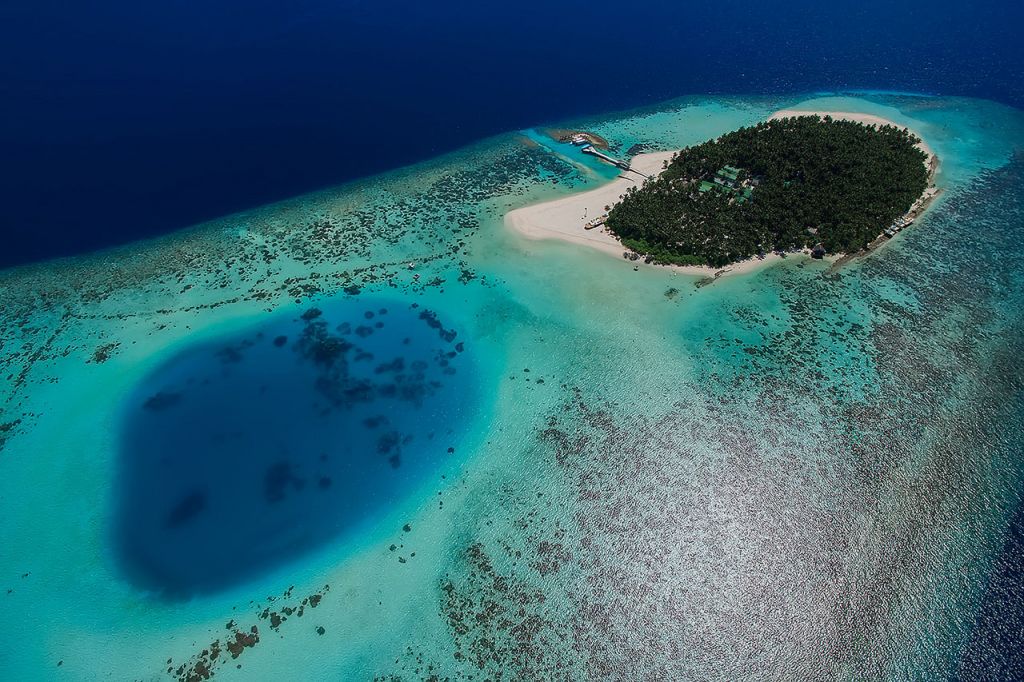 50 GU | 33 BD | 33 BA | From: €45123/nt
The island has preserved its pristine nature and has been intact by mass tourism. The thick forest of the island has been virtually untouched to provide a virgin wonderland for its visitors to explore. Relaxing in one of our unique tree-top platforms or at the Nature's discovery decks just above the water gazing at the emerald waters will give you an otherworldly sense. There is no other Island in the Maldives like Dhoores. You have the luxury to enjoy this primitive nature all to yourself and with the ones you choose. This is the last authentic Maldivian retreat, said to be the best "Nature Discovery Island Resort" in the World.
Visit this unique place and have the most original experience of the Maldivian way of life in a scenery that takes you back in time and where time actually stops and strips you off your worries of a fast-paced world. Tourism in Maldives started flourishing in 1972 and since then it has turned it in one of the top touristic destinations. Come to the most Nature's friendly resort ever developed in the Maldives. Nature is of utmost importance in this beautiful island, and this is why there has been taken extra care for the rentals to be eco-friendly and in harmony with the lash green ambience. Come closer to nature, lose and rediscover yourself in an amazing journey.
A total of 33 eco-friendly rooms are available with three categories of accommodation options that are unique to aaaVeee Nature's Paradise.
Two large spacious family rooms are available with a large decking outdoor for the family. The rooms offer the additional option to be connected, ideal for large families. Boasting a contemporary modern style, the rooms' interiors offer ample space – with an outdoor shower area. The surroundings are fenced with trees to give maximum privacy. Kotari Kolhu is ideal for big families or groups of families. There is a very spacious semi-open air toilet and bath.
Each room has an outdoor coconut wooden deck with privacy screens. The doors imitate the traditional Maldivian style of wood work and carpentry used in the old days. Similarly, the use of locally made rope and other parts from the coconut trees give out a truly Maldivian effect. Materials that were used in local houses more than 30 years ago have been employed for the details of Kotari Deck Villa and most of the furniture and fixtures are handmade with local timber.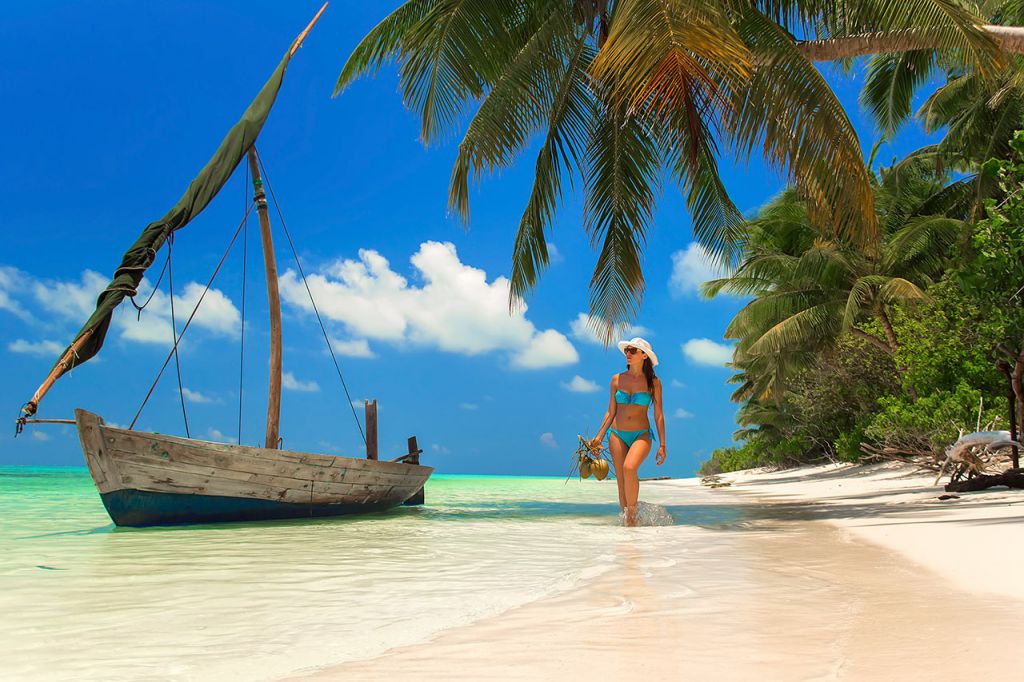 These are individual bungalows in traditional Maldivian style. Predominant materials are the coconut timber and other types of local wood loyal to the local Maldivian architecture. These rooms are a modernized version of a traditional Maldivian house. The name "Gothi" in local language means a plot of land with a house. Each room has an outdoor private veranda with a local swing, something that is rarely seen in any resort. To ensure maximum privacy, each Goathi has a fence on either side. The open air front yard outside the room has a separate resting area with chairs and a table where you can dine, enjoy a drink or read a book in the full comfort of total privacy. Similarly, the furniture and other elements also resemble true Maldivian architecture. The doors are made to resemble the traditional Maldivian style of wood work and carpentry used in the old days.
The resort is located on the north part of Dhaalu atoll, approximately 150 km south west of Ibrahim Nasir International Airport. Closest airports to the resort are Maamigili International Airport at 60km to the south, and Kudahuvadhoo domestic airport at 25km. Only a short 35 minutes seaplane ride from Ibrahim Nasir International Airport will get you to the most eco-friendly Nature's resort in the Maldives. If you are traveling from Kudahuvadhoo airport, a short 20 minute speedboat ferry or ride will get you here.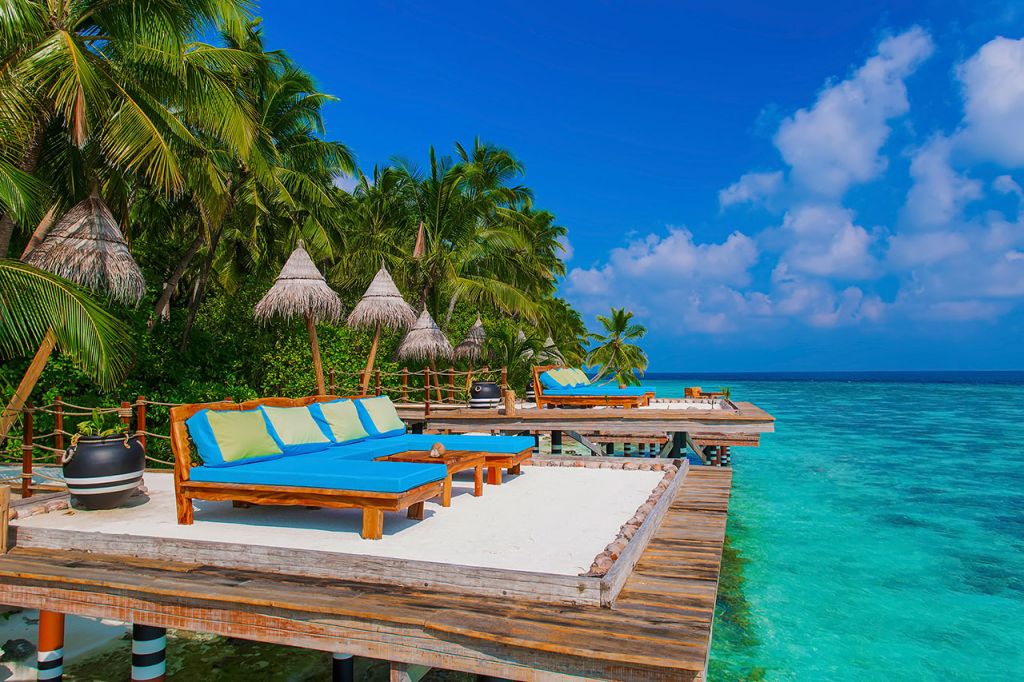 Maldives, is a tropical island complex with 1190 islands scattered over 20 administrative atolls in an ecstatic location situated in the heart of the Indian Ocean. A unique, private and peaceful palm fringed paradise with azure sun-drenched beaches, turquoise lagoons, and coral reefs teeming with a varied underwater terrain that hosts one of the world's richest marine life. The 99 % of the Maldivian sea is home to one of the most diverse marine treasures of the world.
aaaVeee Nature's Paradise enjoys a prime location close to many of the local villages, and uninhabited islands. Due to limited exploration of this part of the Maldives, there are still plenty of islands and dive sites to explore. Even the nearby inhabited islands are very secluded, and not exposed to many tourist activities.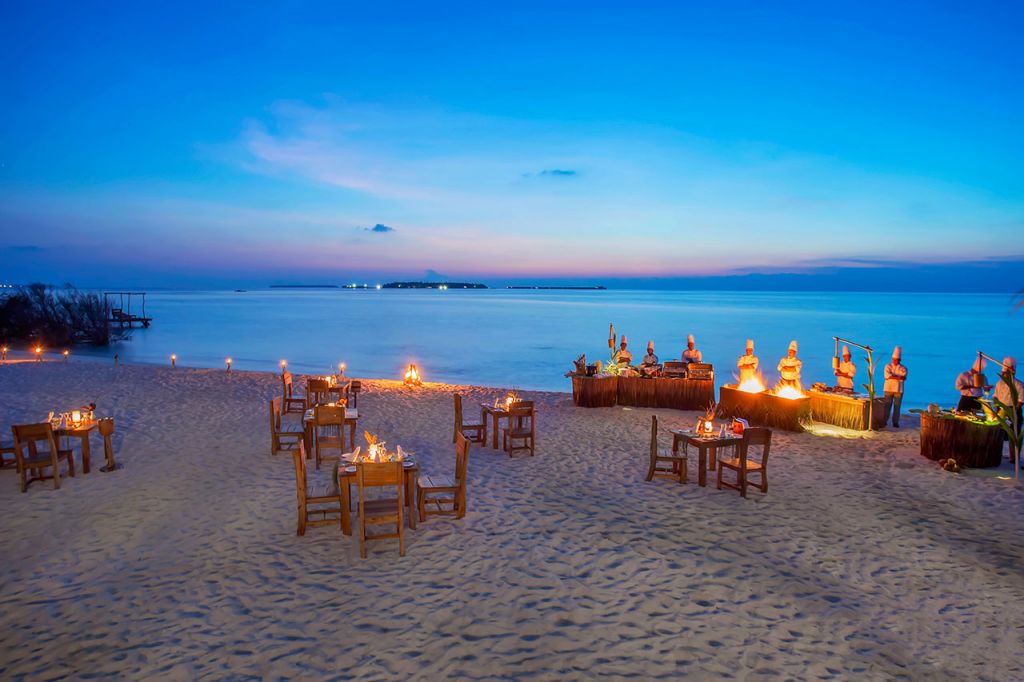 A true Maldivian holiday will not be complete without a visit to a local island. There are three islands that can be easily reached on a boat in less than 40 minutes with a number of activities that can be enjoyed, including observing Maldivian life, local handicraft making, visiting local houses or schools, interacting with the locals, observing fishing practices in the islands and much more. Our island excursion features the islands Rinbudhoo, Bandidhoo, and Hulhudheli.