Top Villas to rent in Halkidiki | Traveler by Unique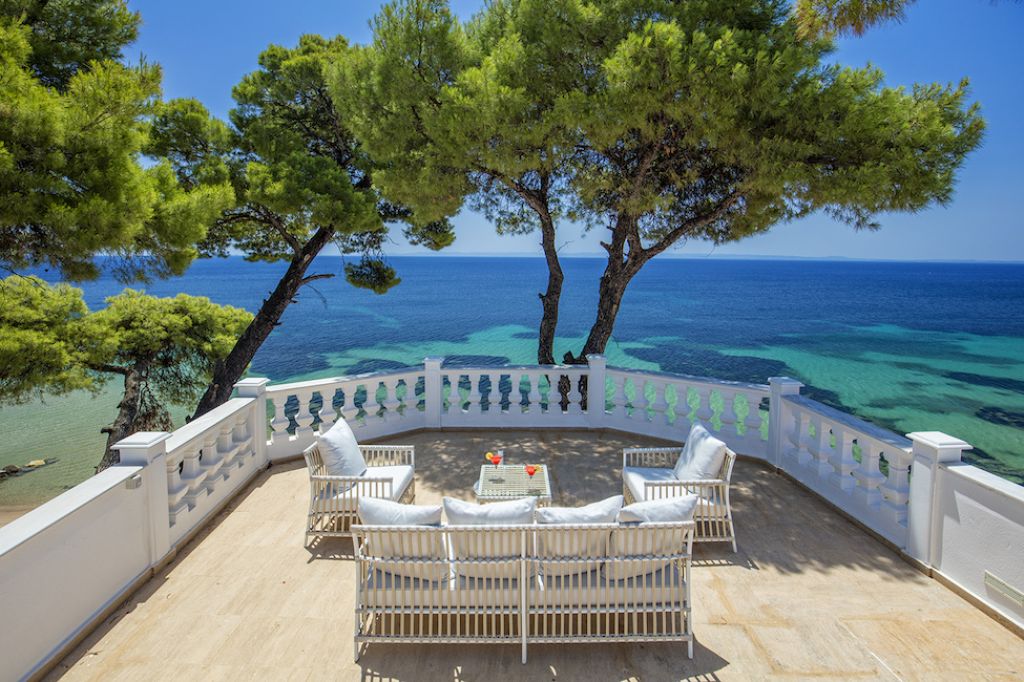 North Greece, Halkidiki, Nikiti
6 GU | 3 BD | 3 BA | Private Pool From €5.050/nt
Villa Mandarin is a window with unparalleled views of the Mediterranean. It includes two bedrooms, two bathrooms and a world of secluded elegance with its marble working fireplace, antique Venetian mirrors, original artwork, genuine coral table, and Saarinen chairs will surround you with luxury.
The villa provides every comfort imaginable including a kitchenette, marble hydro-massage tubs and separate showers, individually controlled heating/air-conditioning, mini bar, walk-in closets and a complete entertainment system that includes Bang & Olufsen TV and DVD player and Bose Wi-Fi music system. Outside, two levels of sweeping private terraces set high atop the Mediterranean Sea will leave its guests speechless. On the lower level, there is one more bedroom and bathroom for the babysitter or bodyguard. Luxuriate on a sumptuous antique Indian canopy bed after a swim in the private, deep-water heated infinity pool.
Book now: villas.byunique.com/mandarin-villa-rental-halkidiki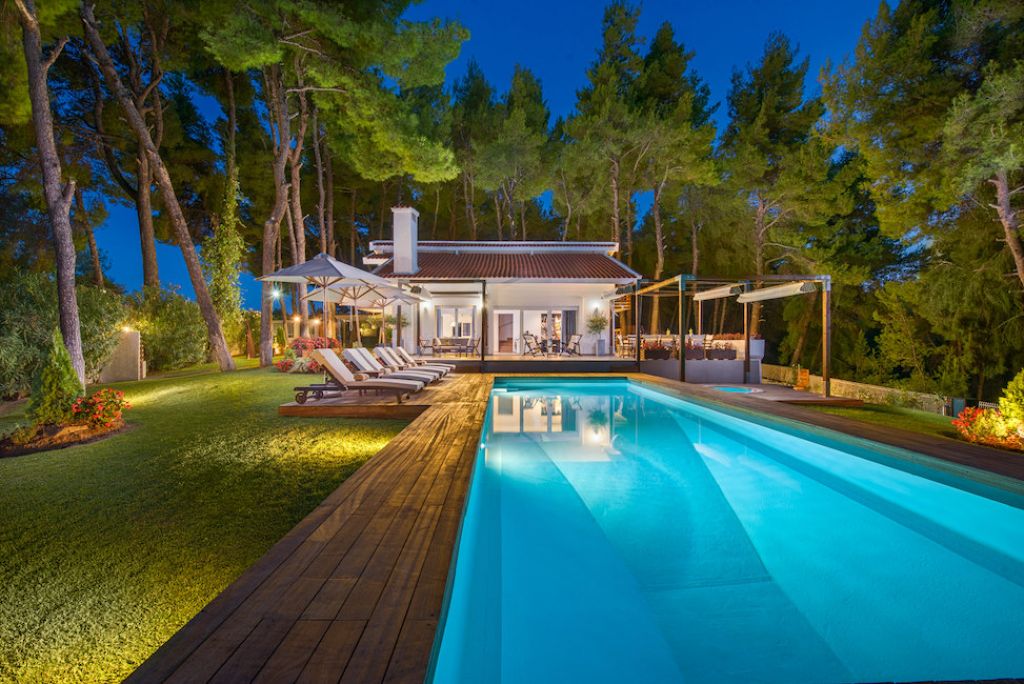 North Greece, Halkidiki, Sani
12GU | 6 BD | 5 BA | Private Pool From €530/nt
The White Villa in Sani is a little piece of heaven, where you will feel relaxed and disconnected from the rest of the world. The villa can accommodate up to 12 adults offering 3 King Size double beds and 6 single beds in 5 separate fully air-conditioned bedrooms. Boasting an outdoor heated pool and an exterior Jacuzzi, the villa is located in sparkling Sani Beach. It offers a well-tended garden and self-catering accommodation opening out to a terrace with mountain and Thermaic Gulf vistas
Decorated with earthy tones, The White Villa at Sani is fitted with modern style furnishings. It includes two fireplaces and a satellite, flat-screen 46 inch HDTV with DVD/Blue Ray player and a Home Cinema with an HD Projector, in the living rooms. A fully equipped kitchen and a dining area are also available.
Guests can make use of the barbeque facilities or relax in the sunbeds by the pool. A basketball court is also available.
Book now: villas.byunique.com/white-sani-villa-rental-halkidiki
North Greece, Halkidiki, Diaporos
20 GU | 10 BD | 8 BA | Private Pool From €3.300/nt
White House Diaporos is a gorgeous beachfront luxury villa with a surface area of 19.000 sqm and a living space of a total of 920sqm, including the main villa of 820sqm, the external Mini Villa of 47sqm and two independent staff houses of 53sqm in total.
The spacious 500sqm ground floor includes a magnificent living room, a dining room, a study/library, an office, a meeting room and 4 spacious bedrooms with distinctive architecture and interior design, and a total of 8 bathrooms.
The 260sqm first floor features 5 bedrooms (2 with shared bathroom), one master bedroom with an office area, en suite bathroom with shower -whirlpool bath along with majestic views to the private beach and Mount Athos.
The 47sqm external beach front studio for two, offers a charming bedroom, a bathroom, a sitting room, a lovely private terrace with sea view and a private Jacuzzi. The 95sqm swimming pool offers chances for exercise and relaxation along with the fully equipped outdoor gym.
Book now: villas.byunique.com/white-house-rental-halkidiki
North Greece, Halkidiki, Nikiti
8 GU | 4 BD | 4 BA | Private Pool From €8.100/nt
Villa White at Danai Beach Resort & Villas has a total surface of 950sqm. A veritable mansion on the Mediterranean, this two-story villa is unparalleled in sheer size and luxury including four bedrooms, four bathrooms and a kitchenette.
The living room's splendid appointments include a marble fireplace, Saarinen dining table and chairs, plus state-of-the-art Bang & Olufsen technology, including a TV with DVD player, Bose Wi-Fi music system and wireless phone. Bedrooms feature generous walk-in closets and bathrooms, double vanity, and separate showers. The terraces are equally spacious and luxurious, reaching out over the sea. The upper level terrace has a heated infinity pool, dining area for six lit by mosaic lanterns, plush sofas, antique canopy bed and outdoor fireplace, all of which can be enclosed with sliding-glass panels to create more indoor living space when desired. Down a sweeping staircase to the lower level terrace, there is additional seating as well as dining areas and gardens and an outdoor Jacuzzi.
Book now: villas.byunique.com/the-white-villa-rental-halkidiki
North Greece, Halkidiki, Diaporos
6GU | 3 BD | 4 BA | Private Pool From €2.500/nt
Villa Lagoon Halkidiki, a three-bedroom luxury residence of 240sqm lies on a land of 6.500sqm in the southwest side of Viaporos Halkidiki. It is settled in a natural cove of a rare aquamarine tint only a few feet from the water with spectacular views to Sithonia and Vourvourou. The distinctive feature of the property is its closeness to the sea. The private beach is an integral part of the internal space.
The 107sqm first floor features 3 bedrooms with en-suite bathrooms and majestic views to the sea. The spacious 132sqm ground floor includes a sitting area, a dining area for 8 people, a library, a fully equipped kitchen, and a desk area. The modern furniture provides a flowing, breathing atmosphere, while equally inspires a complete feeling of luxury and comfort. The modern kitchen is fully-equipped to meet high standards with appliances from well-known international brands. The modern furniture has been carefully chosen to symbolize the island's calm yet enjoyable atmosphere.
Book now: villas.byunique.com/lagoon-villa-rental-halkidiki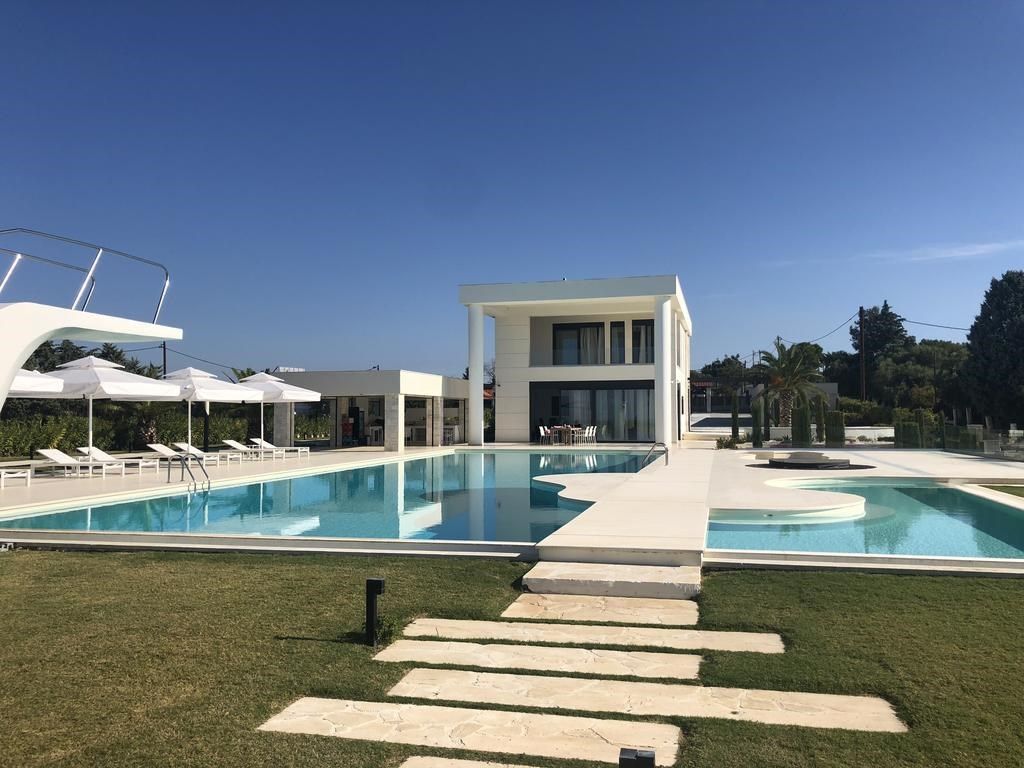 North Greece, Halkidiki, Nea Moudania
12GU | 6 BD | 8 BA | Private Pool From €1.200/nt
Villa Koucla Halkidiki is a luxury villa rental with 6 bedrooms and a private pool, accommodating up to 12 people. In the front area, there are 2 en-suite rooms on the ground floor and 2 en-suite rooms upstairs with a separate entrance all with partial sea view.
On the first floor, there is the master bedroom with a huge spa bath and a spacious covered balcony with majestic sea view. On the lower floor, there is another room with a separate entrance, similar to the front rooms.
On the ground floor, the main entrance opens to a living area with a modern open kitchen and dining area. The living area leads to a huge terrace and a garden.
The outdoor area offers a 25-meter long infinity pool with a diving platform, a Jacuzzi for up to 6 people, a baby pool, three outdoor showers and an outdoor toilet. There is a covered barbeque area with outdoor kitchen, umbrellas and sun loungers and a large dining table. Also available are volleyball and basketball court.
Book now: villas.byunique.com/villa-koucla-halkidiki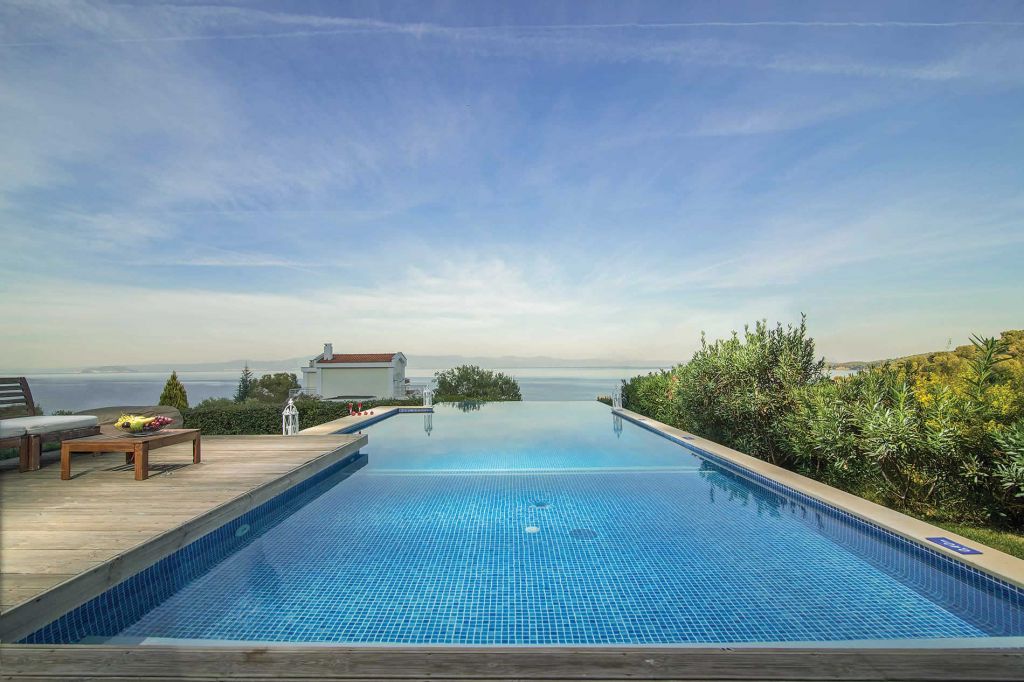 North Greece, Halkidiki, Paliouri
6GU | 3 BD | 3 BA | Private Pool From €430/nt
Villa Ekavi Halkidiki has been designed to offer privacy and total relaxation to guests who seek a hidden getaway with exclusive services, consisting of the epitome of elegance in the well-known peninsula of Halkidiki.
The Villa consists of 3 luxury Bedrooms, 3 Bathrooms, a private pool with sunbathing area and a breathtaking sea view.
Villa Ekavi Halkidiki, located right above Toroneos Bay combines elegance and minimalist design with the typical Mediterranean background.
Whether you are looking for a romantic retreat, a family vacation villa, or a luxurious accommodation in Halkidiki, our beachfront unique resort is the perfect choice.
Book now: villas.byunique.com/ekavi-villa-rental-halkidiki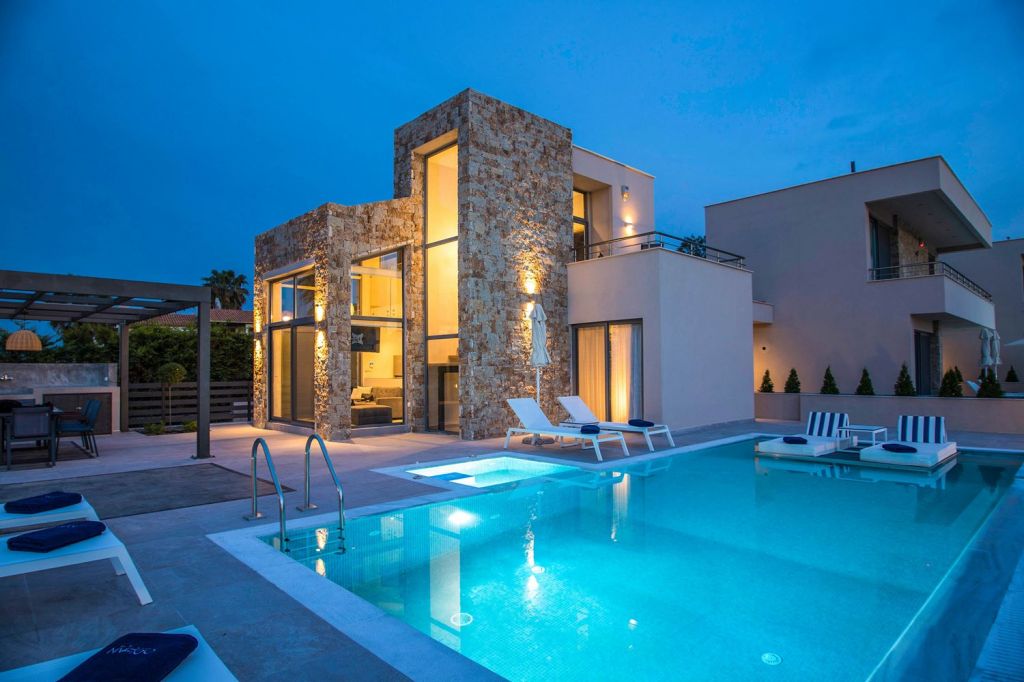 North Greece, Halkidiki, Pefkochori
8 GU | 4 BD | 3 BA | Private Pool From €353/nt
Villa Calypso is a villa with its own 25m² outdoors dining area and an ample pool for utmost relaxation. The interior design of this villa is quite unique, as you can find on the second floor a very cozy yet elegant loft with its own king-size double bed and a SMART 4K TV.
Villa Calypso is eco-friendly and uses green power electricity, making use of solar energy. It has employed luxury materials such as marble and has a charming stone coating on the outside.
This villa is ideal for you who desire to spend your vacation time relaxing in a high standard resort, with easy access to the best beaches of Halkidiki, but also for you who dream of diving in the crystal-clear water while on a boat excursion or even having the most adventurous water sport activities.
Book now: villas.byunique.com/villa-calypso-at-ocean-villas-halkidiki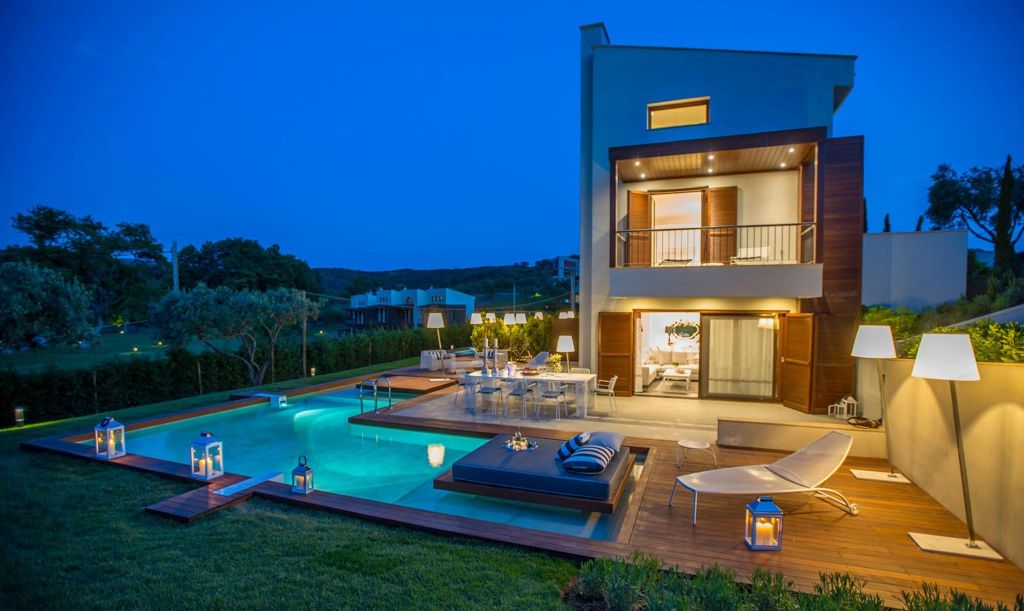 North Greece, Halkidiki, Koumitsa
6GU | 2 BD | 2 BA | Private Pool From €860/nt
Avaton Presidential Suite belongs to the Avaton Luxury Villas Resort, overlooking the sparkling turquoise waters of Athos Peninsula in Halkidiki, Greece. The villa offers a private pool and consists of 3 levels covering 120sqm, and can accommodate up to six people. On the ground floor, there is a spacious living room with a corner sofa, a dining table, an open plan kitchen and a minibar.
In the outdoor area, there is a furnished terrace with a corner, double private pool with two in-build sunbeds which tantalize the feeling of relaxation. On the first floor, there is a bedroom with 2 single beds (or 2 double beds), a walk-in closet, a bathroom with shower and a furnished balcony with panoramic view of the beach. On the second floor, there is a master bedroom with a double bed, a sitting area with panoramic view, a walk-in closet and an en-suite bathroom with shower.
Book now: villas.byunique.com/presidential-avaton-suite-rent-halkidiki
North Greece, Halkidiki
14GU | 5 BD | 5 BA | Private Pool From €1.120/nt
The exclusive Villa Kalyva Mare at Porto Karras Resort provides the most luxurious amenities, boasting superb view and access to the private coves of Porto Carras Grand Resort.
Built 31 meters above the sea level, in an exclusive area of Porto Carras Grand Resort, Kalyva Mare boasts three infinity pools. This versatile five-bedroom property of 245 sqm can be rented as three independent and totally private one and two-bedroom villas or simply be separated by connecting doors to create two and four-bedroom combinations accommodating a maximum of 14 guests. Each villa has its own swimming pool, a cozy living and dining area, and a fully-equipped kitchen, while all bedrooms feature modern bathrooms with showers, king-size beds and TV/DVD players. The three villas are set in private, complete with flowering plants and sun loungers around the pools. Guests are surrounded by pine trees and enjoy superb views of the crystal blue waters of the Aegean Sea.
Book now: villas.byunique.com/villa-kalyva-mare-rental-halkidiki