The best private pools in Tuscany | Traveler by Unique
Italy, Tuscany, Florence Area
10 GU | 4 BD | 3 BA | Private Pool | From € 400/nt
Villa dell' Angelo Tuscany is located just outside Monsummano Terme in a beautiful area with outstanding mountain views. The villa has recently been renovated retaining its historic charm. Villa dell' Angelo accommodates up to ten people. Part of the interior dates back to the 16th century, and the antique furniture and typical ceiling beams contribute to a true Tuscan feeling.
Villa dell' Angelo Tuscany consists of two floors. On the first floor, there is a kitchen with exit to a terrace, a dining room, a living room, a laundry room, a bathroom and a bedroom with its own exit to a terrace. A beautiful stone staircase leads up to the second floor where you will find three bedrooms and two bathrooms. The garden comprises a number of terraces and furnished patios. A few steps below the house is a pool terrace with outstanding views of the surrounding countryside. Their main pool has an attached whirlpool, sun loungers, and parasols.
Book now: villas.byunique.com/dell-angelo-villa-tuscany-italy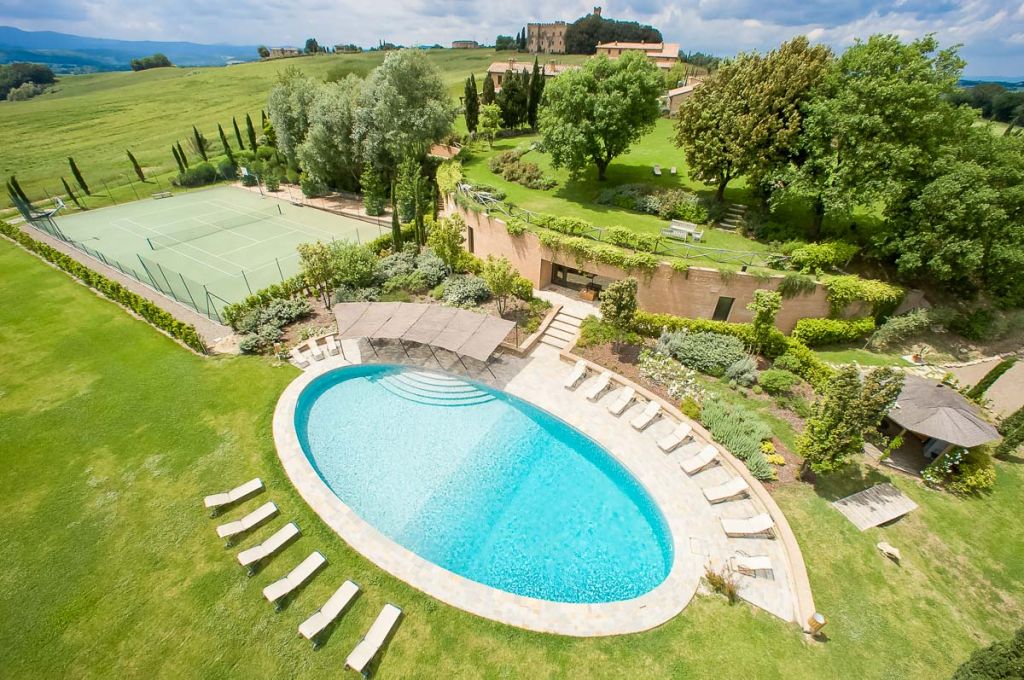 Italy, Tuscany, Siena Area
44 GU | 22 BD | 25 BA | Private Pool | From € 20.350/nt
Borgo Finocchieto, unique among luxury villas in Tuscany, is a beautifully and elegantly restored eight hundred-year-old village, with stunning views located thirty minutes south of Siena. Five village houses, atop six acres of Tuscan hilltop grounds, accommodate groups up to 44 guests in 22 bedrooms. The Borgo specializes in custom-tailored experiences for gatherings of all kinds.
The Borgo encompasses 22 bedrooms arranged around its central piazza. Gathering spaces include a formal dining room and outdoor dining terrace, a living room with grand piano and study, media room, library, bar, conference facility and ballroom accommodating up to 70 people, cantina and wine tasting room, a professional teaching kitchen, an interior arcaded courtyard, a piazza, and extensive lawn and garden spaces. Recreational facilities include a 60-foot oval swimming pool, a fully equipped gym, spa, tennis and basketball court, and bocce court.
Book now: villas.byunique.com/borgo-finocchieto-estate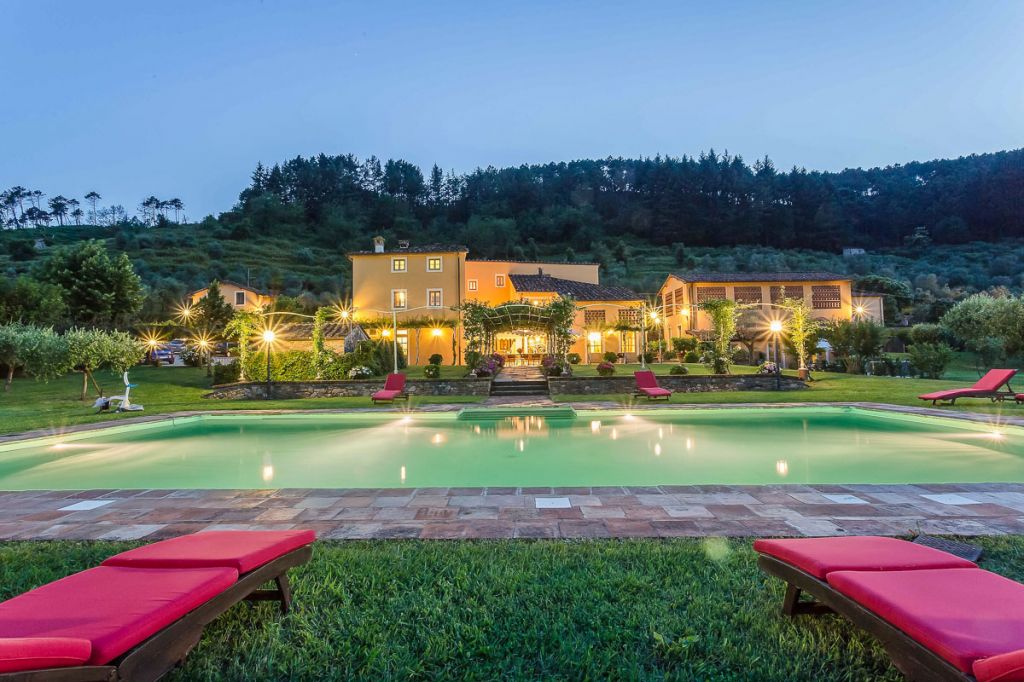 Italy, Tuscany, Lucca Area
15 GU | 8 BD | 8 BA | Private Pool | From € 2.143/nt
Casa del Fattore is an typical Tuscan country home in the heart of a poetic Italian landscape surrounded by orchards and olive groves, Italian gardens and tranquil hills. Fully restored, it still retains its age-old Tuscan charm with terracotta tiled floors, wood beamed ceilings, frescos and little patio areas.
Offering the best of modern comforts in an elegant, rustic setting, reception rooms include TV lounge, drawing room, typical Tuscan kitchen, grand dining room and winter garden conservatory. The cottage offers kitchen, dining room and sun lounge, sleeping 15 guests in its 8bedrooms. To the front of the villa is a vast lawn with a sparkling private pool and an outdoor Jacuzzi tub.
Casa del Fattore was added in the early 19th century as a home for the workers (olive oil and wine production) of the estate and was renovated to its magnificent contemporary form.
Book now: villas.byunique.com/casa-del-fattore
Italy, Tuscany, Arezzo Area
10 GU | 5 BD | 5 BA | Private Pool | From € 200/nt
Villa Torre del Cielo Tuscany is a luxury villa rental with 5 bedrooms and private pool, sleeping 10. Its name translates into "Tower in the Sky and it was originally a lookout guard tower, located about 2,5 km from Monterchi.
The villa has a big swimming pool surrounded by a large garden with spectacular panoramic valley vistas, relaxing in the Jacuzzi beside the pool. Moving to a slightly lower garden level there is a delightful patio with dining table for 10.
The 2-hectare garden includes olive, peach and plum trees. For sport lovers there is a small football field and a ping pong table.
The villa is 250 sqm with bedrooms of Tuscan rustic style and all modern comforts. There is also a characteristic tower with a separate entrance from the rest of the villa, including a small sitting room and a bathroom on the ground floor. On the 1sr floor there is a double bedroom with a large terrace and splendid view over the valley.
Book now: villas.byunique.com/villa-torre-del-cielo-tuscany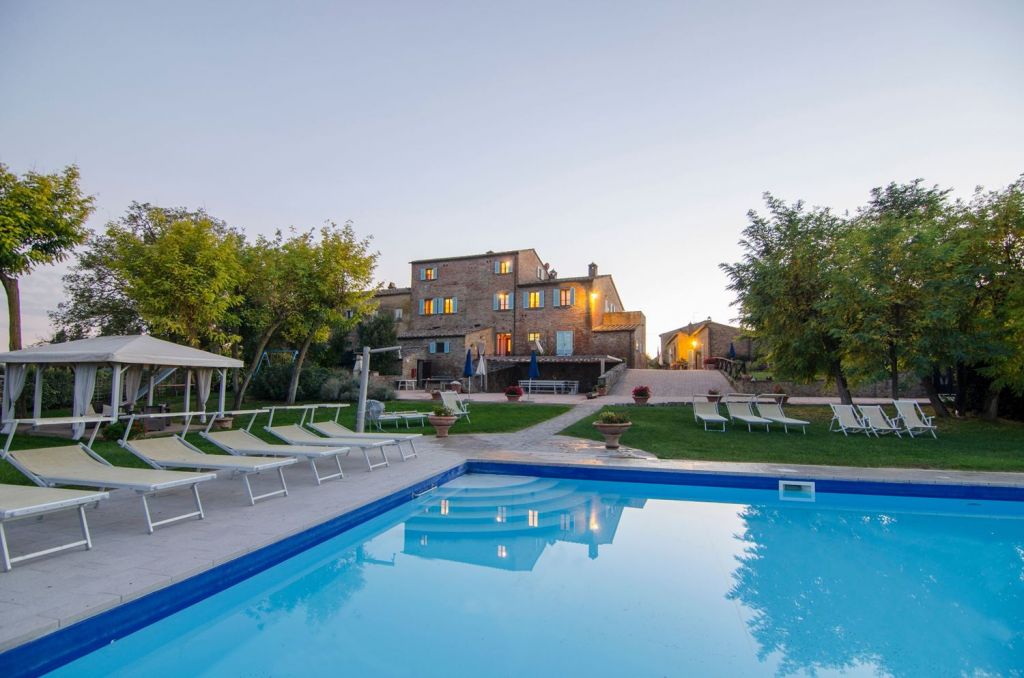 Italy, Tuscany, Arezzo Area
24 GU | 11 BD | 10 BA | Private Pool | From € 672/nt
Villa Margherita Tuscany is a luxury holiday rental with 11 bedrooms and a private pool, accommodating 24 guests. Villa Margherita is a charming retreat recently renovated and arranged into comfortable and well-furnished apartments decorated according to the Tuscan country style.
Villa Margherita immediately conveys an atmosphere of relaxation and hospitality thanks to the large green spaces that surround it. The villa is surrounded by a beautiful garden with relaxation areas and a large outdoor pool with sunbeds and umbrellas that will offer you relaxing moments, along with a beautiful wooden gazebo right at the poolside which offers shelter on hot summer days.
Villa Margherita is located near the famous Etruscan city of Cortona, a place rich of historical, cultural and gastronomic interest, the medieval villages of Castiglione Fiorentino and Lucignano and the Castle of Montecchio Vesponi.
Book now: villas.byunique.com/villa-margherita-tuscany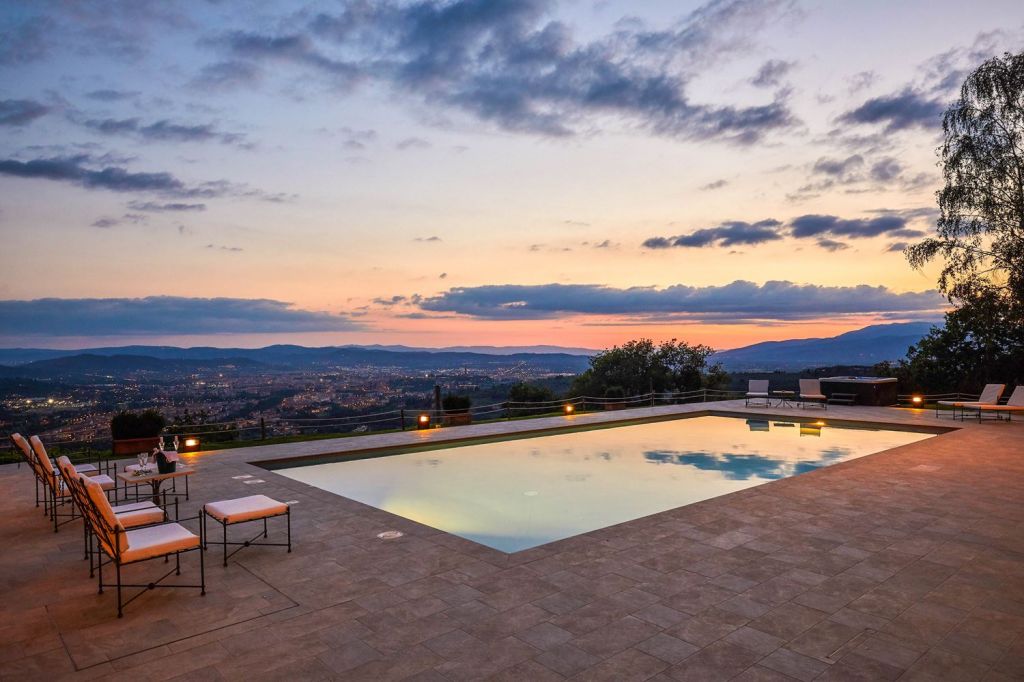 Italy, Tuscany, Arezzo Area
11 GU | 5 BD | 6 BA | Private Pool | From € 558/nt
Villa Cristina is a luxury villa rental with 5 bedrooms and a private pool, tastefully furnished with antiques and prized upholstery, hosting 11 guests. Inside, It offers plenty of amenities; large and bright spaces: living room with large sofas. The five spacious en-suite bedrooms are split between the first and second floor of the Villa. Villa Cristina also has a fully equipped professional kitchen. There is also a dining room with large table and panoramic windows.
The highlight is the pool area which boasts a big saltwater pool with unheated water. Next to the pool, you will find a fantastic Jacuzzi with hydro-massage and heated water. The gazebo, a structure made entirely of glass and curtains, elegant and refined with sofas and chairs and cozy with a fireplace adds yet another brush of luxury. The verandas of Villa Cristina, all overlooking Arezzo and the surrounding valleys, are additional big and totally livable environments. The fitness veranda, near the pool, includes treadmill, stationary bikes and fitness equipment, and the Games veranda offers table tennis and table football.
Book now: villas.byunique.com/villa-cristina-tuscany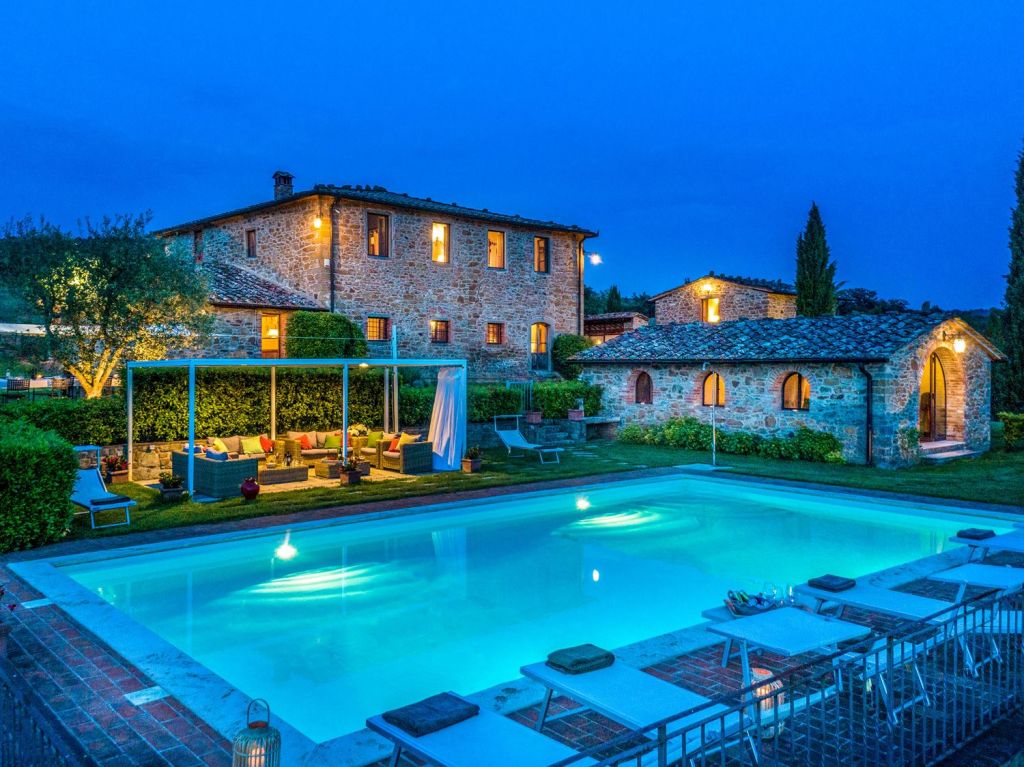 Italy, Tuscany, Arezzo Area
20 GU | 9 BD | 9 BA | Private Pool | From € 1.171/nt
Villa Borgo Gerlino Tuscany is a luxury villa rental with 9 bedrooms and a private pool. The layout of the villa complex recalls that of a small ancient hamlet. The main villa consists of the ground floor, the mezzanine floor, and the first floor. Encircling the villa is a well-groomed garden of herbs and flowers.
The large swimming pool (6m x 12m x 1.40m) offers the option of heating the water. The patio, cool and ventilated, is simply a piece of paradise. The large Jacuzzi for 6 is placed inside the villa annex, designed with wooden-beamed ceilings and wide windows for enjoying the panorama. In the annex, you can also find a health area with a sauna for 5 and a UVA lamp.
Near the pool, there is a gazebo, equipped with an outdoor lounge. Outdoors also includes a dining table, BBQ and brick oven.
The villa is composed of 9 en-suite double bedrooms for a total of 18 guests-plus 2. There is also a lounge room with fireplace, 46" Full HD TV, a dining room and a fully equipped kitchen.
Book now: villas.byunique.com/villa-borgo-gerlino-tuscany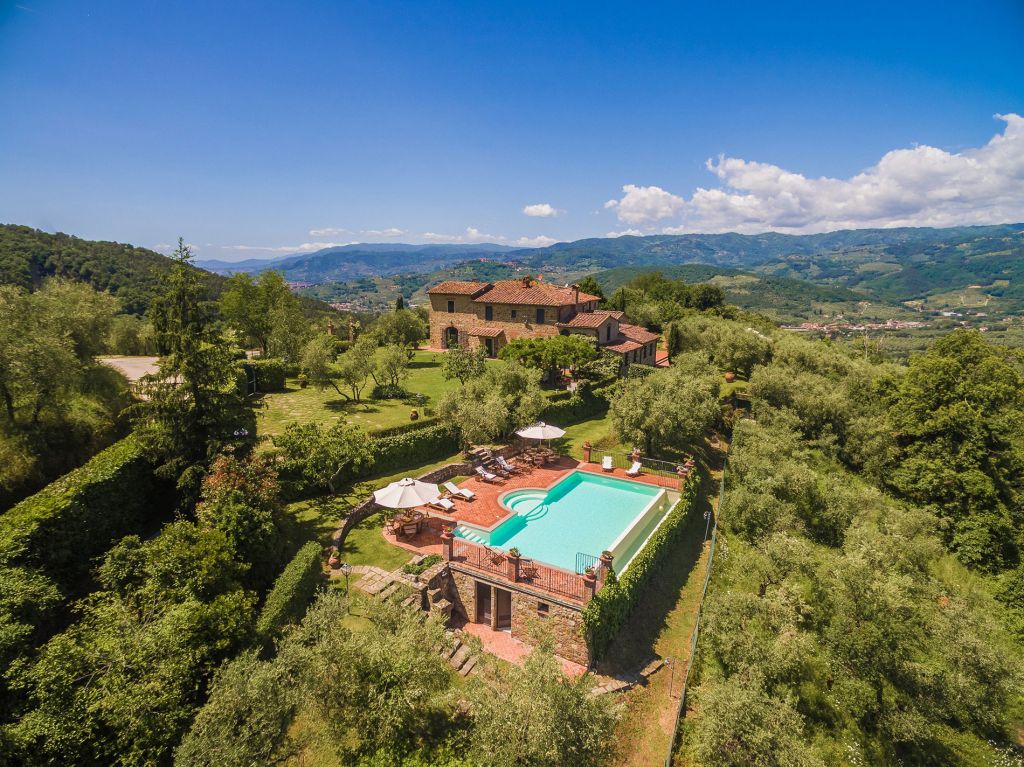 Italy, Tuscany, Florence Area
15 GU | 7 BD | 7 BA | Private Pool | From € 457/nt
Villa Roncovisi Tuscany is a luxury 18th-century Tuscan villa with an exclusive pool, the ideal accommodation for family and group vacation for 15/19 people in its 7 luxury bedrooms.
Villa Roncovisi Tuscany is a typical historical Tuscan villa with exclusive swimming pool. This independent villa, built in the second half of the 18th century, is the center of a property of over 18 acres of woods and olive groves. It is on the last western slopes of Mount Albano, approximately 250 mt. above sea level. Originally it was composed of two farmhouses that have been joined together. The living areas have been renovated with a careful eye for details - antique furniture and ornaments, antique doors, prints, paintings and Persian carpets.
Book now: villas.byunique.com/roncovisi-villa-rental-tuscany-italy
Italy, Tuscany, Arezzo Area
12 GU | 6 BD | 7 BA | Private Pool | From € 371/nt
Palazzo Rosadi Tuscany is a luxury villa rental with 6 bedrooms and a private pool, accommodating 12 guests. Palazzo Rosadi is a luxurious Tuscan villa 3 km from Monterchi. The Palazzo dates back to 1785 and spreads over 500 sqm. The major part of the bedrooms are frescoed, the furnishings are a mix between modern and antique pieces. All bedrooms have ensuite bathrooms.
The villa, with private swimming pool, is surrounded by 25 hectares of land with century-old oaks, cypresses and pine trees through which a natural park has been created. A one-hectare rose garden surrounds the villa. The swimming pool (6 m by 12 m and 1.5 m depth) is located on a lower level offering majestic panoramic vistas.
The garden and the swimming pool are lit up at night, ideal for splendid summer evenings.
Book now: villas.byunique.com/palazzo-rosadi-tuscany
Italy, Tuscany, Valdorcia
16 GU | 6 BD | 6 BA | Private Pool | From € 3.215/nt
Villa Prode Tuscany is a luxury villa rental with 6 bedrooms and a private pool. Nestled in the Tuscan countryside high up on a hilltop, the sweeping vistas from here are unrivalled. Villa Prode open floor plan blends contemporary standards with authentic Tuscan living. Each of the three master bedrooms and three king bed guest suites include modern en-suites. The generous kitchen offers an original forno oven and traditional Tuscan fireplace.
The outdoor swimming pool is the perfect location to relax and soak up the stunning landscapes. With over 700 sqm of living space, this property has been designed with flexibility in mind. It can comfortably accommodate multiple families, corporate retreats, weddings, and any other large party. The villa provides both private and shared living spaces. It features three distinct living areas, one on the main level, one on the upper level and one in the barn and together these comprise six bedrooms. Each area also includes individual living rooms.
Book now: villas.byunique.com/villa-prode-tuscany