The Party Scene of Los Cabos | Traveler by Unique
Apart from visiting places and sites when in Los Cabos, you might want to celebrate and enjoy a memorable time of your life. Dinners, social gatherings, business meetings are what families and groups of people visiting Los Cabos enjoy. But at some point, it might get too stale and boring. To celebrate your heart out by partying all night, tasting signature cuisines and cocktails will add colors to your dreamy vacations.
Day bars, night clubs, sun-soaked parties at the beaches, live sports, cocktail brewing houses, live musical nights, poolside camping, discos, dance clubs rest at the top of the list when you are planning a party scene in Los Cabos. Encompassing the towns of San Lucas and San Del Jose, you come across a wide range of places with a friendly environment to party be it during the day or night. It's up to the visitors to choose the way they are comfortable with. Families can arrange a full fledge party in the villas or hotels they are staying in. Friends can either hire a luxurious cruise to celebrate a feast or a late-night stroll through the coastline or the streets helps them explore the night bars or clubs. Who doesn't want pulling a perfect night out when you have a lot of options to choose from?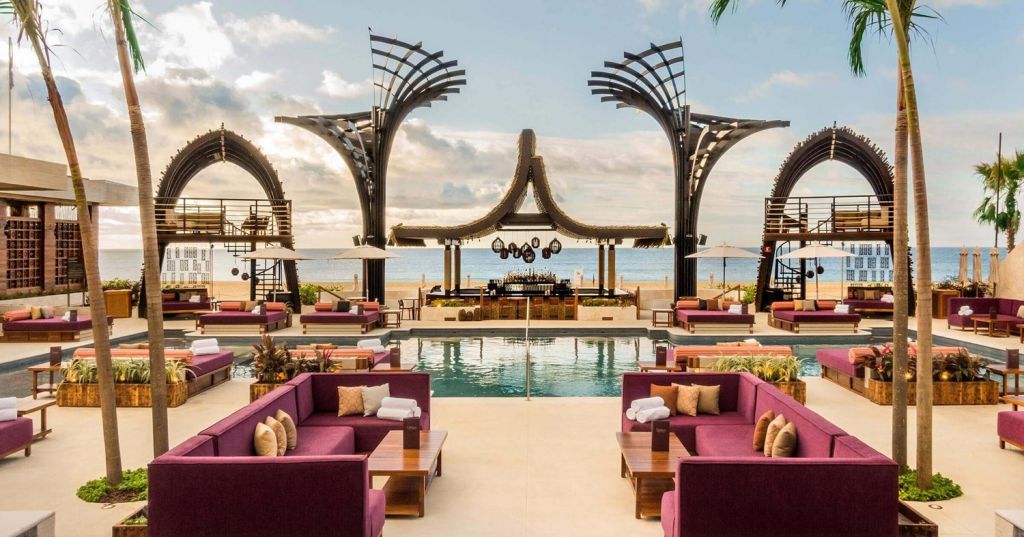 Omnia Day Club is a unique one as it offers parties during the day. Appetizers, beverages are provided to the people. Many international stars and celebrities were seen admiring this club. Wabo Cantina is running since the 1990s and is one of the famous party clubs in the area developed by Gene Simmons of KISS and Sammy Hagar. Later the brand became so popular that it was extended to Los Angeles and Hollywood. Amazing live musicals, cocktails, instrumentals, recreational celebrations are enjoyed by visitors. Blue Marlin Ibiza is located in the luxurious Me Cabo resort. This club delivers the idea of beach partying as it arranges parties along the poolside facing the spectacular scenery of turquoise waters of the ocean and marine life. It accommodates quite a number of people. Mixology Fusion Bar is another of a must-visit place if you are fond of classic beverages & drinks. But it provides a secret password to the people to enter. Cocktail sessions are being held here along with the musical nights that definitely are going to comfort your soul.
Apart from Me Cabo, the hotels such as Sandos Finisterra in Cabo San Lucas, Posada Real Los Cabos located in Cabo San Del Jose, Tesoro Los Cabos, and Marina Fiesta Resort are where tourists can stay, and party services are provided all day or night long. These hotels are exemplary in their exuberant nightlife and spread similar vibes all around the area. San Lucas' nightlife is worth experiencing for its places like Pink Kitty & Mandala. 'Sorry Mom' Cocktail requires a special mention as it serves as a starter for your party night. Heavy music, loud breathing, splendid lighting, tequila & confetti shots are spread through the air. La Casa Del Vino as the name depicts is known for its classy wines and dazzling environment. Baja Brewing Company provides you with its local, traditional beverages & brews. Sunset Point Lounge, The Rooftop at the Cape and Zipper's Bar are some of the other exciting places to visit in San Del Jose alongside the Los Cabos corridor. You can kick start your weekend or a holiday when in Los Cabos in the ecstatic atmosphere of the region.