Where to stay in Athens | Traveler by Unique
The tricky part about exploring Athens is that every neighborhood and every part of the city has its own unique charm. Therefore, choosing the right place to stay in Athens is definitely a key when planning your trip there. In this article, we present some of the city's most popular areas to stay and some accommodation options that can overcome your needs.
Plaka, Athens' city center
Plaka is one of Athens' most popular neighborhoods, located in the city center. This charming area attracts thousands of visitors every day who wish to explore its narrow streets and admire its beauty. The streets are full of traditional taverns, modern cafeterias and bars which are housed in imposing neoclassical buildings. Within walking distance, visitors can reach some of the most famous Athenian monuments. Among others, visitors can walk towards Acropolis, the ancient Agora and the Temple of Hephaestus. Plaka has a vibrant character during both, day and night time and is considered as one of the prettiest neighborhoods of the city.
The neighborhood features multiple options regarding accommodation to meet every interest, budget and taste. For those who are searching for more upgraded and luxurious accommodations, Aria Plaka Residence is a one of a kind option. With an ample neoclassical feeling throughout, this luxurious property offers 100sq.m of exclusive accommodation in one of the busiest Athenian neighborhoods. The property can comfortably host up to four people into three beautifully and gently decorated floors. Fully furnished and equipped, Aria Plaka Residence ensures a comfortable and relaxing stay, while making the city's exploration easy.
Kolonaki, Athens' city center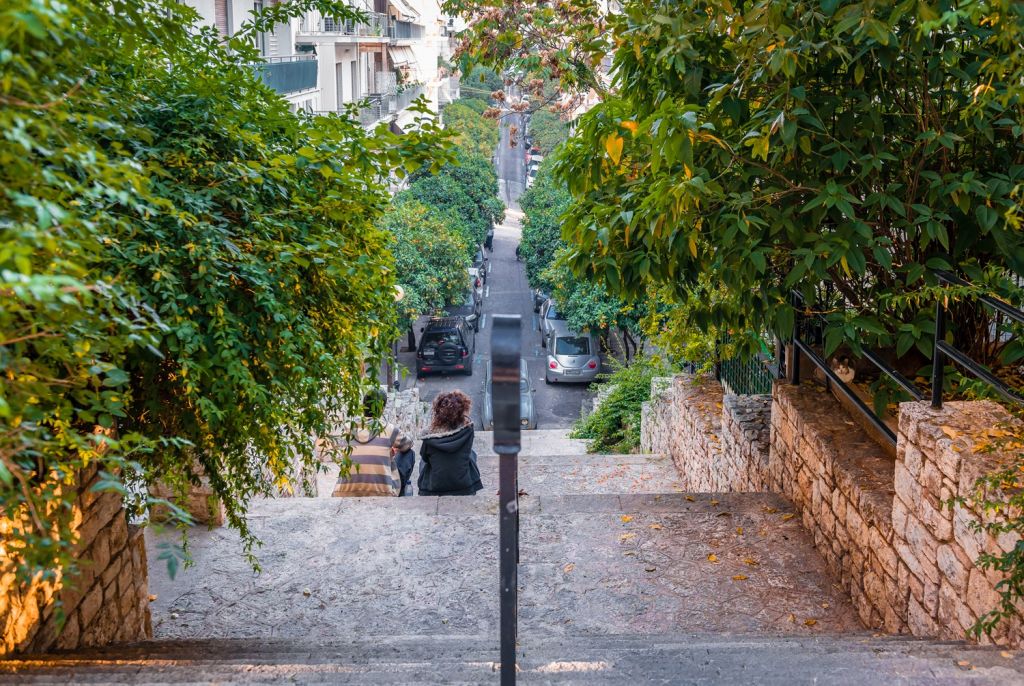 Forming one of the oldest and most prestigious neighborhoods in Athens, Kolonaki is located at the base of Lycabettus Hill. The area has its own charm with neoclassical buildings spread around the streets and small picturesque squares. What has to be said about Kolonaki is that it forms the heart of the upgraded Athenian shopping experience. Within the charming streets of Kolonaki, visitors will find international luxurious brands and boutiques with fashionable items for all ages. The neighborhood also hosts some of the most exclusive and fine restaurants and bars of Athens. In what regards sightseeing, Kolonaki is close to several museums and adrenaline seekers can hike up to Lycabettus Hill to enjoy panoramic views over Athens.
Accommodation in Kolonaki can cover a wide range of interests as travelers can find boutique hotels and other small accommodation facilities. For those who wish to enjoy staying closer to the Lycabettus Hill, the luxurious Altius Lodge Apartment is a hidden gem waiting to be discovered. Its close proximity to the city center and the exceptional views that the property offers makes it a top option for travelers who wish to enjoy a relaxing center while enjoying the vibes of Athens. The apartment can host up to six people in an elegant and sophisticated setting. Fully furnished and equipped, Altius Lodge targets visitors' comfort and pleasure. The most interesting highlights are that the apartment is in a walking distance from necessary amenities and that from the balcony visitors are able to enjoy views over the city of Athens.
Southern Suburbs
If it happens to visit Athens during the hot summer season, choosing accommodation at the southern suburbs of Athens would be a good option. The suburbs are able to offer easy access to the heart of Athens for those who wish to proceed with sightseeing but also, they are able to offer a summer-like setting with crystal clear beaches and a vibrant atmosphere. Among the most known areas are Glyfada, Voula and Vouliagmeni, where travelers can enjoy there a truly upgraded and sophisticated holiday experience. The coastal line is also known as Athens Riviera and has everything needed for pleasurable and enjoyable holidays. Crowded beach bars with lavishing settings and upbeat music, fine restaurants serving exceptional flavors and modern cafeterias are among the amenities where visitors can enjoy spending their time.
In what regards accommodation, Athens Riviera has some of the most elegant options. Stefani Villa is located in Glyfada and guarantees a luxurious and comfortable stay. The Villa has four bedrooms and multiple common areas spread into three floors. The interior is designed in such a way to offer the maximum relaxation and comfort with a modern and elegant decoration. In what regards entertainment, Stefani Villa has its own private swimming pool, a sauna, and a playroom with billiards and a mini football table. The villa's spacious garden allows visitors' recreation and rejuvenation in a quiet and relaxing setting.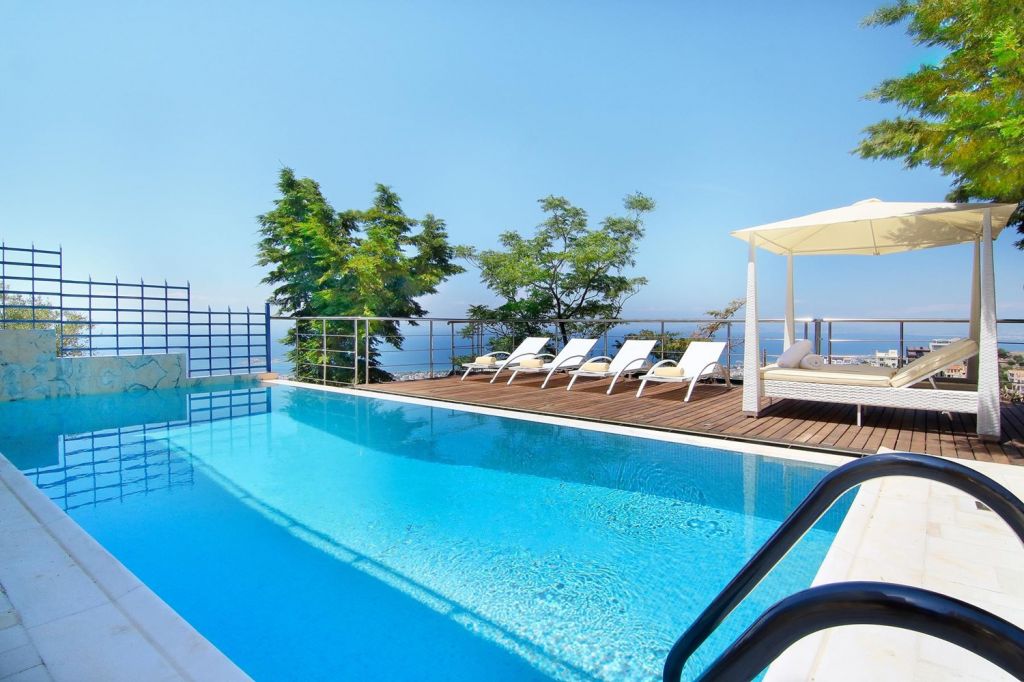 Another great option when it comes to the Southern suburbs of Athens is Azure Villa. The property features four spacious bedrooms and is constructed on the top of a hill enabling visitors to enjoy jaw-dropping views over the Saronic Gulf. The interior features large common areas which are elegantly decorated and equipped with state of the art appliances. It has to be noted that the two master bedrooms have unlimited sea views. Azure Villa has a spacious terrace on the third floor, as well as a wooden-decked patio, which is excellent for outdoor entertainment.
Sounio
Forming part of the infamous Athens Riviera, Sounio is able to stand by itself as an exceptional and exclusive accommodation option. Cape Sounio is strongly recommended for travelers who wish to experience the ultimate relaxation and rejuvenation experience while in Athens. It is located on the south-eastern part of Athens and overlooks the incredible blue shades of the Aegean Sea. The broader area of Sounio has some sightseeing options as well since the Temple of Poseidon is located there. The area has a flawless romantic and idyllic atmosphere and is a popular option for young couples and honeymooners.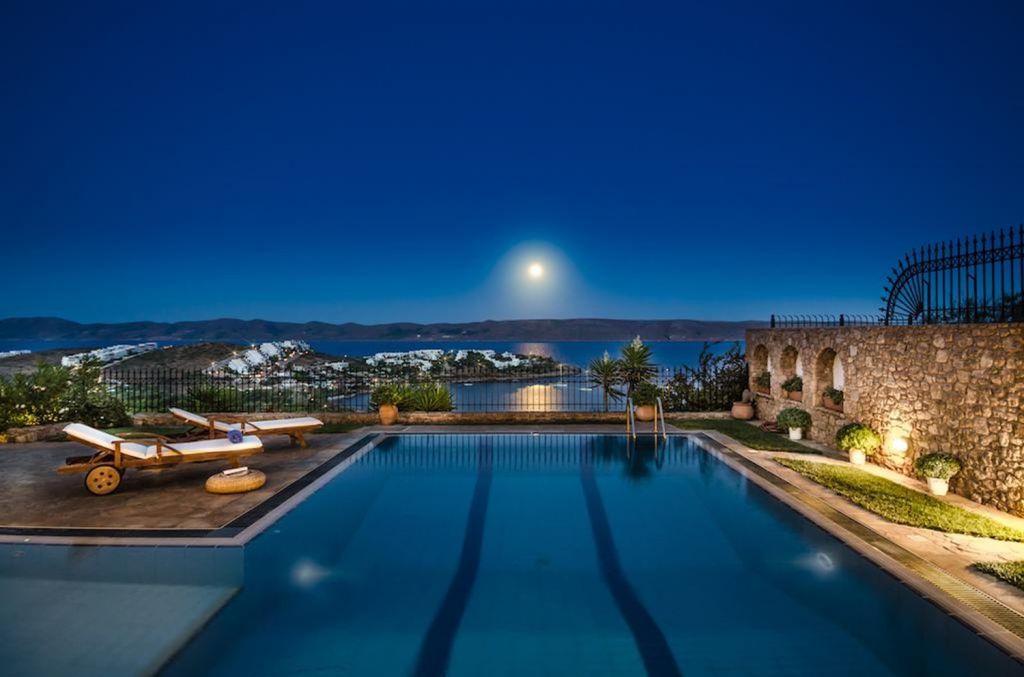 Sounio, as one of the most luxurious and exclusive parts of Athens Riviera, has multiple accommodation options. Sounio Villa is one of the properties guaranteeing privacy, serenity and comfort in a lavishing and elegant setting. The property has four bedrooms furnished and decorated with designers' items that add the necessary touches of luxury. The estate features spacious common areas with everything needed for your own pleasure, relaxation and recreation. The outdoor space includes a private swimming pool, an outdoor BBQ facilities and dining area as well as some comfortable lounges overlooking the sea.