Most popular food to try in Bali | Traveler by Unique
Spicy, sweet, salty and sour are some of the main recipes that travelers can enjoy while in Bali. The popular island destination of Bali has an exceptional variety of fine restaurants, as well as multiple street options where foodies and travelers will be able to taste, smell, observe and enjoy some of the most popular food options.
Sate (Satay)
One of the most popular and must-try food options in Bali is the Sate or Satay, as it is also called. This particular recipe is in fact marinated, skewered and grill meat varieties. Travelers are able to choose, among others, from sate chicken, goat, beef, pork, or fish. Sate can be an option for vegetarians as well, as it can include vegetables or tofu. For those who are interested in exploring the Balinese culinary tradition in depth, sate turtle meet can be an option for street food. The main idea behind sate is that the main ingredient, i.e. meat, is served with a spicy sauce which includes pieces of coconut, coconut milk and an irresistible blend of local spices.
Nasi Ayam and Nasi Campur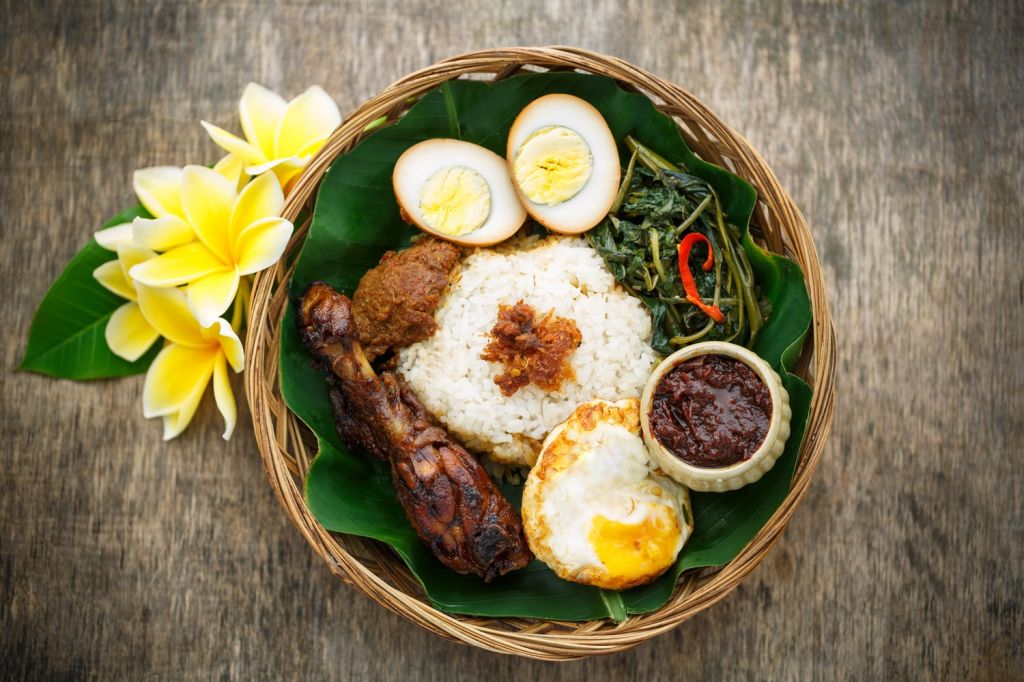 The Balinese culinary tradition is a proud owner of a delicious meat-rice. The rice has two versions, called Nasi Ayam and Nasi Campur, and is a common recipe that is being served in the great majority of restaurants and street food stalls, making it easy for the travelers who wish to taste it. This particular recipe is mainly made by white rice, mixed with two possible meat varieties, namely babi buling or betutu, and vegetables. The ingredient that provides an extra touch of taste is, of course, a spicy sauce called sambal matah. However, for those who wish to avoid the spicy flavor, it is possible to ask for it since the sauce is usually served in a different soup bawl.
Bebek and Ayam Betutu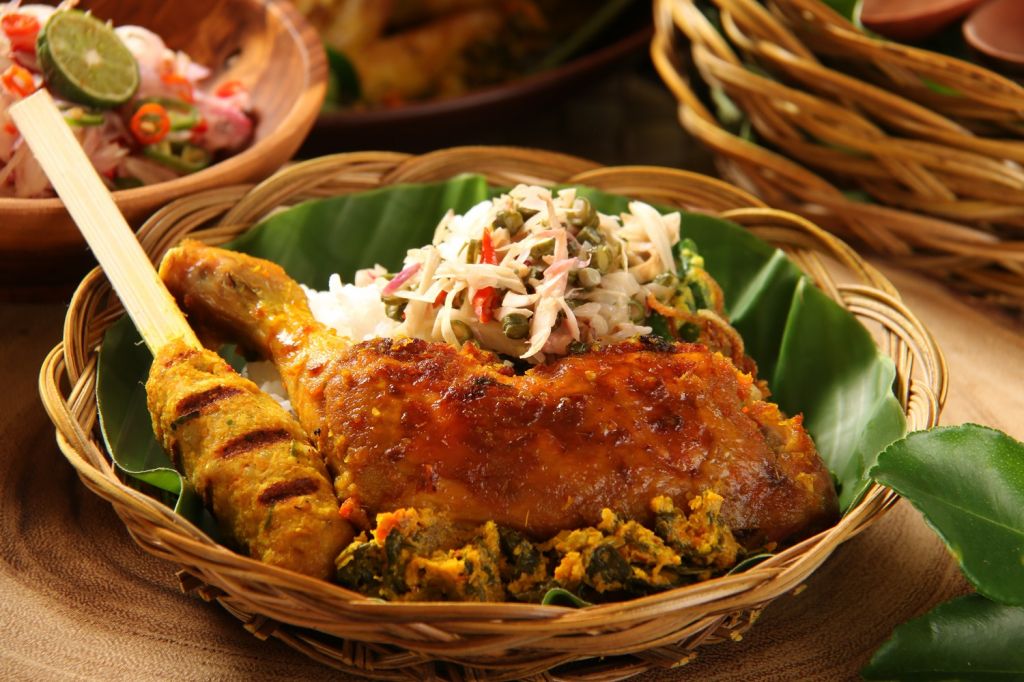 One of the most characteristic and popular Balinese recipes is the infamous Betutu. This Balinese specialty can either include a whole chicken or duck which is stuffed with a specific blend of Indonesian spices. The chicken or duck is wrapped in banana leaves in order to remain juicy during the cooking process. According to the traditional recipe, the duck or the chicken is baked in the oven or is buried in a coal fire. With the second cooking method, it takes longer to get ready but the result is exceptional as meat can be easily separated from the bones and is extremely soft.
Babi Guling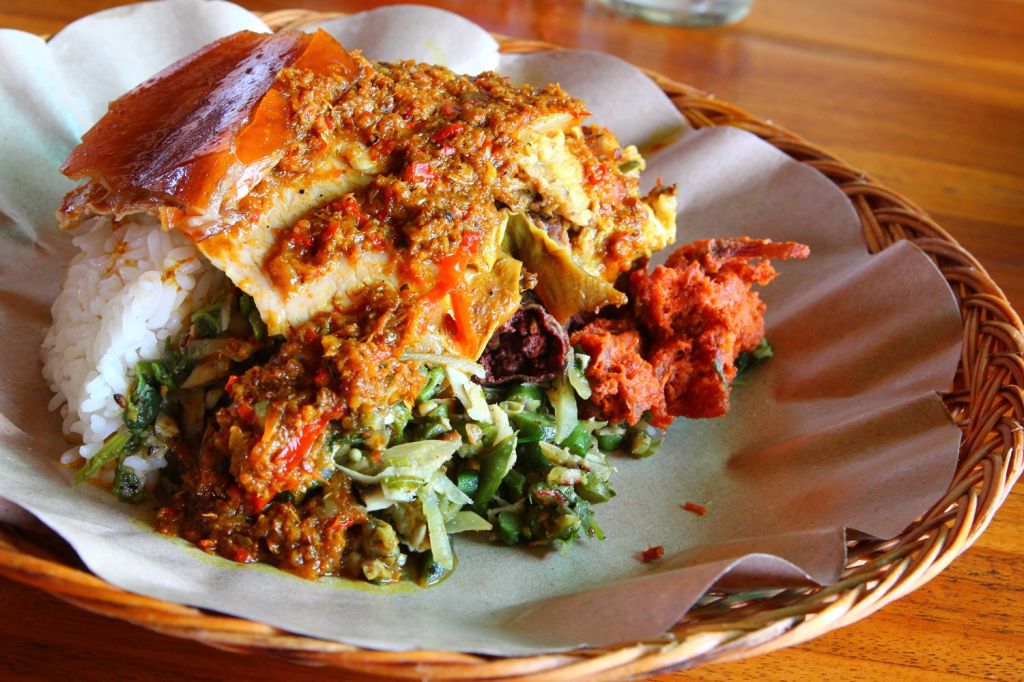 The iconic bibi Guling is one of the most favorable options for both, locals and travelers. This mouth-watering and delicious recipe features a whole pig that is stuffed with blends of Indonesian spices and a mixture of vegetable leaves which can be found in the Balinese fields. The stuffed pig is then rolled over a coal fire. This slow-cooking method enables pig to have a crispy skin while having soft meat inside. Babi Guling used to be cooked for special celebrations and ceremonies and it was a common food option for family gatherings. Nowadays, restaurants serve this delicious recipe to offer travelers a taste of the authentic Balinese cuisine.
Jimbaran Seafood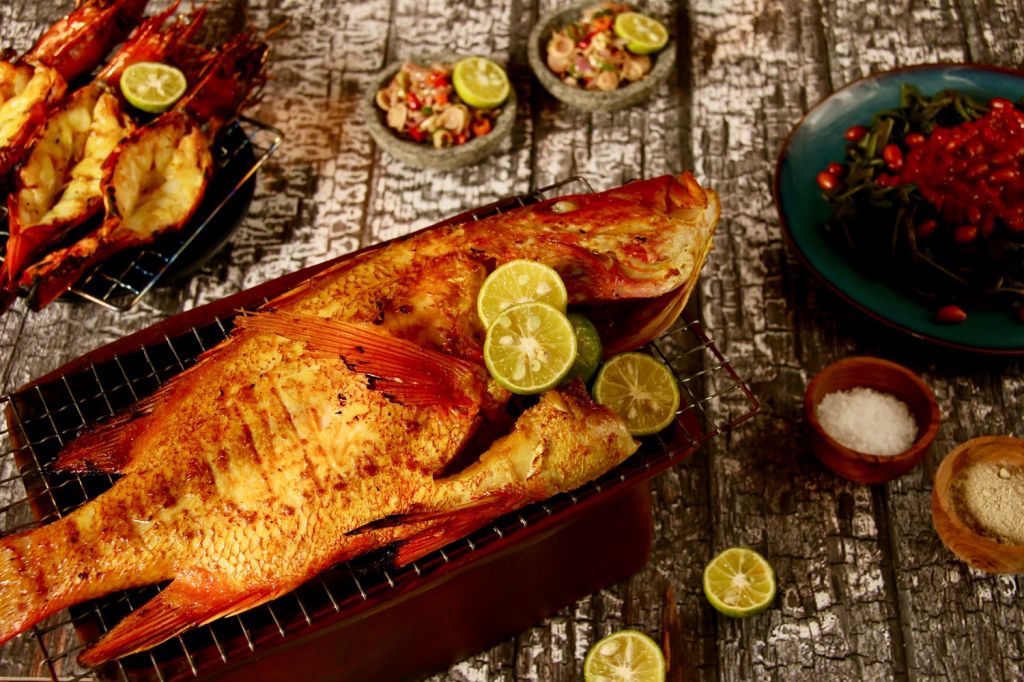 The list with the most popular food to try in Bali cannot exclude the infamous Jimbaran style seafood. Bali is famous for the variety of fishes and seafood that travelers will enjoy in every possible form. The main characteristic of the Jimbaran seafood is that it is freshly caught and served with a variety of sauces that enable the creation of an intense and rich flavor. The best location to try this exceptional variety of seafood is, of course, Jimbaran Bay. There, travelers can taste crabs, shrimps, lobsters and fishes of all types. The sauces that usually accompany these plates are known as Jimbaran style, and the best way to understand what they taste like is to enjoy a delicious and freshly made meal there.
Lawar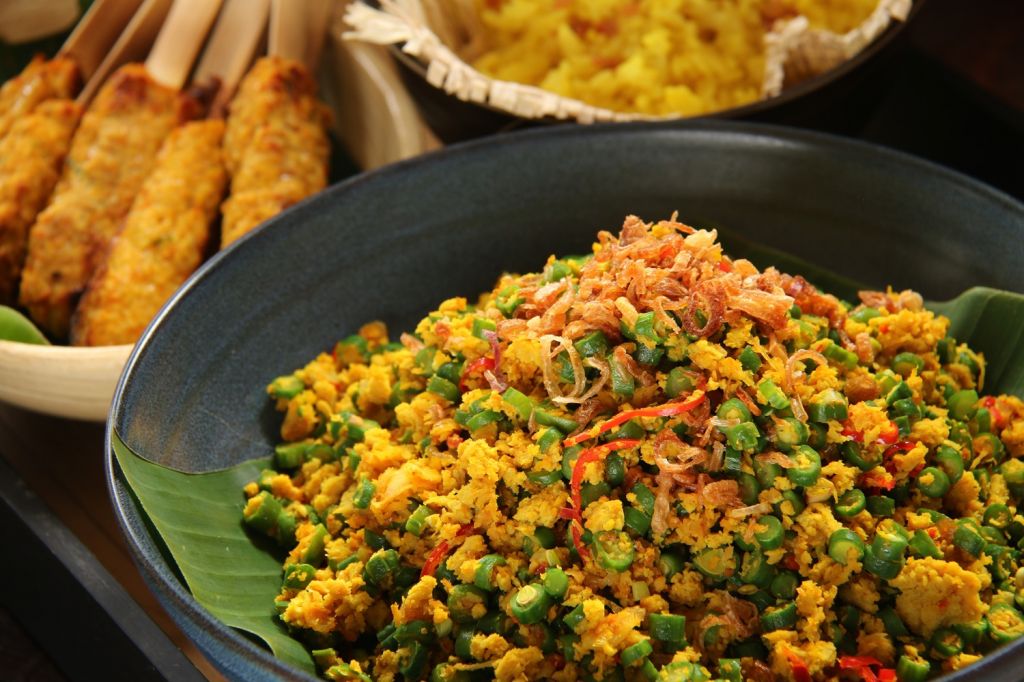 Lawar is a typical Balinese food that can be found in two versions. The red Lawar includes chopped meat, a variety of vegetables, pieces of coconut and spices. In addition to the abovementioned ingredients, red Lawar also includes fresh blood from the meat. It is usually served right after the preparation as, due to the existence of blood, Lawar cannot be kept for a long time. On the contrary, the other version, which is known as white Lawar, includes no meat and blood, making it an ideal option for vegetarians.
Nasi Goreng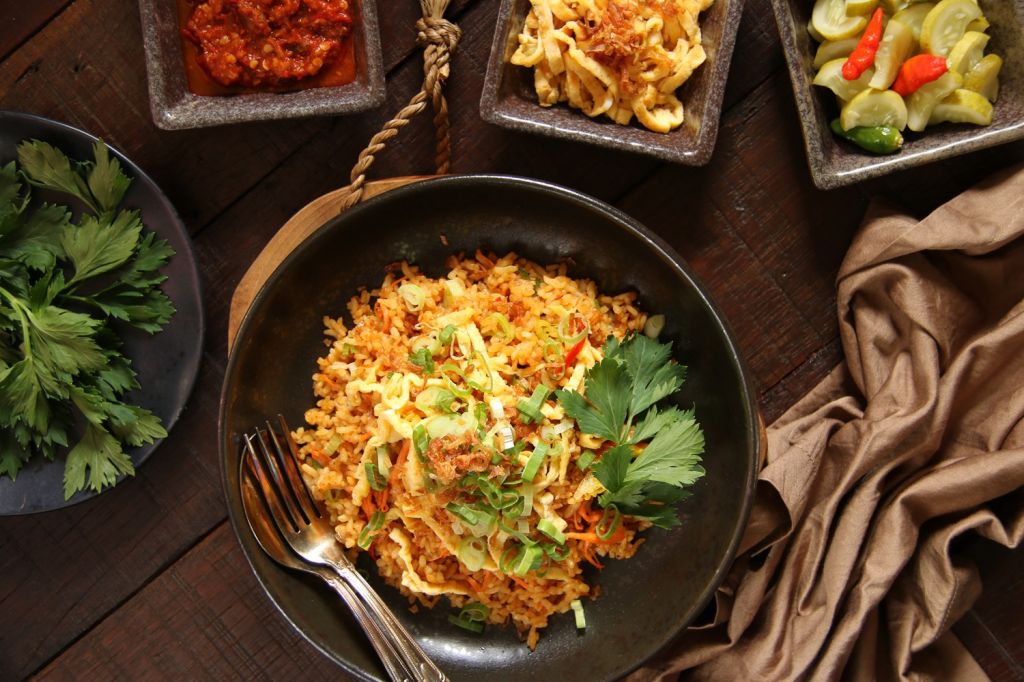 There is not a possible way that travelers in the Asian continent will enjoy a traditional meal in the absence of rice. In the case of Bali, Nasi Goreng is the traditional Indonesian fried rice and is served in every possible part of the country. This rice is pre-steamed and stir-fried and includes a mixture of meat and vegetables. The rice can be found in many versions and may include beef, shrimps, crab, chicken or anchovy. It can also be served with sweet soy or chili sauce. Being one of the country's most characteristics plates, this rice is often accompanied by sliced tomatoes, cucumbers, mixed pickles and crackers.