Ubud has great foods made by fine ingredients, and it has amazing restaurant designs that are so Insta-worthy your followers from back home are sure to be mesmerized by your travel feed! If you're planning on visiting Ubud for your next vacation, be sure to check out these most Instagrammable restaurants!
1. Clear Cafe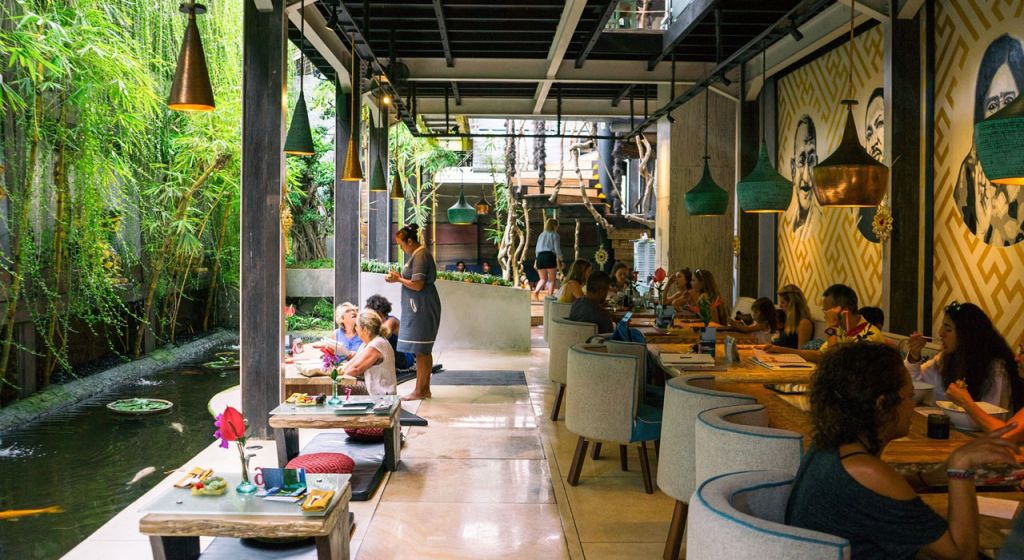 Clear Cafe is probably one of Ubud's very own most unique restaurants. Designed to clear your mind from the hustle and bustle of city life, the three-storey restaurant gives off a vibe of being a tree house. From the moment you enter, guests are required to take off their footwear, and enter the restaurant's main door that resembles a cave-albeit a very fine cave, with many calendula flowers decorating every corner of the restaurant.
Then, on the left side will be a stream of indoor river where the sound of it adds to the relaxing vibe of this restaurant. Sofas, even cushions on a floor-seating are available for choosing. If you go to the second floor, through a massive wooden staircase that makes you feel like you're ascending a forest tree, you'll find a spacious open-air seating area.
But it's not just the cafe's decor, even the foods are highly Instagram-worthy. Many staple dishes from various cultures are prepared using Bali's finest ingredients and then presented most beautifully with skilful plating art. It's common to find edible flowers garnishing your salad bowls.
The cafe also has an adjacent massage and beauty parlour. It's a very nice combo for weary travelers who need a little bit of pampering under Bali's hot sun. After a relaxing massage and shower, you can just book a table and sip on refreshing herbal tea with nachos, and take in all of the calmness exuded by Ubud's quaint neighborhood.
2. Folk Pool & Gardens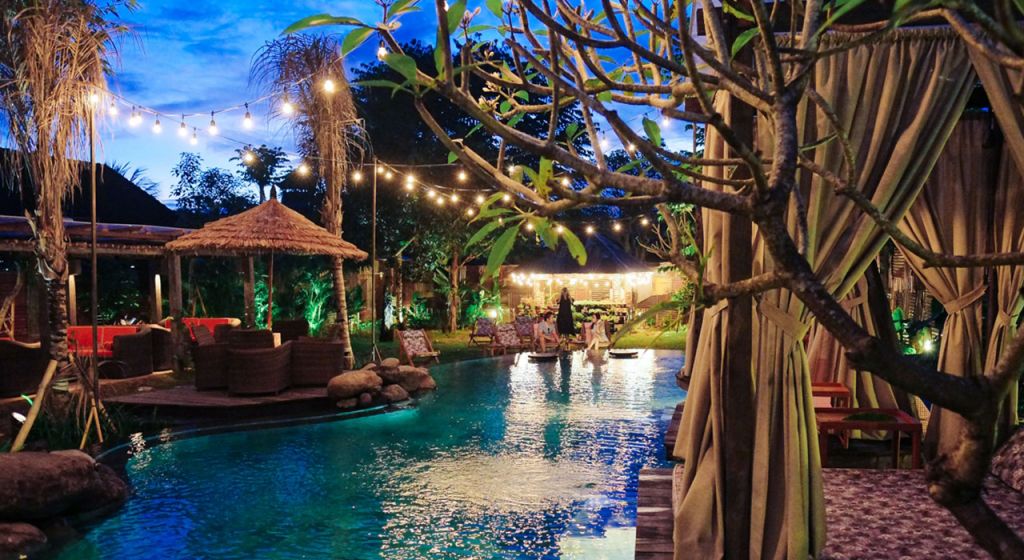 You may have been to world's greatest restaurants; you may have been to world's wildest pool party; you may have never been to a restaurant that lets you float on a comfortable inflated cushion on a pool whilst savouring delicate cuisine and sipping on a cocktail. At Folk Pool & Gardens, you are allowed to do all of those things, with attentive staff always ready to cater to your holiday whims.
The pool, sundeck, cabanas, and garden lights make it appear like you're in some Southeast Asian fairy tale. Add that if you're choosing to have an afternoon tea moment. The uniquely Balinese arrangement will make any picture look fabulous, even if you're a bad photographer. The restaurant offers vegan-friendly dishes that look super colourful on a wooden plate.
Folk Pool & Gardens also offers cooking classes that teach visitors how to cook staple Balinese dishes, including desserts and snacks. The classes are always fun and packed with tourists from different parts of the world, so it's also a good chance to be making friends!
3. Milk & Madu
Milk & Madu is probably the trendiest restaurant in Ubud. The moment you lay eyes upon the spacious cafe with clear glass walls you'll know this is a place worthy of tons of Instagram snaps. Located in a chill neighborhood of Central Ubud where the Ubud Palace is within walking distance, Milk & Madu cafe sports a contemporary decor whilst keeping the touch of nature's green vegetation within its glass walls.
Their selection of breakfast and brunch, which is a favourite, sports the most delicate presentation. Beautiful tableware, beautiful ingredients, and a touch of natural sunlight unfiltered by the glass walls are your most fabulous concoction for the best Instagram feed. The evening can also help you create a beautiful feed by the contrasting deep-blue sky and warm lights within the cafe.
Not only is Milk & Madu Insta-worthy in every way, but their menu is also healthy and refreshing for people of all ages. So, don't miss this place when you're in town!
4. Lazy Cats Cafe
No, it's not a cat cafe, sadly. The Lazy Cats Cafe is a nice and quiet lounge in an unexpected corner of Ubud's main streets. The decor is so quaint and unique in its own way that is simply like no other throughout Ubud.
The cafe is donned with quirky paintings that exude a strange feeling of solitude yet invigorating enough for their weirdness. The walls are rustic and seem unkempt, but that is contrasted by the colourful sofa chairs sporting bright urban colours such as pink, yellow and orange. It's just weirdly bohemian and once you settle in you might find it hard to leave. And that is probably why you'll find a handful of its guests are actually expats working from their laptops, instead of rowdy selfie-taking tourists.
As you'll find with many restaurants in Ubud, Lazy Cats Cafe also has a fine selection of healthy breakfast, refreshing lunch and fabulous dinner. Ubud restaurants are known for their intricate detail to food presentation, so you'll find Lazy Cats Cafe's foods to be Insta-worthy as well.
5. The Pond Restaurant
You'll have to be asleep to miss this lounge located right on the roadside of Ubud's main street. It's so easy to recognize by the huge pond filled with lotus flowers immediately facing pedestrians and vehicles passing by.
As you go deeper inside, there is also a pool where you can lounge and enjoy Ubud's chill air sipping on a beer. There are floating beds and cabanas for rent so it's a good place to hang if you're looking to spend some time reading, or tanning even. The indoor seating is decorated in eclectic nature-inspired design and as typical of Ubud, all the foods and drinks are always easy on the eye, including your camera's eye.