Long Beach and Star Beach, Phu Quoc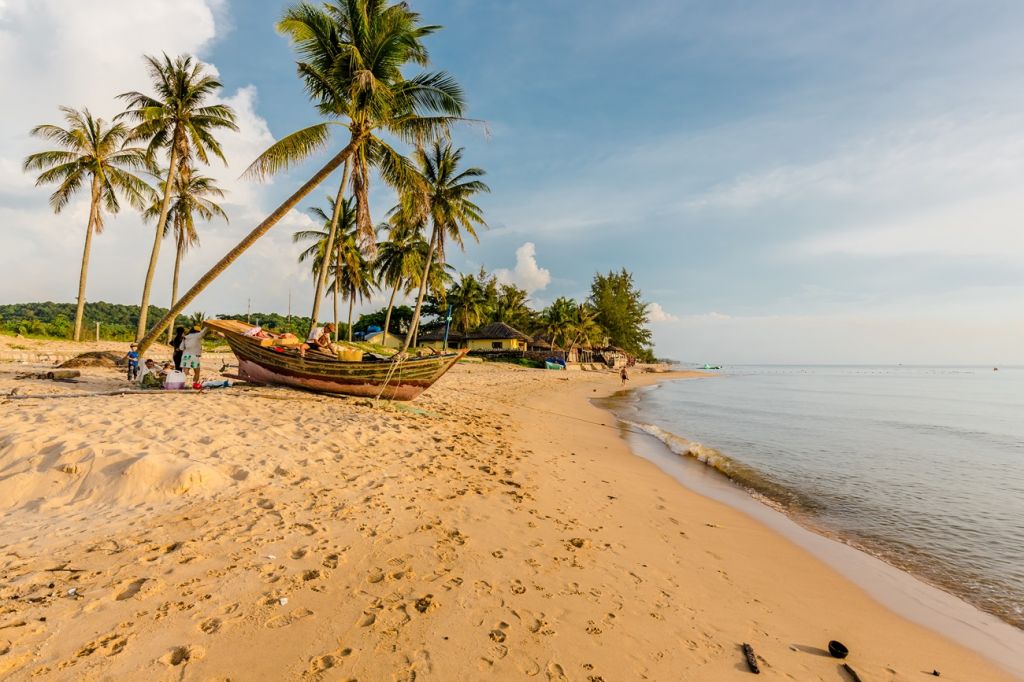 The Pho Qouc Island has 20 km of soft sands, shady areas from the palm trees and idealistic tropical swimming areas. The waters are calm which is great for kayakers and the sea life is great for snorkelers who want to swim with squid, octopus, stingrays, tropical fish and brightly coloured corals.
Phu Quoc has mountain waterfalls that are a nice walk before cool off in the river. The island also has a busy town market selling all sorts of local fruits, vegetables and freshly caught seafood. Many travellers come to Phu Quoc to relax at the beach during the day and enjoy the local dining options and nightlife in the evening. There are many bars and night clubs for people to enjoy some drinks with other travellers. Street food is always available for those who want a delicious snack on their way somewhere.
Doc Let Beach, Hon Khoi peninsula
Incredible turquoise water shallow enough to spend the day in, with white beaches that stretch for 18 km, Doc Let Beach is definitely one of Vietnam's best beaches. Snorkelling, diving, swimming and jet skiing are all allowed at the beach along with other water-sports. There are venders around selling cold drinks and snacks along the beaches.
The Thap House Hot springs is a perfect way to spend a relaxing afternoon and you will love it so much you wont want to leave. Other actives around the beach include a hike to the Ba Ho Waterfall, The fisherman's marker and karaoke bars.
Dam Trau Beach, Con Son Island
The water at Dam Trau Beach is so calm it is easy to forget that it is the ocean. The huge rocks planted into the green landscape are the reason people love to spend time here. The coral reefs are very colourful and there are people snorkelling around them all day long.
Con Son Island has several places worth checking out, such as the Con Dao prison, Island God's Place and the Nui Mot Pagoda. There are many places to relax and have some freshly pressed juice. Hut's and cafes will always have fresh coconut juice, iced coffees and fruit smoothies around the island.
Cua Dai Beach, Hoi An
Deep waters with a sandy sloped sea floor brings in visitors from all over the world. This beach has calm waters with gentle waves with soft sand covering the shores. Cua Dia beach is one of Vietnam's best beaches because it is so clean, and there are lots of activities to take advantage of. The area is full of delicious seafood restaurants ready to serve the catch of the day.
Hoi An Ancient town is a beautiful old town with lots of character. Lanterns fill the streets to light the way for people as they walk from place to place. There is a popular fish market and a night market that draw in crowds daily. The town is so stunning at night it seems magical.
Mui Ne Beach, Phan Thiet
The less traveled beaches are a treat for those who are used to heavily populated beaches. Mui Ne Beach is a surprisingly beautiful beach in the small fishing village of Mui Ne. Boats fill the water which makes a colourful view as people relax on the beach. Hot air balloon rides are common in this area allowing people to see breathtaking view of the inlet. Kite surfing is another reason people frequent this beach. The waters are perfect for beginners to learn as well as more experienced kit surfers.
The sand dunes are laid out perfectly to be walked on and there is a river that runs through it, named the Fairy stream. There is a historical site a few km away from the town called the Cham Towers which are an assortment of tombstones from the 9 th century.