Visitors of Santorini can enjoy swimming in a variety of beaches. From isolated and quiet locations to crowded and cosmopolitan beaches, Santorini has it all. Pebbly, sandy and rocky, kids-friendly and beaches ideal for snorkeling. In Santorini visitors will find every type of beach that meets their expectations.
Red beach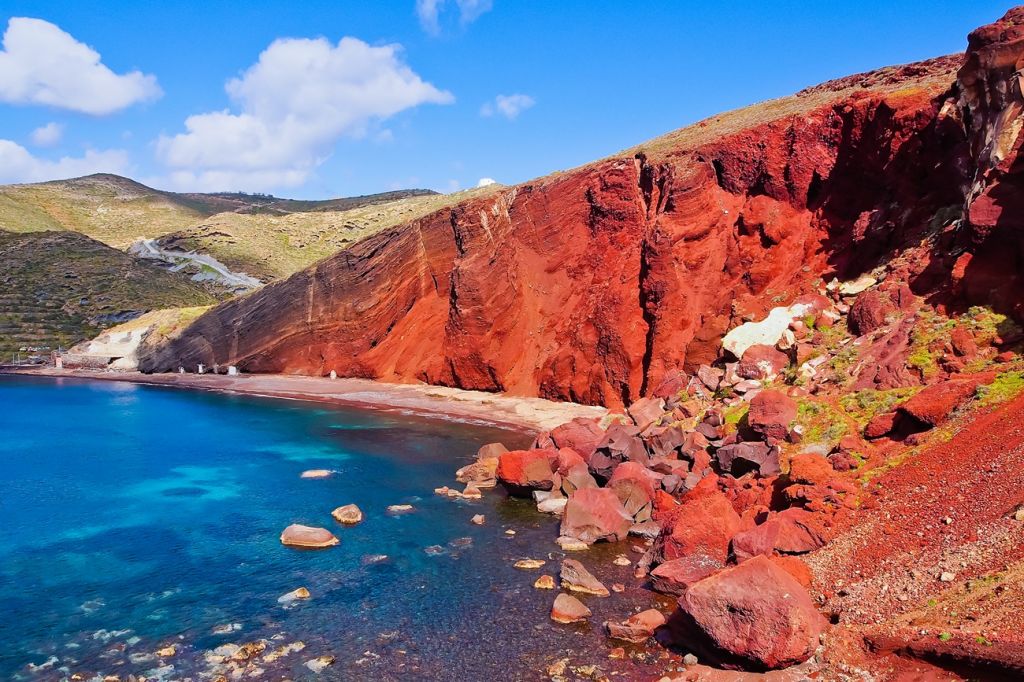 Forming the most famous beach on the Island, Red beach is a unique location for swimming. The beach is located in a natural setting of unique beauty and is able to catches visitors' attention with its wild beauty. In fact, Red beach is surrounded by rock formations that resulted from the volcanic lava. The terrain is a mixture of pebbles with red sand creating a truly spectacular combination. Visitors can enjoy swimming in crystal clear waters which are also ideal for snorkelling. This is because, the volcanic lava formations and the geological composition of the sea bottom provides a colourful and interesting setting for underwater explorations. Red beach is probably the most famous beach on the Island and during the high season is often overcrowded.
Perissa/Perivolos beach (black beach)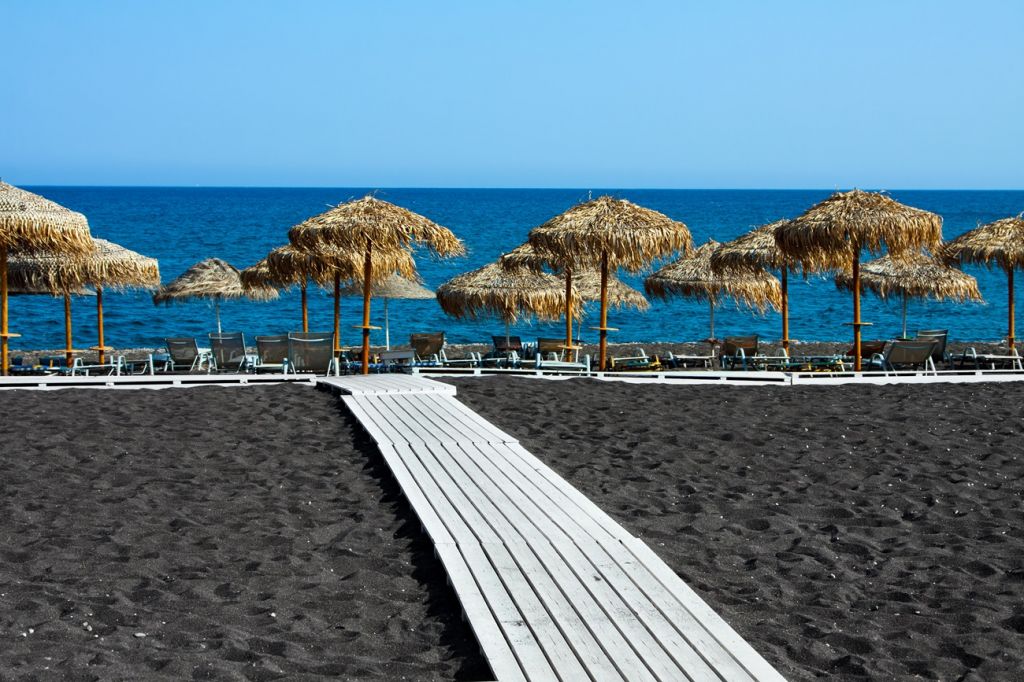 Although forming two different beaches, Perissa and Perivilos are often perceived as one single location. In reality, Perivolos is a long and wide beach, while Perissa is the very end of the Perivolos beach. Both are exceptional as they provide the ideal place for visitors who wish to enjoy swimming in clean waters and sunbath in a well-organized beach. Both beaches are often called black beach as the terrain includes a mixture of black sand and black pebbles.
More precisely, Perivolos beach is a must location foe very visitor of Santorini. The beach is surrounded by exceptionally elegant beach bars where visitors can enjoy a unique gastronomic experience, drink refreshing cocktails and dance with some up-beat music from some of the world's most famous DJ's. It is not a coincidence that in Perivolos beach attracts, among others, celebrities and jet setters. There, people can also practice some adrenaline boosting water sports or simply relax in one of the comfortable sunbeds.
At the end of Perivolos, visitors can reach Perissa beach. It is one of the most popular beaches in Santorini as it offers turquoise and clean waters along with a black colour pebbly terrain. Beach bars create a truly exceptional atmosphere which covers the needs of every visitor. From relaxing to partying, Perissa beach is for sure the place to be.
Vlychada beach (white beach)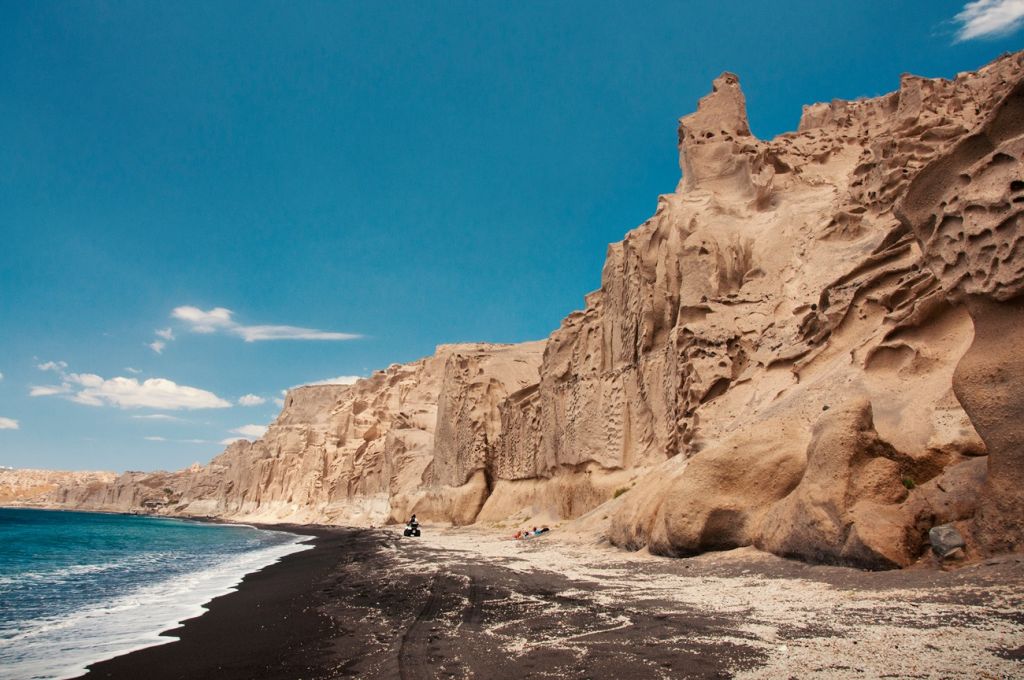 For those who seek to relax in a quiet and calm atmosphere, then Vlychada beach is definitely one option. Also called white beach, this bay is surrounded by huge white wash rock formations. Sunbeds and umbrellas can be found there at an extra cost in order to ensure a pleasurable and comfortable time. The location is quiet and promises an outstanding experience of relaxation due to the absence of beach bars. When exploring the surrounding area, visitors are able to observe at the end of the beach an old factory. The spot is ideal for some flawless romantic photo shooting as the natural environment along with the traces of an old industrial character, provide the perfect set.
Kamari beach
Kamari beach is situated close to the Airport of Santorini Island and due to its location, is an easily accessible spot for both, locals and visitors. This is one of the reasons making this incredible beach one of the most popular and crowded on the Island. The beach itself is organized with sunbeds, umbrellas and many options regarding food. More precisely, visitors are able to find a wide selection of fine restaurants, traditional tavernas, beach bars and many more. These places are able to meet even the extreme high end expectations of every visitor.
In what regards the bay, it is sandy and long enough with clean waters. Swimming there is an exceptional experience as visitors can easily swim around the clock. Indeed, the bay is strongly recommended during the sunset. The romance resulting from the charming atmosphere that the sunset creates is an exquisite and unique feeling. Visitors are able to observe and admire the infamous sunset of Santorini while drinking a fine cocktail right on the beach.
Koloumbos beach
Koloumbos beach is ranked among Santorini's' best beaches for mainly two reasons. The first reason is that it forms one of the Island's longest beaches. Due to its extremely big length, the beach provides a truly quiet and relaxing atmosphere. It is important to mention that, even during the pick of the summer season, Koloumbos beach remains a quiet resort. The second reason that makes this beach an interesting place is that, due to its size and isolated atmosphere, is a preferable bay for nudists. The bay's terrain has black pebbles while the surrounding rocks provide a sense of privacy. Visitors can enjoy swimming in deep blue and clean waters.
Monolithos beach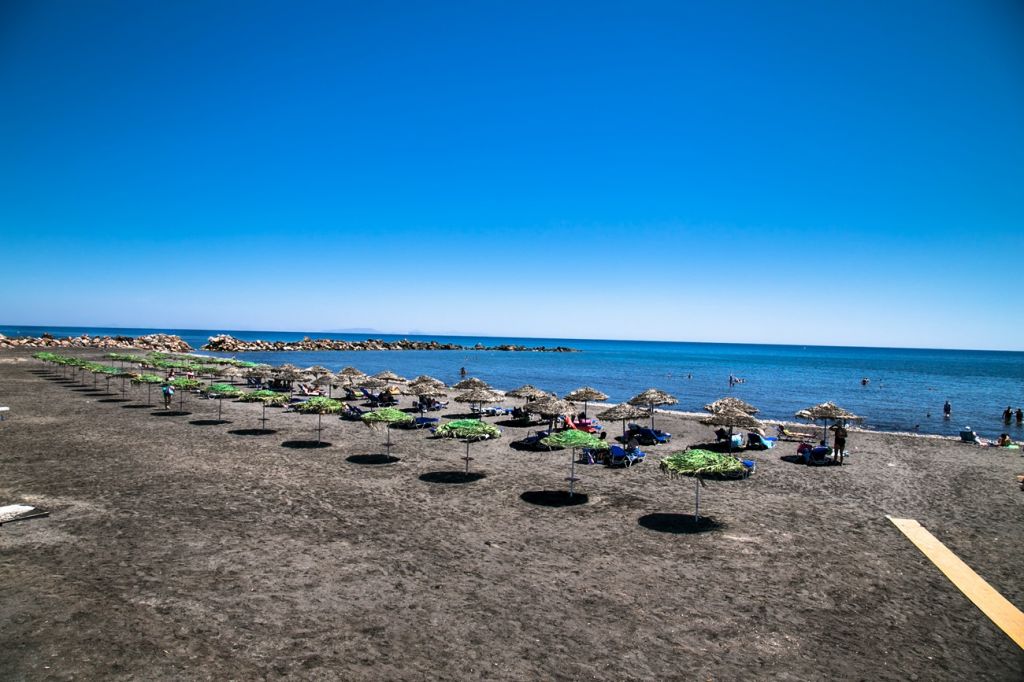 In an area close to the Island's Airport, visitors can find Monolithos beach. This beach is ideal for several beach activities as it is wide and long enough to host such activities. The terrain is sandy and is arguable one of the best beach terrains that visitors can find in Santorini. Monolithos beach is characterized as a children-friendly spot as the waters are shallow and clean. Sun seekers can enjoy sunbathing in one of the sunbeds that can be found there. Finally, there are some traditional restaurants close to the beach where visitors can enjoy a meal.