The best beaches are spread all over the Island, from the West to the East and South Coast, swimming will be an exceptional experience when in Kefalonia. Despite the fact that each and every one of them is unique, there are 10 beaches that can be characterized as spectacular.
Myrtos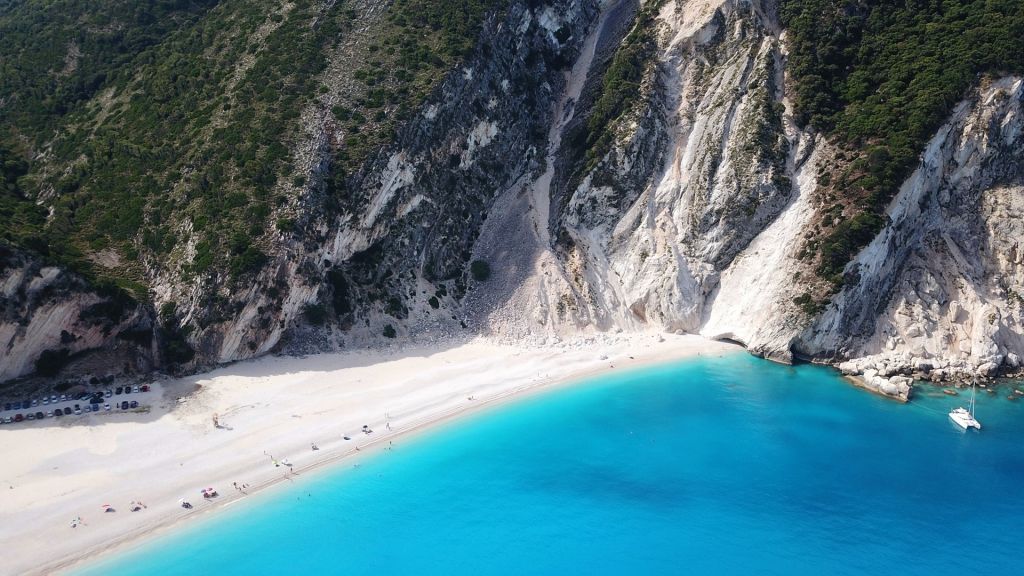 For those who believe that they are having high expectations when it comes to a beach, Myrtos is a kind of beach that sets the requirements higher than the normal. It is not a coincidence though that this particular beach enjoys international recognition. Forming a must visit point, this beach manage the impress every single visitor. The combination of turquoise waters with wild rock formations and the green plantation creates an outstanding backdrop of unique beauty. The beach is finely pebbly with white pebbles and visitors can find a limited number of sunbeds and umbrellas. Myrtos is an ideal location for sunsets as well, as the unique wild setting provides the perfect location to see the red sun diving into the horizon.
Antisamos
The pebbly beach of Antisamos is located on the East coast and is long and wide enough. The forces of nature are all set in creating a spectacular beach. This is because the clear waters reflect the green colour of the surrounding trees. The result is the outstanding and irresistible green water which at a point meets the deep blue that comes from the southern part of Ithaca Island. Indeed, visitors can observe that from that point the distance between the two Islands is really short. Antisamos beach showcases an impeccable beauty like no other. An interesting highlight is that the movie "The Captain Corelli's Mandolin" was shot there.
Makris Gialos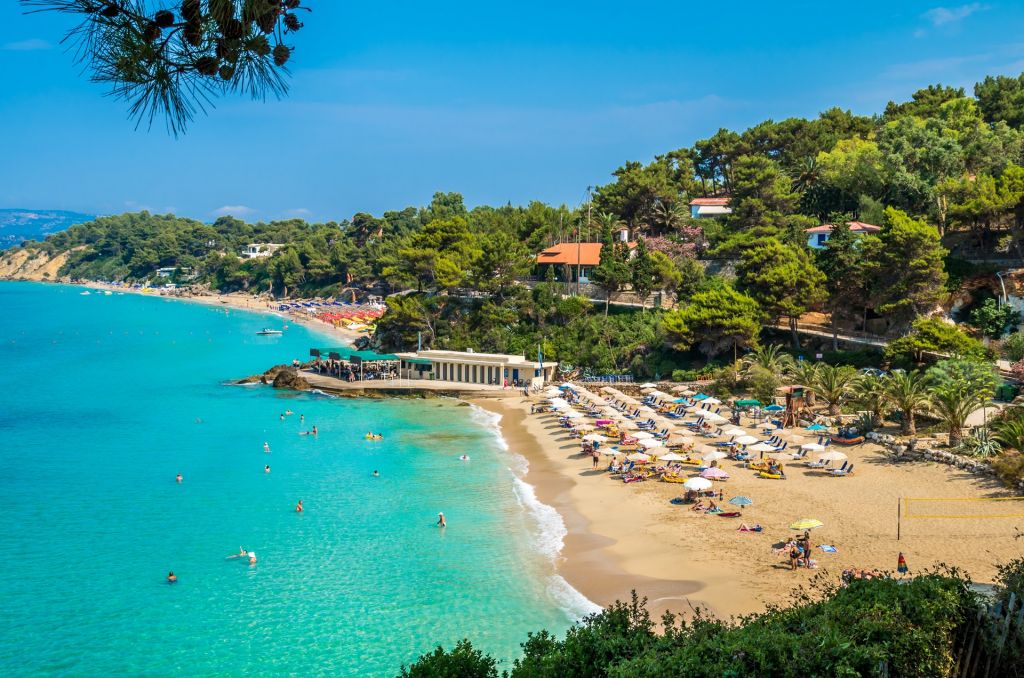 When it comes to popular and crowded beaches, Makris Gialos is definitely one of them. This beach is a destination for both, locals and visitors as it has huge length that can accommodate a large number of people. Transparent, blue and shallow waters are what visitors enjoy there. This sandy beach is ideal for all ages as visitors can find there a variety of beach bars and perfect waters for the children.
Platis Gialos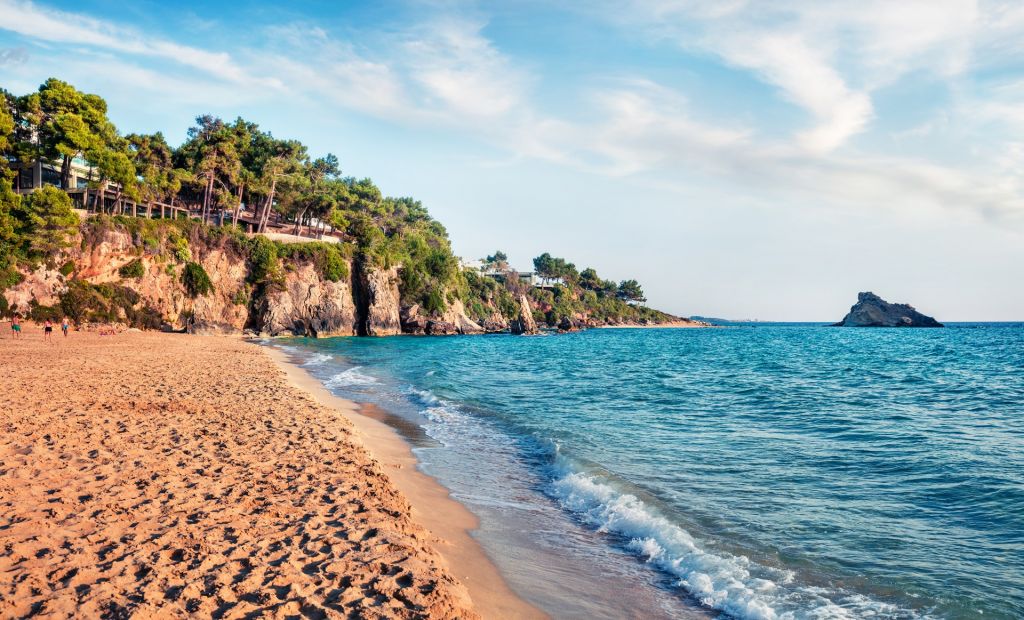 Not to be confused with Makris Gialos, as this beach forms its twin neighbouring bay. While Makris Gialos is known for its length, Platis Gialos is characterized by its width and the two beaches are separated by rocks. Platiw Gialos is ideal for those who seek to enjoy sunbathing in a sandy terrain. The sea has shallow, clean and cool water. The beach is surrounded by pine trees which provide the perfect isolation from the road. Visitors can find umbrellas and sunbeds to make their swimming experience for comfortable.
Petani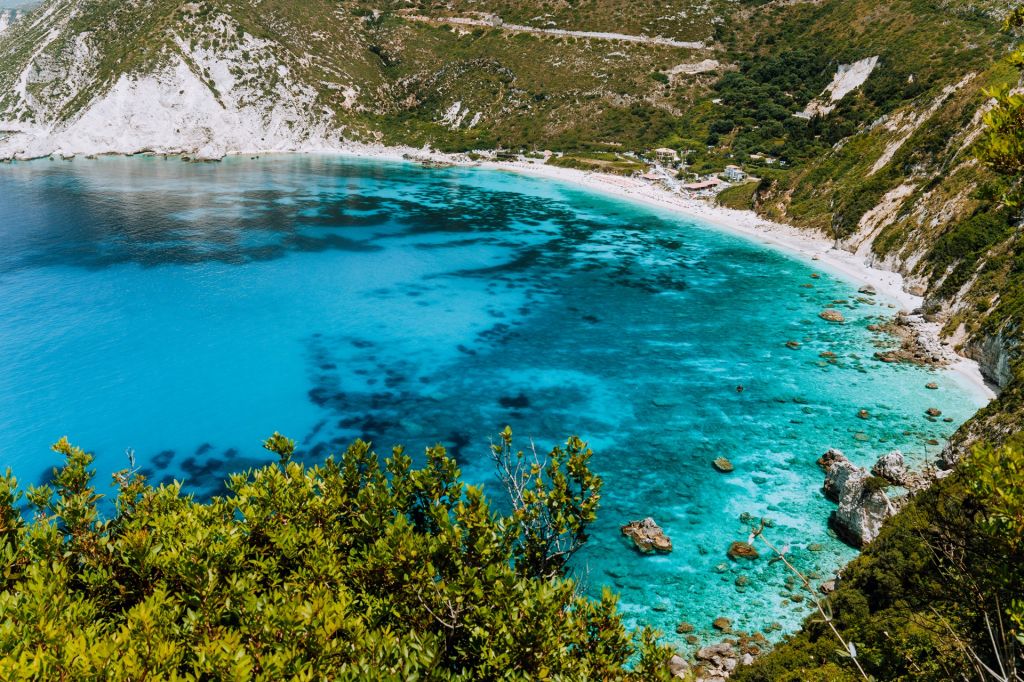 Two spectacular cliffs surround this beautiful location, like hanging protectors of an amazing beach. Petani is a beach of unique beauty and is often compared with Mirtos beach. Listed among the best beaches in Kefalonia, Petani offers a pebbly terrain with emerald waters. What's better than enjoying swimming in a clean and organized beach? At Petani, visitors are able to find everything to satisfy their needs. Beach bars, restaurants and cafeterias are there to provide the ultimate visitors' comfort with excellent service.
Xi
Xi beach is often characterized as a unique of its kind. It was named after the Greek letter "Ξ" as the beach has a similar shape. The beach has an exotic atmosphere as it combines a bright red sandy terrain which is surrounded by clay cliffs. These cliffs are also protecting the beach in case of wind. However, this beach is known not only for the outstanding natural backdrop, but for its natural environment that is ideal for skin treatments. More precisely, the grey clay is ideal for scrubbing and cleansing of the skin. Xi beach is suitable for every kind of visitors as it offers crowded beach bars and shallow waters for the children. It is important to note that sunsets are extraordinary there.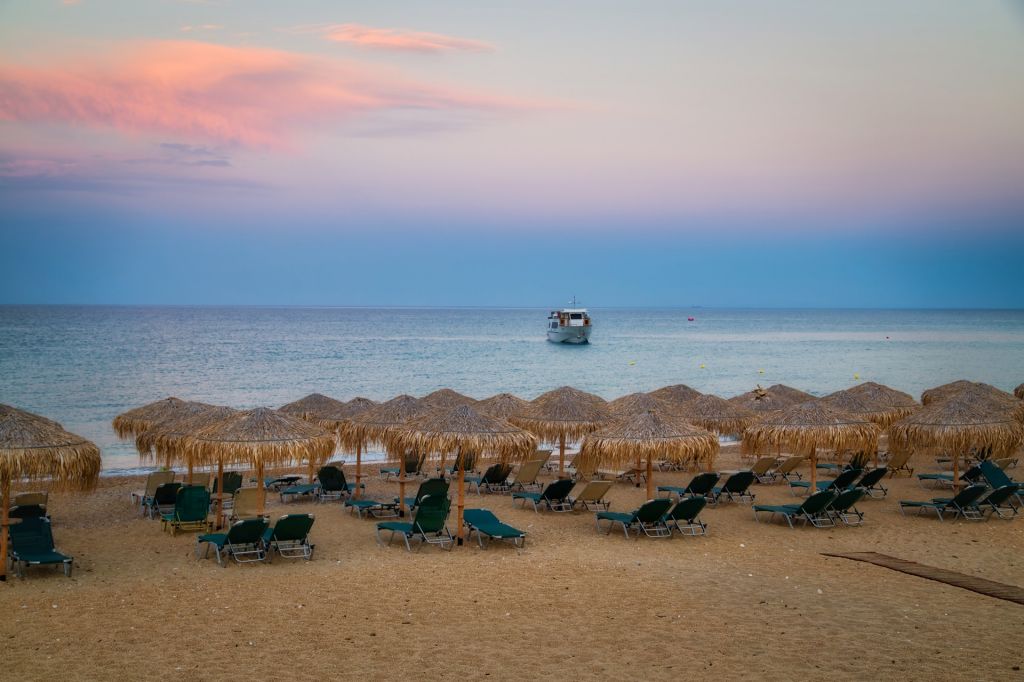 Skala beach is listed among the longest beaches of the Island and is located in the southern-eastern coast. A 5Km long sandy beach with a lot of pine trees is what visitors see once they are there. The waters are impressive as this beach offers clean and blue open waters. As it is situated in Skala village, which hosts some of the largest hotels, this beach is a popular spot for both, tourists and locals.
For those who seek to practise water sports, Ai Helis beach is definitely the place to be. Located in the south coast, this sandy beach has a characteristic feature as the sand has a grey colour in contrast to the rest of the beaches that are having a gold colour sand. Visitors can enjoy swimming in clean, shallow and calm waters. This particular beach is ideal for families as it provides a quiet and peaceful atmosphere. It is also the perfect option for those who seek alternative water sports as several facilities can offer to visitors unique experiences. Umbrellas, sunbeds and a beach bar can also be found there. During summer time, the beach often hosts night beach parties.
Emplisi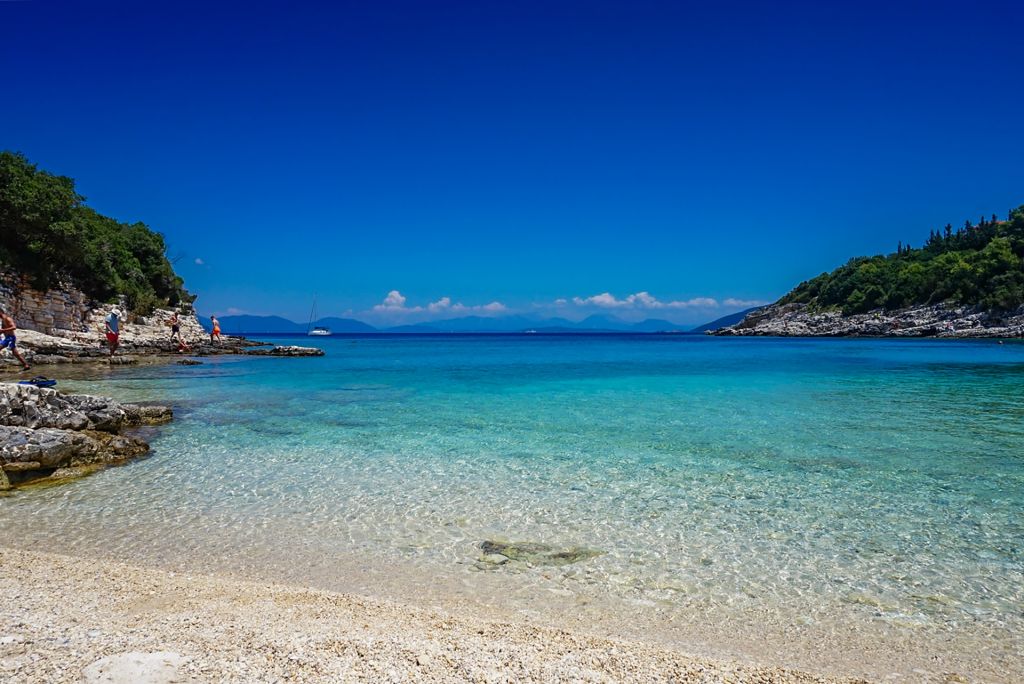 Emplisi is another popular beach that can be listed among the best in Kefalonia. The beach can be found in a closed bay that has an exotic and tropical atmosphere. This is because the bay is surrounded by trees that almost reach the waters. Visitors are able to enjoy swimming in emerald waters, while the sun seekers can enjoy sunbathing in a white colour pebbly terrain. For those who seek a more quiet and relaxing atmosphere, the bay has flat rocks at both sides which can be used for sunbathing right next to the sea. This beach is not organized and visitors are instructed to be properly prepared before going there.
Foki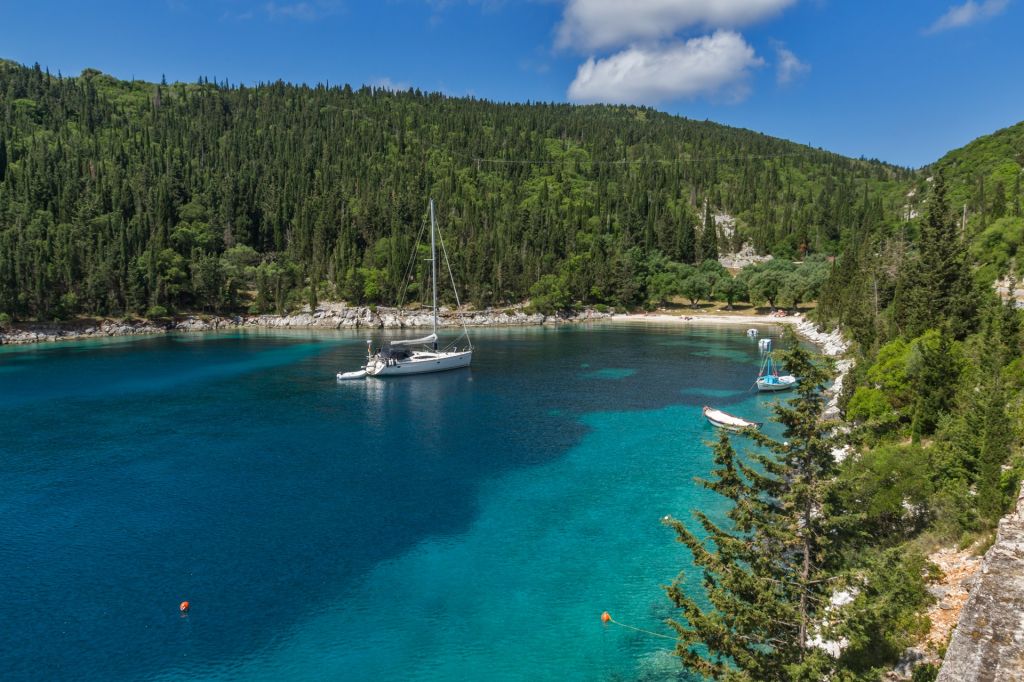 Last but not least, Foki beach is an outstanding natural setting in Erisos. This small and isolated beach is ideal for those who seek a quiet and relaxing beach. It is surrounded by trees such as cypresses and olive trees which provide a truly unique atmosphere. Foki is also a perfect option for snorkelling and diving. An interesting highlight is that the beach took its name by the Monachus-Monachus seals which can be found there. Seal in Greek language can be translated as fokia, and these cute sea animals often choose the emerald waters of this beach to swim.