The country is also famous for its unique food and the culture surrounding it. Being the second-largest rice exporter in the world, it is not unusual to find rice as a part of most of the country's famous dishes. In this article, we take a look at eight great things to eat when you're traveling in beautiful Vietnam.
Pho, Vietnam
Pho is perhaps one of the most famous dishes of Vietnam, to such an extent that during the 2000s, Pho restaurants made more than $500m in annual revenue.
A common staple street food in Vietnam, Pho consists of fresh rice noodles, chicken or beef, a salty broth and a sprinkling of herbs. It is a simple delicacy that is cheap, tastes good and can be found easily on the streets of Vietnam.
Even though Pho is served on a lot of streetside stalls all over the country, some notable restaurants in Ho Chi Minh city that serve the dish include Pho 2000 and Pho Hoa Pasteur.
Goi cuon, Vietnam
These spring rolls, which are usually served fresh, are a healthy break from the generally fried Vietnamese cuisine. They normally consist of pork, prawn, very thin rice noodles and are wrapped in Vietnamese rice paper known as banh trang.
This dish is believed to have been introduced to the country by Chinese immigrants but has eventually become one of the most common Vietnamese dishes ordered in restaurants both local and global.
The traditional Goi cuon normally includes pork slices, pork sausage slices, and shrimp. Some Asian restaurants serve them under the names "crystal roll", "salad roll", and "soft rolls."
Bun Bo Nam Bo, Vietnam
This dish is commonly known as beef vermicelli or as beef noodles in the south of Vietnam. It is a simple yet unique dish from the country.
The noodles consist of fresh raw vegetables, fried onions, roasted peanuts, and bean sprouts. Instead of using a complex broth like Pho, a sauce is used in this dish, which consists of fish sauce, sugar, lemon, chili and a unique approach to mixing these ingredients. The various textures of all the ingredients used aren't lost because of the lack of a broth in this dish.
Easily found all over Vietnam, this is an exceptional choice for a great breakfast in the Vietnamese summers.
Banh mi, Vietnam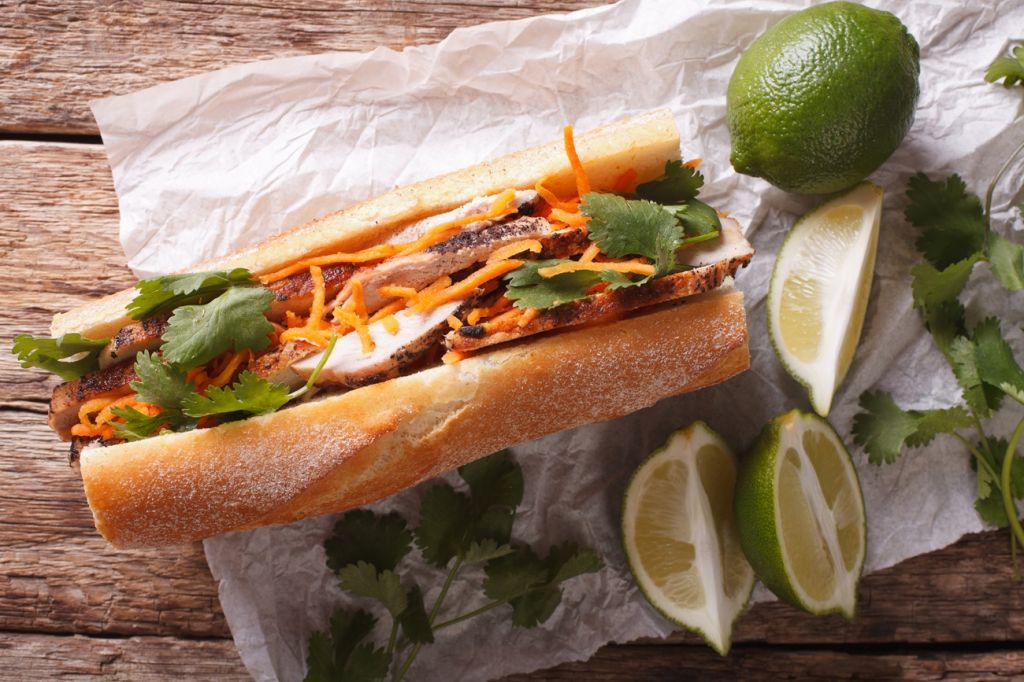 One of the major staple foods of Vietnam, Banh mi is a sandwich in a single serving baguette that is split vertically and filled with a unique fusion of meats and vegetables. Originally introduced to Vietnam when it was part of the French Indochina, Banh mi has become one of the most popular choices for breakfast or for a snack.
Even though it is widely available as a street food in the country, some notable restaurants which serve Banh mi include Banh mi Ba Le and Banh mi Nhu Lan.
Banh xeo, Vietnam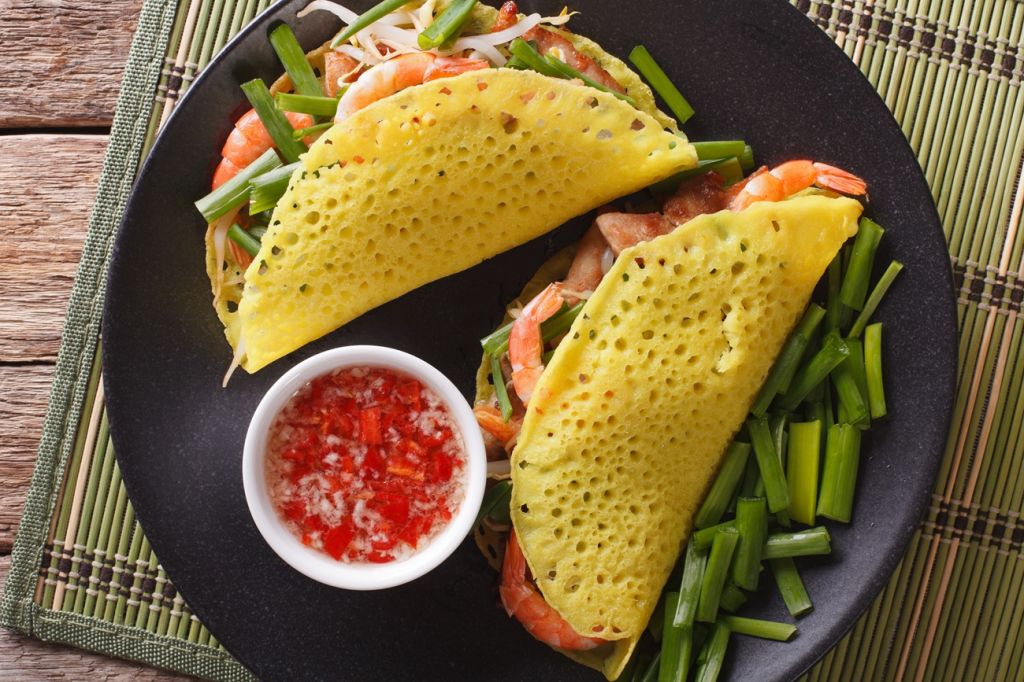 This dish is popular in both Vietnam and Cambodia and is literally named after the sound it makes when it is being cooked. The name of the dish translates to "sizzling pancake", which is based on the sound that is made when the rice batter is poured into the hot skillet.
The fried pancake is made of rice flour, water, and turmeric powder. There can be a variety of stuffings in a Banh xeo, both vegetarian and with meat. A few common stuffings include pork, shrimp, green onion and bean sprouts. It is often served with lettuce and mint.
Bun bo Hue, Vietnam
Bun bo Hue is a famous Vietnamese dish which is a soup containing rice vermicelli and beef. Its name contains its origin in the city of Hue, which is known for the cooking style associated with the royal court. It has a very unique flavor in which lemongrass is predominantly featured.
The dish normally includes thin slices of marinated and boiled beef shank, chunks of oxtail, and pig's knuckles. Fish sauce and shrimp sauce are added to the soup according to taste.
Mi Quang, Vietnam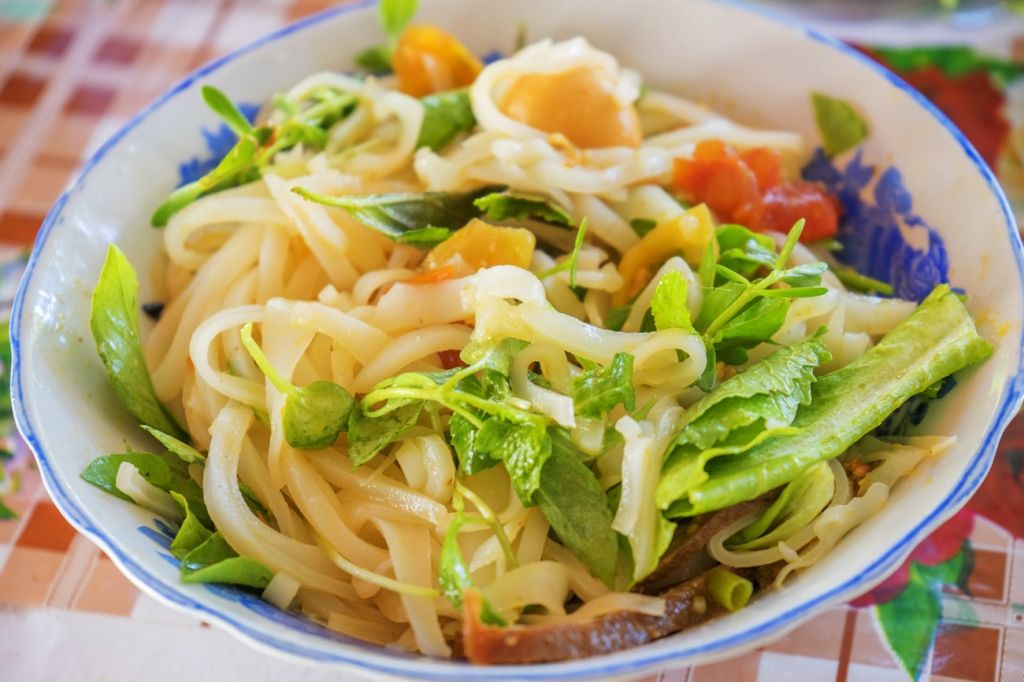 Originating from the Quan Nam Province in central Vietnam, its name literally translates to Quang style noodles. It is one of Vietnam's most recognized dish and is commonly found all over the country as a popular lunch item.
The dish mainly contains rice noodles, meat, and herbs. It is most commonly served with a small amount of broth, which is often infused with turmeric. It also has a considerable influence on Vietnamese culture and not just cuisine.
Xoi, Vietnam
Xoi is a Vietnamese dish made from glutinous rice and other ingredients. More than often this dish is used in a desert setting but in some parts of Vietnam, it is also eaten as the main dish.
There are a number of variations of this dish with vegetarian as well as non-vegetarian options available.