Top Villas to rent in Dubrovnik | Traveler by Unique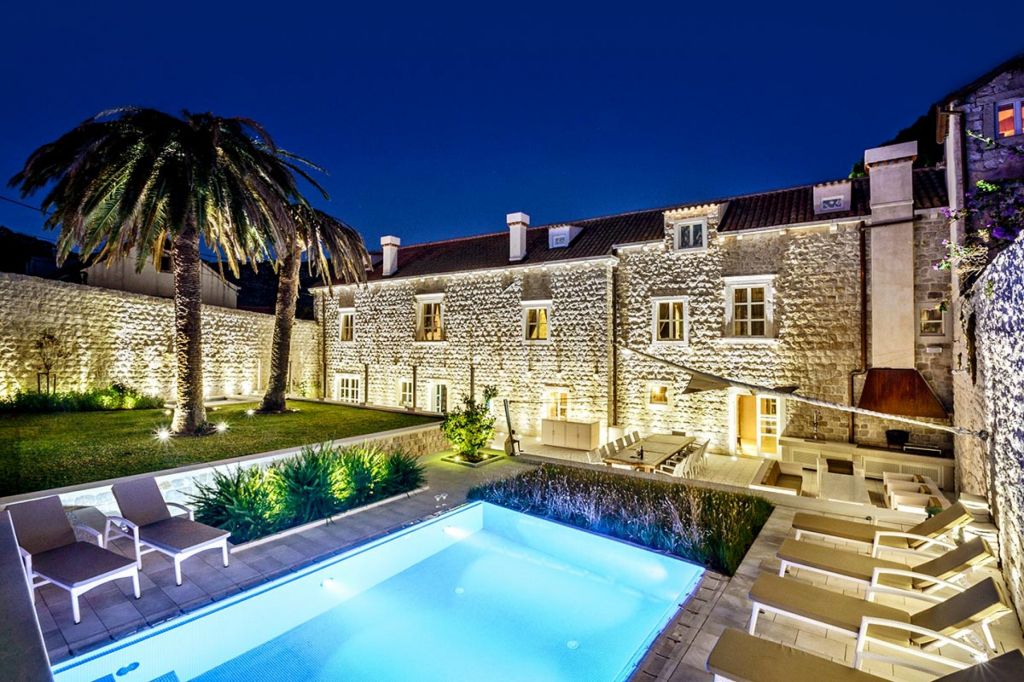 Croatia, Dubrovnik Riviera
14 GU | 6 BD | 8 BA | Private Pool | From €1600/nt
Poised in the picturesque bay of Zaton, just 10 minutes driving from the Pearl of the Adriatic – Dubrovnik, Villa Pugliesi Zaton is an exceptional private luxury retreat with 6 spacious bedrooms, voluminous living spaces and expansive Mediterranean gardens with an outdoor pool and a private chapel. An ideal choice, great for families and groups of friends, this spacious seafront holiday home can host up to 14 guests. Built back in the 15th century, Villa Pugliesi is a sample of Dubrovnik Renaissance architecture and protected Croatian National Heritage. The villa over the centuries hosted many aristocratic families and it took its name from the last family to reside here, in the 19th century.
Book now: villas.byunique.com/villa-pugliesi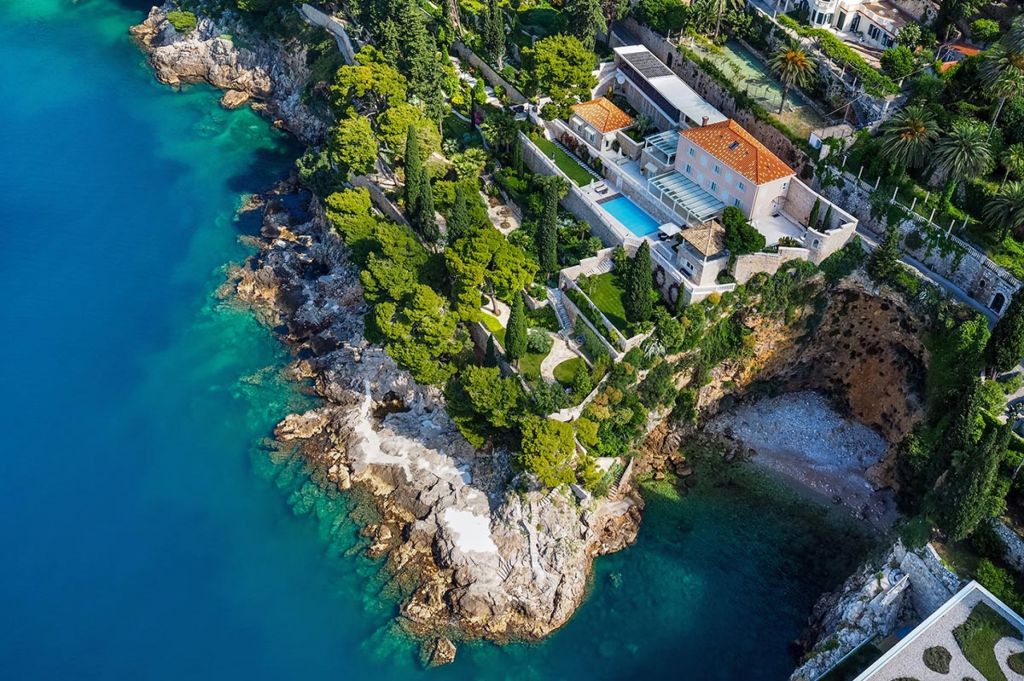 Croatia, Dubrovnik Riviera
14 GU | 6 BD | 7 BA | Private Pool | On Request
Villa Bellavista Dubrovnik is nestled amongst the cliffs, offering expansive spectacular views of the Mediterranean Sea and the old town of Dubrovnik, at a distance of 500m. The property lies on a total area of 8000 square meters.
Villa Bellavista Dubrovnik has preserved its original style and has incorporated all the comforts of modern living. The main building features a wide living room with a spacious dining area, a professional kitchen, and five double bedrooms with bathroom facilities. The kitchen opens on to a covered terrace with barbecue area and dining al fresco. The dependence with private access offers a living area including dining space and kitchen, a double bedroom and private bathroom. Villa Bellavista provides elegant Italian designer furnishing and modern amenities. For relaxation there are excellent sport facilities, a spa room with sauna and steam room, and a wine cellar. The outside area boasts a beautiful pool, with stunning views of the crystalline sea.
Book now: villas.byunique.com/villa-bellavista
Croatia, Dubrovnik Riviera
14 GU | 7 BD | 7 BA | Private Pool | From € 1800/nt
Villa Orti Dubrovnik sits in an elite residential neighborhood of Dubrovnik, only 200 m. away from Dubrovnik Old Town. From your rental villa you can enjoy the magnificent view of Dubrovnik while swimming in the private pool. Villa Orti Dubrovnik can host all types of small groups up to 14 guests, such as families, groups of friends, smaller business groups and private events.
The intriguing and diverse nature of the property features 4 double bedrooms in the master house plus 3 independent accommodation units, a sauna, pool, lounge decks, conference room, garage, professional kitchen and an open-air barbecue. The wonderful wraparound hillside terraced gardens are typical of Dubrovnik.
A cocktail party or a romantic dinner on the terrace with sea view; relaxing yoga exercises outdoors, tranquil moments by the private pool, Villa Orti accommodates it all. Live-in staff will take care of every detail, custom tailored trips exploring the region – you just name it. Villa Orti is all about a variety of great choices.
Book now: villas.byunique.com/villa-orti
Croatia, Dubrovnik Riviera
10 GU | 5 BD | 6 BA | Private Pool | From € 1200/nt
Villa Beba Dubrovnik is a 17th century luxury villa with private pool, located in the most elite residential area of Dubrovnik – Ploče with vistas to the Old Town, the island Lokrum and the beach Banje.
The three-story villa spreads over 300m² boasting multiple terraces, a heated swimming pool, a gourmet kitchen, and a fabulous alfresco kitchen and dining area. Five spacious king bedroom suites with en-suite bathrooms accommodate up to ten people.
On the ground floor there is a sea view light-washed living room, a comfortable dining area, and a fully equipped kitchen.
On the first floor there are three bedrooms, one of which has a walk in closet, a bath tub and opens to a terrace. They all offer an en suite bathroom. Two more master bedrooms are on the second floor with a walk in closet and bathtub.
Villa Beba's rich private exterior features three terraces with a pool and barbeque and lovely Mediterranean style surroundings with native trees and panoramic views.
Book now: villas.byunique.com/villa-beba-dubrovnik-lifestyle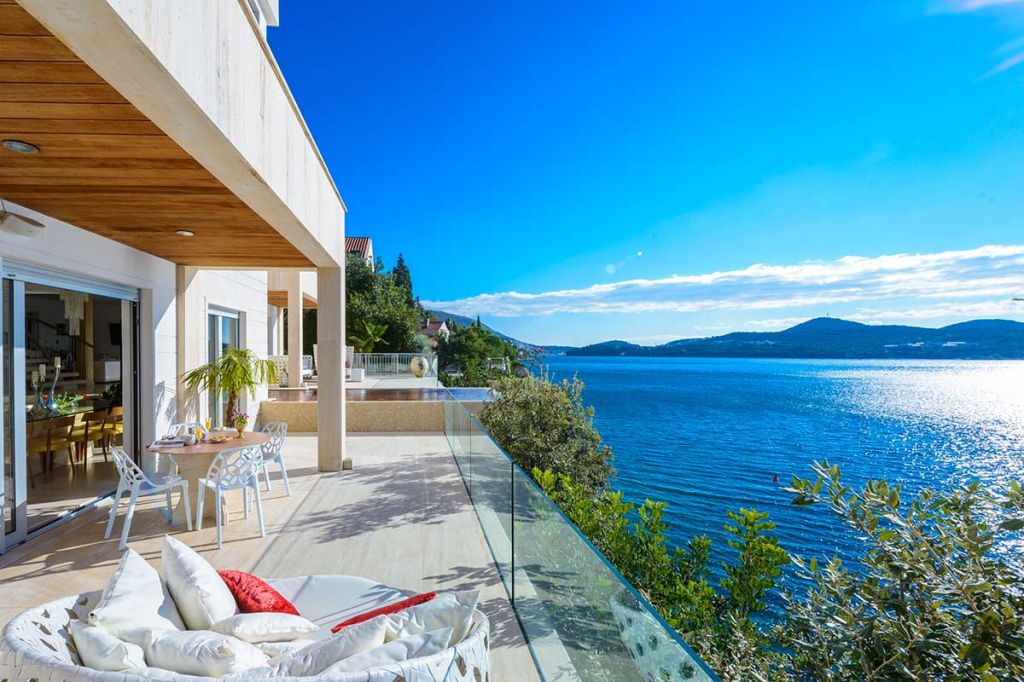 Croatia, Dubrovnik Riviera
12 GU | 5 BD | 5 BA | Private Pool | From € 2200/nt
Villa Casa Del Mare Dubrovnik is a glorious matrimony of comfort and contemporary design, only ten minutes from Dubrovnik Old Town, in Lozaca elite neighborhood.
Its 500 sqm of interiors enjoy plenty of daylight, as well as splendid views of Daksa Island and the Adriatic Sea. Upon entrance to the villa there is an elegant foyer leading to an open-concept space spreading over two levels. Elevated a few steps from the foyer, there is an office with a view. The lower level is an open-flow space comprised of a chic living room and a state-of the art kitchen. Straight out of the living room, expansive terraces with B&B Italian furniture add the final touch of luxury, complemented by the infinity pool! There are 5 double bedrooms in the villa, sleeping ten guests, while two more can be accommodated on pull-out sofa.
Book now: villas.byunique.com/villa-casa-del-mare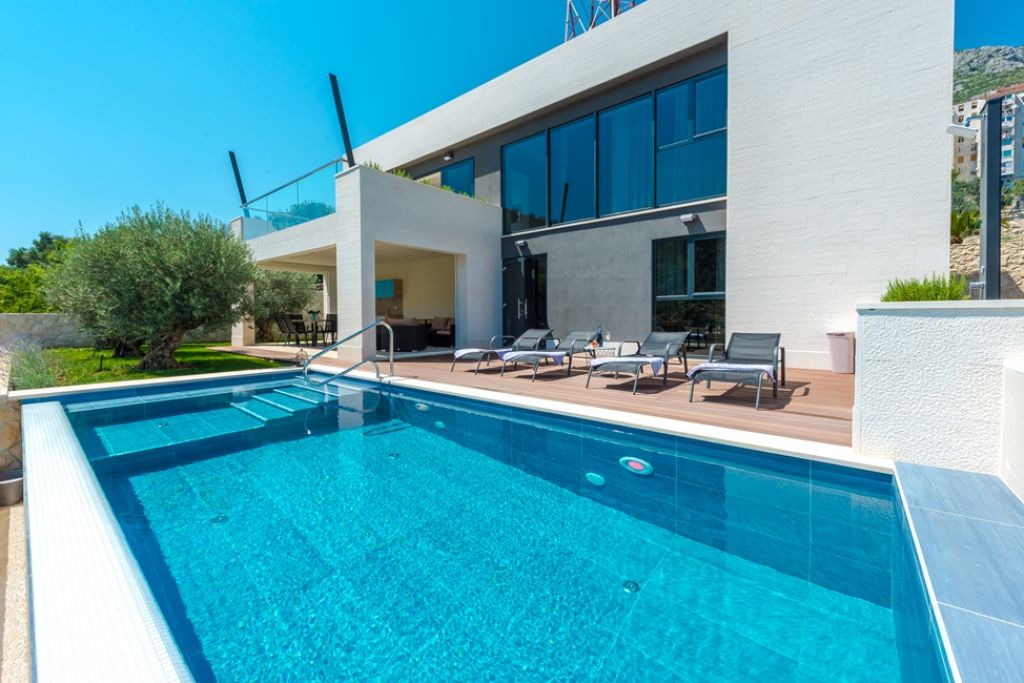 Croatia, Dubrovnik Riviera
10 GU | 5 BD | 6 BA | Private Pool | From € 600/nt
Villa Lu Dubrovnik is a new modern villa with infinity swimming pool located on the emerald seaside, enveloped in a serene ambience in Dubrovnik called Mokošica, where the river Ombla flows into the sea. Soak your feet in the sand at just 10 meters from your villa.
The spacious terrace of your villa opens up to a beautiful sea view and the heated swimming pool. Villa Lu has an idyllic garden with 200 year old olive trees.
Lu Villa's spreads over two floors and 280sqm within a total property of 950sqm, including a parking. On the ground floor there are four spacious bedrooms with minimalistic decoration. On the first floor there is a fully equipped kitchen, a dining room, a sitting room with a lovely terrace and a big bedroom. Each room has its own bathroom. Enjoy a meal in the outdoor summer kitchen. The outdoor area includes a barbecue fireplace and a 26sqm pool to find shelter in a hot summer day.
Book now: villas.byunique.com/villa-lu
Croatia, Dubrovnik Riviera
16 GU | 7 BD | 7 BA | Private Pool | From € 330/nt
Villa Panorama is a truly relaxing corner of the universe with sweeping vistas of the lush green fields of magical Konavle valley in the quaint village of Dubravka.
The villa rental sleeps 12 plus 4 guests in a total of 6 bedrooms across two floors of 240sqm. With an indoor playroom and game area, a heated pool, kids playground, Jacuzzi, sauna and fitness room it caters for every taste and age group.
The highlight is the expansive stone terrace with a heated pool. The interior of the house is split between two levels connected by an external staircase, and each can function as a separate whole. The stairs also conceal a large Jacuzzi for up to 5 persons.
The ground floor consists of three bedrooms, two doubles and a twin, and two bathrooms, one en-suite and the other one shared. The open concept area includes a kitchen with a comfortable lounge, connected to the game room.
The upper floor features three double bedrooms and two bathrooms. The kitchen with an elegant dining area continues onto a lounge. The signature of the upper floor is its rustic indoor barbecue.
Book now: villas.byunique.com/villa-panorama
Croatia, Dubrovnik Riviera
10 GU | 4 BD | 4 BA | Private Pool | From € 420/nt
Villa Bijou Dubrovnik is a modern villa, situated in Lapas Bay, Dubrovnik, only 1km from the Old Town and 300m from pebbled beach.
Villa Bijou is split over 2 levels and it can accommodate up to 8 adults and 2 children in 4 bedrooms with pull out sofas. It includes all modern amenities plus a beautiful terrace, and a spacious balcony.
On the ground floor of Villa Bijou, there are two spacious double bedrooms with en-suite bathrooms, as well as two twin bedrooms, as well as additional room that serves for storage.
On the first floor of Villa Bijou, there is a large open space, where a modern kitchen, dining area with a large living space are found. On this floor, there is a guest toilet and a large terrace leading to a sparkling swimming pool.
Outdoors you can spend a refreshing day at the swimming pool, and enjoy a homemade meal at the barbecue area. Deck chairs and sun umbrellas will ensure relaxing moments under the sun.
Book now: villas.byunique.com/villa-bijou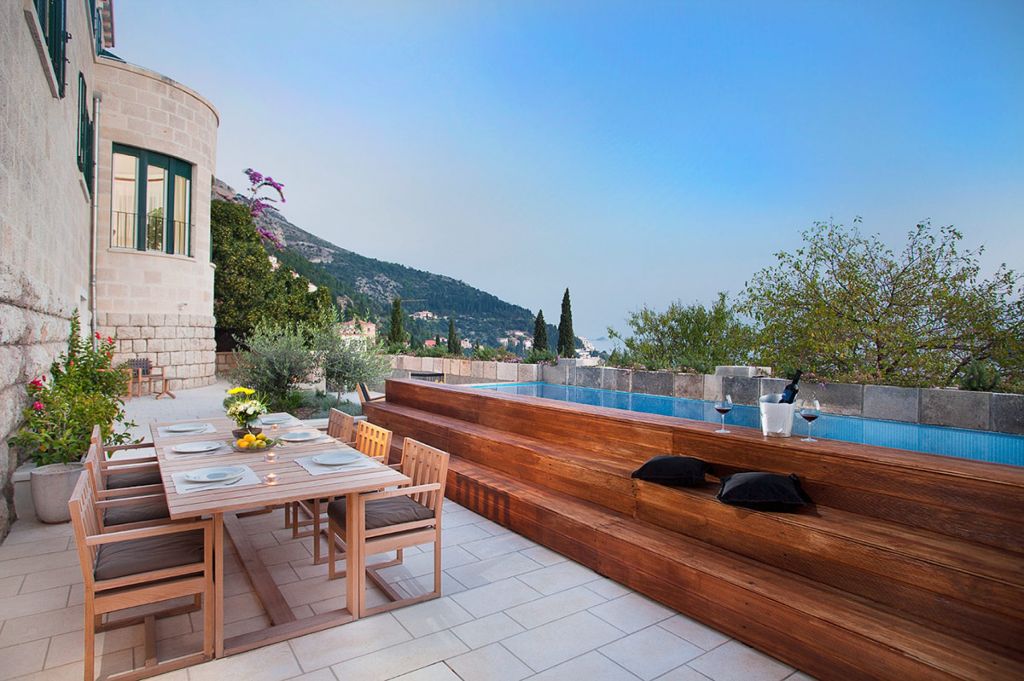 Croatia, Dubrovnik Riviera
12 GU | 6 BD | 7 BA | Private Pool | From € 800/nt
Paulina Villa Dubrovnik is located in Dubrovnik's most elite residential neighborhood within walking distance from the old town of Dubrovnik, overlooking the Adriatic Sea, beautiful island Lokrum. This amazing 500sqm historic house, built in 1938 comprises 5 en-suite bedrooms and 1 bedroom/living room.
Paulina Villa Dubrovnik has three terraces providing signature panoramic views! The main terrace (130sqm) features a swimming pool, the second terrace includes a hot tub and BBQ and offers a spectacular view on island Lokrum. The upper terrace is a peaceful place to relax.
All interior elements of the rental villa are from famous international and Croatian designers; it displays an eclectic mix of Art Deco furniture and Mid – Century modern design; many of the furniture in Villa Paulina is found in world-class museums of contemporary art such as MoMA, NY.
Paulina Villa Dubrovnik also includes the special amenities of floor heating, sauna, library, and wine fridge.
Book now: villas.byunique.com/paulina-villa-dubrovnik
Croatia, Dubrovnik Riviera
8 GU | 4 BD | 4 BA | Private Pool | From € 1200 /nt
Villa Calamota Dubrovnik is a seafront luxury villa rental with 4 bedrooms and private pool, located in Elafiti Island, close to Dubrovnik reachable by speedboat or ferry.
A private pier stone path leads to a freshwater private pool and a lounging area. Villa Calamota spreads over 3 floors; there are 4 double bedrooms, sleeping 8 guests and 4 bathrooms.
On the ground floor of the villa, you will find a gym room and one en-suite double bedroom with a shower.
On the 1st floor, there are two living rooms, one is a TV room and the other is a sitting room with library, both with the latest technology, antique furniture and comfortable sofas. From the sitting room, there is an exit to the garden with breakfast table. A spacious dining room and equipped modern kitchen are also on this floor.
On the 2nd floor, there are 3 bedrooms, balconies and bathrooms. Master Bedroom is en-suite and has 2 terrace exit, one with sea view and one with garden view. The other two bedrooms share a bathroom and one has sea view.