Bazaruto Archipelago is a group of six islands that stretches for 2500 km on the South coast of Mozambique. The cluster of islands is almost untouched, making them almost a mystery. The names of the islands are: Bazaruto, Shell, Benguerra, Magaruque, Banque and Santa Carolina which also goes by the name of Paradise Island. Bazaruto Archipelago is a marine national park, where you will find endless beaches covered in white soft sands, as well as clear warm waters that invite you in to enjoy the beauty below them.
The islands are the home to 1500 locals. The locals living here make a living off of farming sweet potatoes, collecting oysters or fishing. They welcome visitors with big warm smiles as they arrive. You instantly get this at home feeling, even when you've just flown across the world. You will see the locals go about their daily lives starting early in the morning. They carry their supplies in baskets woven from fallen palm branches, and walk by foot to get around. There are just a few big restaurants for visitors to enjoy a night out, including some delicious buffets. You can count on fresh seafood daily wherever you go, as well as freshwater Tilapia which is fished out of one of the fresh water lakes.
There are no big shops or malls, no busy streets and no line up's to get into places. The islands have a laid back atmosphere that makes you just go with the flow. There are lots of activities for people to choose from to make their vacation extra fun. Bazaruto Archipelago is a popular fishing destination. Fly fishing is a great sport to try for beginners and the area to first try fly fishing is ideal, being between the islands there is shallow waters letting you wade out to a perfect depth. In the summer time fly fishing is a perfect time as the fish are hungry and ready to eat! You can fish for mackerel, barracuda and snapper.
If you want to do something a little bit more advanced why not take a charted tour into the open ocean and try your luck at some deep sea fishing? You might even tackle a marlin! Wouldn't that be a story to tell your friends?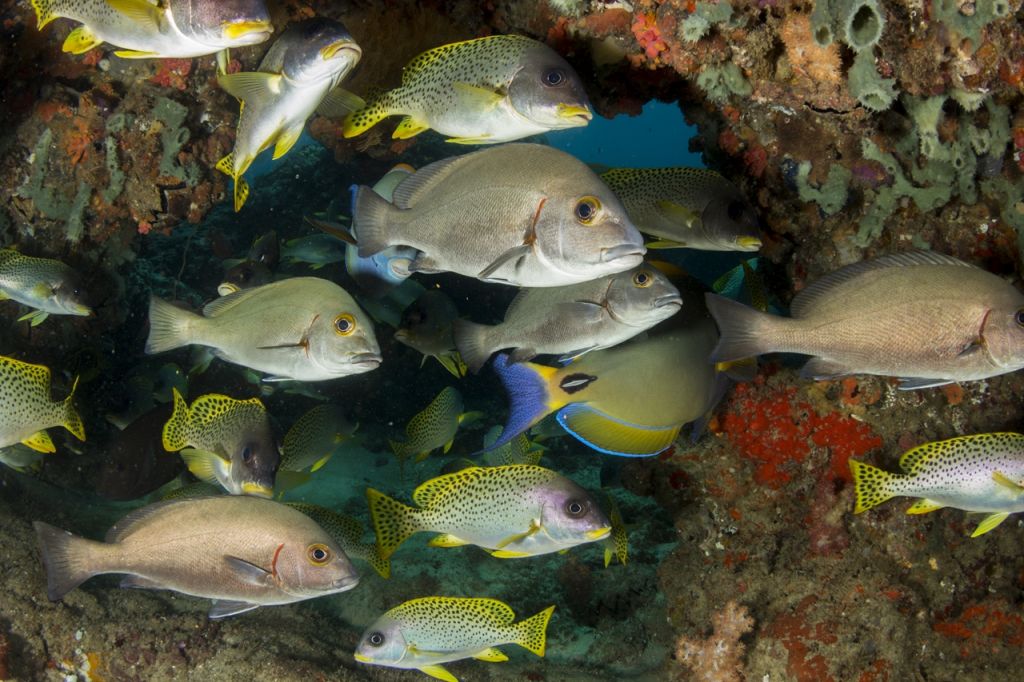 The coral reefs and marine life make snorkeling a go-to choice. The western Indian Ocean is the home to dolphins who you will see jumping out of the water and then splashing down around the snorkeling boats, as well as four different species of turtles. There are over 2000 species of fish including the bright yellow butterfly fish, eels and seahorses. Diving in these waters is only dreamt about by many. The famous Two Mile Reef is a stunning shallow two mile coral reef ,that you will want to make some time for. You can head out there by boat at low tide and once getting in the water you are virtually alone while you explore the wonders of the reef. You will see manta rays, whale sharks and surgeons.
Another magical moment you can sign up for is horseback riding. Horseback riding along the beach and watching the sunset has to be one of the romantic things ever. There are only a handful of horses though so book in advance! After a day out on the water this is the perfect way to wind down. Since there are so many turtles sharing the island you can ask to be taken to where the turtles nest. If it is the right time of year you will get to see the baby turtles hatch out of their eggs and then make the journey to the sea.
Getting out on the water is going to be on your list of things you want to do every day. There are other ways to enjoy the water other than diving, fishing and snorkeling. Paddle boarding is a great way to explore the waters. You can see the tropical fish swimming below you as you navigate your paddle board around. You can also take a sailboat ride across the waters, in between the islands and into the waters to see the turtles and dolphins playing. The air is always filled with birds singing as the sunshine beams down and heats the waters.
There are several freshwater lakes and swamp lands that you can visit to view wildlife living on the islands. You will see fresh water crocodiles, flocks of flamingoes, antelope and many butterflies. Surrounding the lakes are rolling sand dunes that meet with the ocean to give us the sand bars that are fantastic to walk on.
Now that you know that your dream vacation is actually a reality, how excited are you? Take a step out of the norm when planning your next vacation and visit some of the most beautiful beaches the world has to offer.