Top 10 villa in Crete for Autumn | Traveler by Unique
Crete, Chania, Kounoupidiana
12 GU | 5 BD | 5 BA | Private Pool | From €2000/nt
Villa Terra Creta Chania is an elegant and comfortable villa, the epitome of luxury and amenities. It is endowed with a panorama of the town of Chania and stunning views to the sea and mountains, being a close drive to the city. It sleeps 12 guests and includes an infinity heated swimming pool, walk-in closet in the master bedroom and a private plunge pool for endless moments of relaxation. An additional Jacuzzi, a Turkish steam bath as well as a sauna will guarantee a rejuvenating experience and a massage space, as well as a gym, will complete your experience. Villa Terra Creta Chania will cater to all your needs and wishes.
Book now: villas.byunique.com/villa-terra-creta-chania
Crete, Heraklion, Amfithea
8 GU | 4 BD | 4 BA | Private Pool | From €1220/nt
The Mansion Heraklion is a luxury villa rental with 4 bedrooms and private pool as well as an energy fireplace. In a quiet and green environment surrounded by olive and fruit-bearing trees, the villa extends to 470m² of internal space and 2000m² of external space and gardens, with a 15m long outdoor pool and an 18m² indoor heated pool. Its unique design includes elements from neoclassical architecture combined with modern lines. Greek marble, natural oak wood, and glass dominate the spaces. There is an unobstructed view of the Cretan Sea and panoramic view of the city of Heraklion. The Mansion includes a spa and a wellness and fitness relaxation area with a hydromassage pool, a steam bath and a sauna for 4-6 persons as well as fitness equipment to address even its more demanding guests.
Book now: villas.byunique.com/villa-the-mansion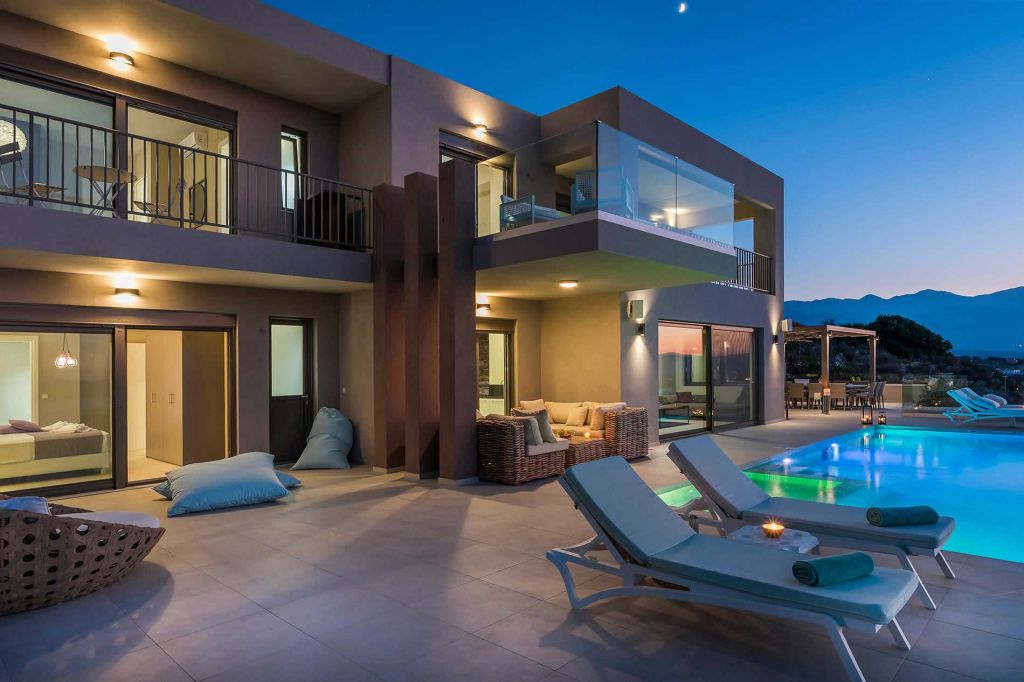 Crete, Chania, Kokkino Chorio
12 GU | 5 BD | 5 BA | Private Pool | From €520/nt
With breathtaking sunset views over the bay of Chania, Villa Karma Chania is a brand new stunning villa and provides the ultimate retreat for relaxation and luxury. Perched high up but just 800 meters from the Cretan coast, it is located in a beautiful area, full of sleepy traditional Greek villages, and just a few minutes away from lovely sandy beaches and hidden coves.
Villa Karma Chania comfortably sleeps up to 12 people and features 5 bedrooms, a cinema/conference room/bedroom, large heated infinity swimming pool and fantastic outdoor dining and BBQ area. It is an excellent choice for your holiday vacations in Crete.
Book now: villas.byunique.com/villa-karma-chania
Crete, Lasithi, Agios Nikolaos
11 GU | 5 BD | 4 BA | Private Pool | From €400/nt
Villa Bellelen Crete is a luxury villa rental with 5 bedrooms and a private pool. The chic and luxurious residence is situated on a privileged spot, on a hillside just outside the beautiful town of Agios Nikolaos. Villa Bellelen Crete can accommodate up to 11 people in 5 bedrooms and offers a range of facilities, modern appliances, and stylish interior areas to ensure a comfortable stay. Villa Bellelen has a 270sqm outdoor area, with a well-kept lawn garden, huge swimming pool, BBQ area, and an outdoor sauna. The living room has a fireplace and the two master bedrooms include walk-in-closets and their own bathrooms with Jacuzzi tubs. Villa Bellelen will ensure a very enjoyable stay in Crete.
Book now: villas.byunique.com/villa-bellelen-crete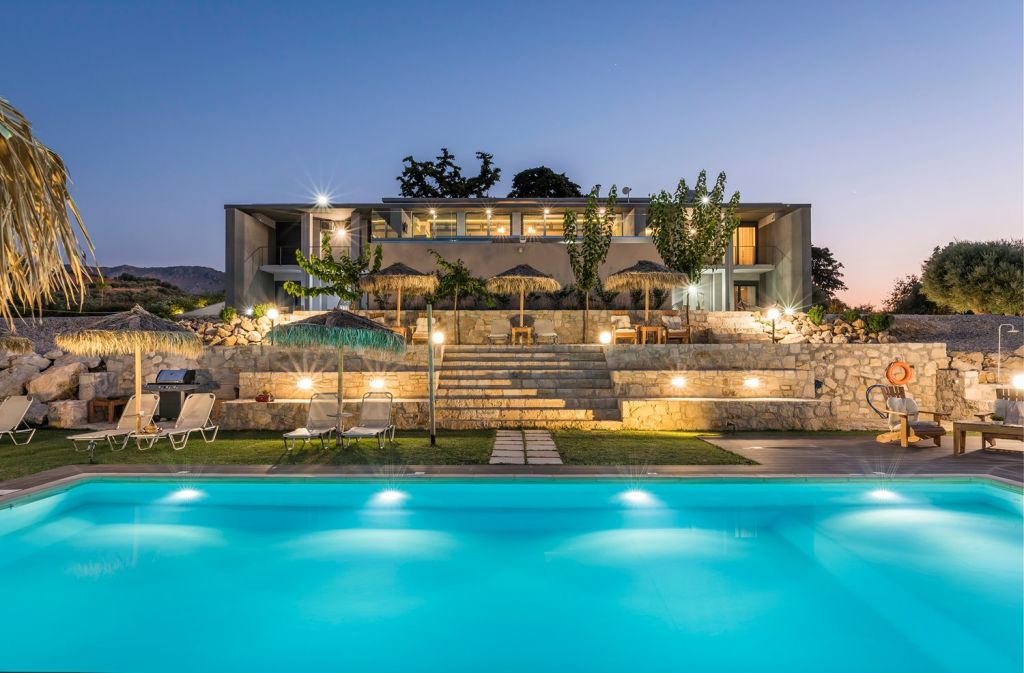 Crete, Chania, Perivolia
14 GU | 7 BD | 4 BA | Private Pool | From €1500/nt
OliveNest Villa Chania is a luxury villa rental with 7 bedrooms and a private pool. Enjoy the ultimate in indulgence and elegance in this family-run exclusive villa. OliveNest Villa Chania offers a private pool with a breathtaking view of the city of Chania. A holiday here showcases the best of Crete, its landscape, natural beauty, service and atmosphere. OliveNest Villa Chania has 7 bedrooms, 4 bathrooms, 3 separate kitchens and all the necessary amenities for up to 14 guests. Modern design, large spaces and high-quality furniture compose the perfect scenery for the perfect holidays! Enjoy complete moments of relaxation by the pool, the outdoor dining area, and the comfy garden sitting area. It is the best choice for families with children or couples, for unforgettable holidays in Crete!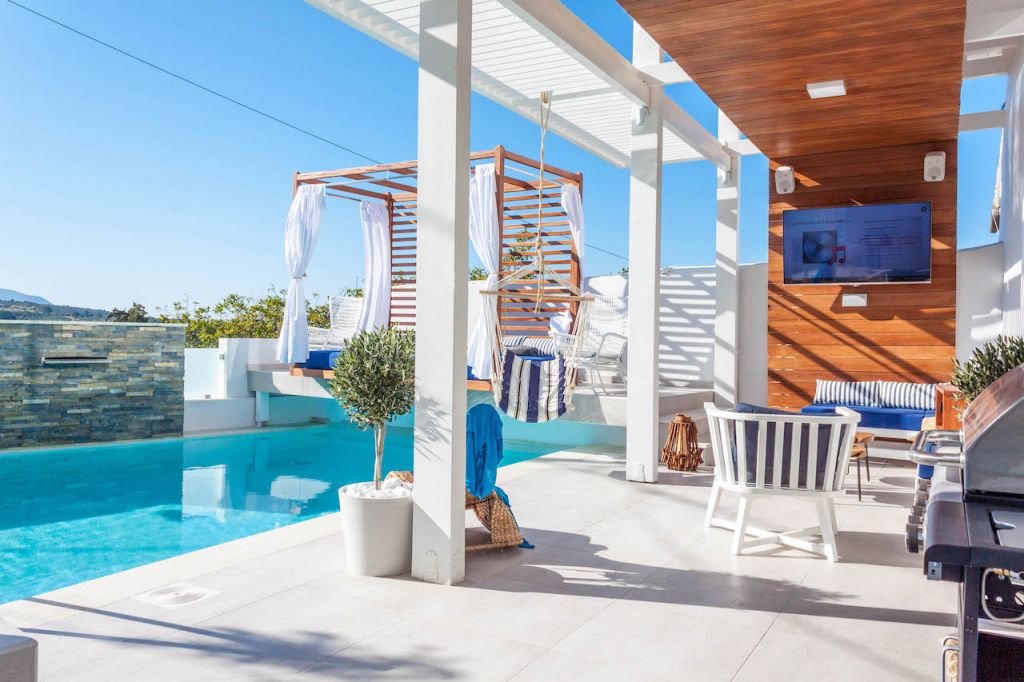 Crete, Chania , Vamos
8 GU | 4 BD | 4 BA | Private Pool | From €200/nt
Nominated as Greece's leading luxury Private Villa at the Worlds Travel Awards, White Lotus Villa Chania will excite you. Modern design and stylish furnishings are harmonically blended with high aesthetics comforts making you feel like home. At its 180sqm of contemporary living space, White Lotus Villa Chania has its own heated pool and high tech equipment. Its four majestic bedrooms can accommodate up to eight guests plus a baby. All bedrooms have ensuite bathrooms, LCD flat screen tv and satellite channels, iPod docking stations, safe boxes, hairdryers, monogrammed bathrobes and slippers, all with the appropriate touch of luxury to make you feel unique. The spacious kitchen is fully equipped with high tech Bosch equipment and a dining area for eight persons don't forget to use the barbecue and dining area for your outdoor meals. Enjoy your stay!
Book now: villas.byunique.com/white-lotus-villa-chania
Crete, Chania, Falasarna
12 GU | 5 BD | 5 BA | Private Pool | From €360/nt
Villa Elpida Chania is a comfortable two-level holiday villa, ideal for families or friends who wish to enjoy an unforgettable stay in the beautiful and tranquil area of Falasarna one of the most renowned beaches of Crete. Villa Elpida Chania has five bedrooms – sleeps 12- four of them with a sea-view balcony. The spacious pool terrace offers a glorious sea view. Prepare yourself tasteful meals in the fully equipped kitchen which includes a large dining room for ten guests and state of the art equipment. All bedrooms in Villa Elpida are ensuite for more privacy, while the corner sofa in the lounge creates a cozy living room area with a flat-screen TV and DVD player. Experience unique moments of relaxation in the private pool with the magnificent waterfall, or just enjoy the sunset on the terrace overlooking the beautiful colors of the sky and sea. Villa Elpida is the optimum choice for your vacation in Crete!
Book now: villas.byunique.com/villa-elpida-chania
Crete, Chania , Chorafakia
10 GU | 4 BD | 5 BA | Private Pool | From €320/nt
Villa Carpos Chania is a luxury villa rental with 4 bedrooms and private pool. This striking residence is located in an olive grove of 5.500 sq. m., giving you a sense of being surrounded by the Cretan nature. Offering total privacy but at the same time being very close to all kinds of shops and daily amenities, as well as being just a short driving distance from the famous, beautiful beaches of Stavros and Kalathas, this property satisfies even the more demanding guests. The layout of Carpos Villa is perfect for big groups or families, as it offers easy indoor-outdoor access. The whole Villa is tastefully decorated in a minimal style, while attention was paid to every detail, aiming to make your every day as easy as possible. The two storey property, covers 240 m2 in total and can accommodate 10 guests in its 4 bedrooms.  The design is a modern take on minimalist lines, characterized by spacious areas that you will love!
Book now: villas.byunique.com/villa-carpos-chania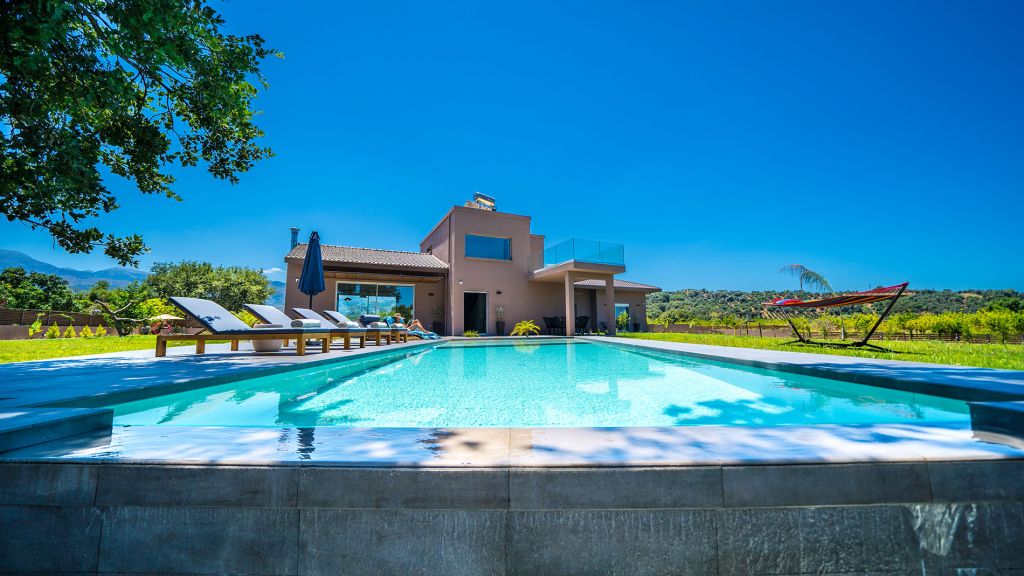 Crete, Chania, Alikianos
9 GU | 4 BD | 3 BA | Private Pool | From €300/nt
Fuerte Villa Chania is an enchanting place, a journey in itself for you and your family. Away from the hustle and bustle of Chania, this will become your secluded paradise. Fuerte Villa Chania has four ample bedrooms which can accommodate up to 10 guests. Its design combines natural materials such as wood in earthy tones with more modern and frugal elements to create utmost harmony and comfort. Its outdoor infinity area with a private heated pool, dotted with trees and flowers and a secure kid's area including a treehouse, a small football court, a trampoline and a slide will add some great memories to your Crete album. Spend some family time around the cozy fireplace. Villa Fuerte will be your home away from home.
Book now: villas.byunique.com/fuerte-villa-chania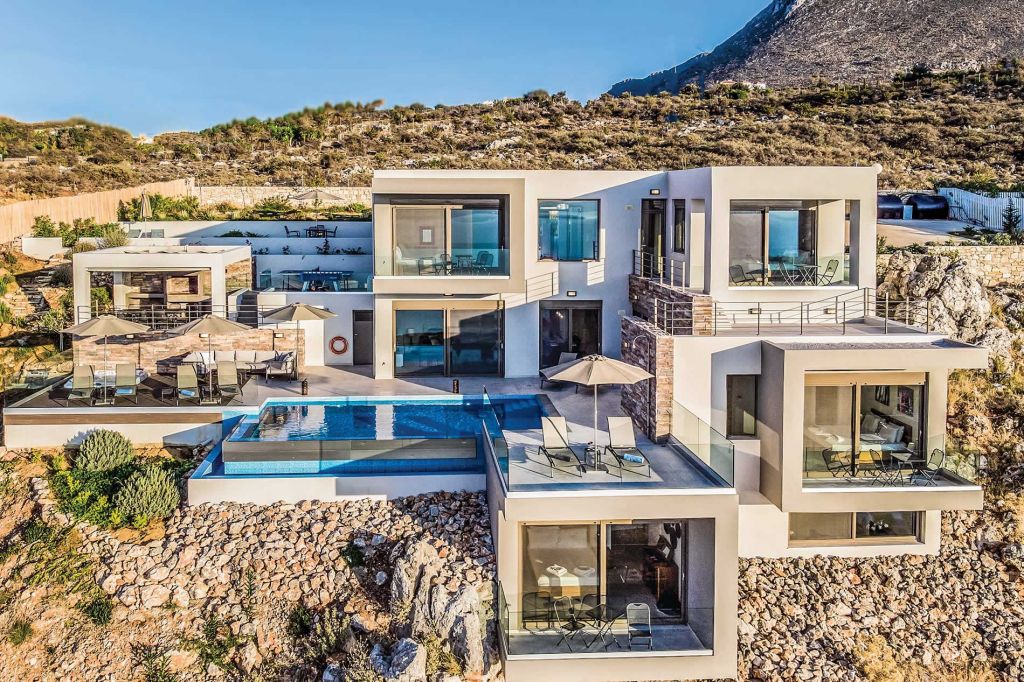 Crete, Chania, Kokkino Chorio
10 GU | 4 BD | 5 BA | Private Pool | From €490/nt
Villa Edge Chania is a stunning, brand new, designer luxury villa, that sleeps up to 10 people and includes a heated infinity pool, free WiFi, a separate hot tub, gym, and indoor and outdoor games area. Villa Edge Chania has 4 main bedrooms, all with en-suite bathrooms and fitted wardrobes. 2 of the bedrooms have king-size double beds with under-lit multicolored LED lighting and 2 twin bedrooms with large single beds. Each of the bedrooms have outstanding views over the sea and all have their own private balconies, en-suite bathrooms with walk-in showers and 2 bedrooms also have private baths. Hairdryers are provided in all bedrooms. There is a playroom/gym with a double sofa bed which can sleep up to 2 people. It houses a flat-screen TV and Playstation with many games built-in, a running machine and a cross-trainer exercise machine. Villa Edge will be a fun experience and a memorable holiday!
Book now: villas.byunique.com/villa-edge-chania