Top villas to rent in Paros Island | Traveler by Unique
In what regards accommodation, travelers who wish to experience an ultra-exclusive and luxurious setting, the Island has numerous villas ready to overcome even the high-end expectations. Here are some of the top villas to rent in Paros, which can pumper your needs and meet your requirements for dreamy holidays.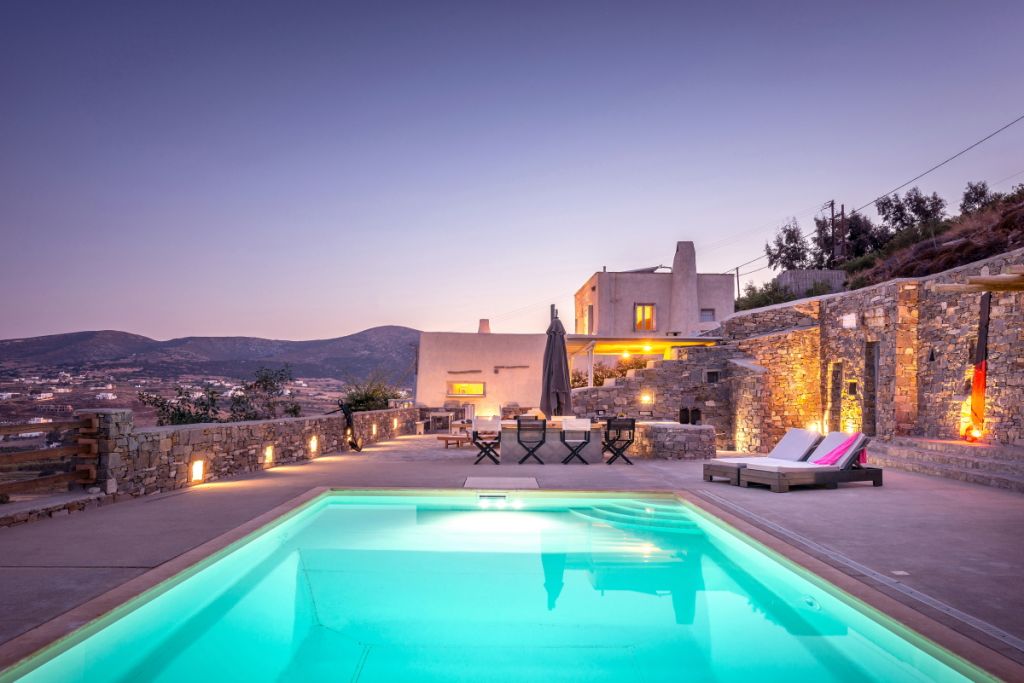 Aegean Islands, Paros, Naousa
12 GU | 6 BD | 6 BA | Private Pool | From: € 900/nt
This six-bedroom estate forms an excellent option that combines a luxurious setting with the necessary privacy. Elxi Villa is located close to Kolybithres beach and close to the ancient site of the Mycenaean Acropolis. The interior is designed to provide the maximum comfort with elegant additions decorating the spacious common areas of the Villa. In what regards the architectural style, Elxi Villa represents a combination of traditional architecture with modern twists enabling a state of the art design. All of the bedrooms, as well as the common areas, offer imposing sea views and allow daylight to enter through the large windows. To provide an ultimate vacationing experience, Elxi Villa features a private swimming pool with outdoor dining spaces.
Book now: villas.byunique.com/elxi-villa-paros
Aegean Islands, Paros, Krotiri
10 GU | 5 BD | 6 BA | Private Pool | From: € 571/nt
In a short distance from the cosmopolitan Parikia, Villa Icarus is an exclusive property that focuses on offering a truly astonishing accommodation experience. Its perfect location protects the property from the summer wind and allows visitors to enjoy breath-taking views. The Villa's main characteristic elements are the wood and the stones, which offer an ample cozy sense throughout. Both, the interior and exterior, were designed to perfectly illustrate the Cycladic sophistication at its best. Villa Icarus has five bedrooms with unsuited bathrooms. Also, the property features an outdoor pool area as well as a private spa with a steam bath, a Jacuzzi and a sauna. Take a deep breath and revitalize your body and soul in this magnificent and ultra-exclusive Villa in Paros.
Book now: villas.byunique.com/villa-icarus-at-mythical-villas-paros
Aegean Islands, Paros, Chrissi Akti
9 GU | 4 BD | 4 BA | Private Pool | From: € 690/nt
Built on a panoramic location to overlook the azure shades of the Aegean Sea, Agnati Villa is a luxurious and exclusive retreat with four bedrooms. Agnati Villa is an ideal option for families or groups of friends due to its charming and cozy atmosphere and due to its proximity from the beach. Representing an example of the characteristic Cycladic architecture, the Villa has three floors and a spacious outdoor area. In what regards the interiors, large common areas and spacious gracefully decorated bedrooms allow maximum relaxation during your stay. An interesting highlight is that the property's common areas are decorated with pieces of contemporary art. The outdoor space targets visitors' entertainment with an infinity pool, an outdoor dining space, hammocks and comfortable sunbeds.
Book now: villas.byunique.com/agnanti-villa-paros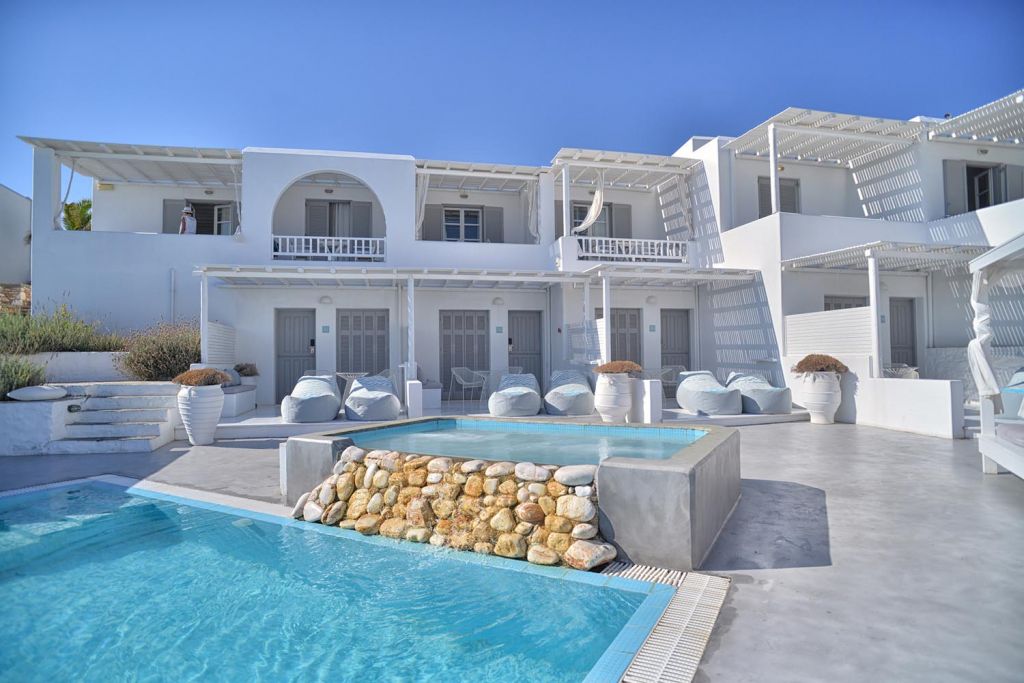 Aegean Islands, Paros, Parasporos
6 GU | 2 BD | 2 BA | Private Pool | From: € 388/nt
As part of the Minois Village Hotel, Grand Villa welcomes travelers to an indescribable journey of relaxation and pleasure. Just a few meters away from Parasporos beach, this elegant, two-storey property is definitely what is needed for luxurious holidays in Paros. Grand Villa features two spacious bedrooms, decorated in such a way to offer a cozy, calm and relaxing experience. The common areas are characterized by minimalism and sophistication as well as from the state of the art technology that overcomes every expectation. The outdoor space features a large garden with a dining area while visitors enjoy imposing sea views. As part of the hotel, visitors of Grand Villa are entitled to use the spa facilities and enjoy relaxing and rejuvenating treatments.
Book now: villas.byunique.com/grand-villa-at-minois-village-paros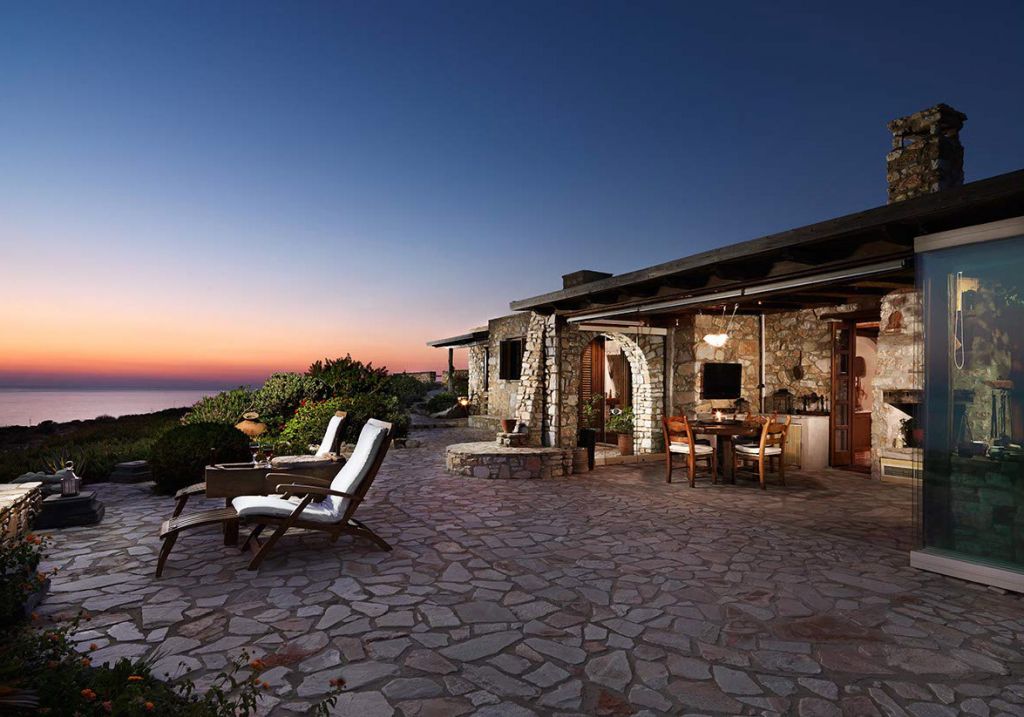 Aegean Islands, Paros, Krotiri
5 GU | 2 BD | 2 BA | Private Pool | From: € 3000/nt
Villa Archilochous redefines luxury and privacy in Paros Island while being able to pumper visitors' needs. The Villa is found on the western part of Paros close to Agios Fokas beach and in a short distance from the cosmopolitan Parikia. With an exceptional sense of privacy, this property lures visitors with its dynamic, yet charming characteristics. The estate has an intense presence of wooden and stone materials throughout and its location allows breathtaking views over the nearby Islands. Villa Archilochus features two bedrooms and a separate, fully autonomous guest house with an additional bedroom. What makes this property to be listed among the top villas to rent in Paros is the imposing outdoor space. A large garden surrounds this property allowing an ample sense of privacy. The outdoor space includes also a private pool, lounges and dining area. Among the most interesting highlights is that visitors can enjoy idyllic and colourful sunsets.