Top villas to rent in Zante | Traveler by Unique
Ionian Islands, Zante, Agios Nikolaos
9 GU | 4 BD | 5 BA | Private Pool | From: €1000/nt
Situated in an estate that covers 4.200m2, Villa Aurora Zante is able to transform your vacations into a truly unique summer experience. The villa itself coves 365m2 and overlooks the azure shades of the Ionian Sea. With four bedrooms spreading across three levels, this residence features a stylish and lavishing interior design targeting the travelers' comfort, relaxation and pleasure. The experience starts before even entering this paradise-like villa, as complementary transfer with a luxurious limousine or van and a welcome drink are offered to visitors. The villa's outdoor space is specially designed to offer the maximum relaxation with an infinity pool and comfortable sunbeds. Within a walking distance, visitors can find several amenities such as restaurants and bars. The village's port is ideal for yacht anchoring and for those who wish to visit the infamous Navagio Beach with a ferry boat.
Book now: villas.byunique.com/villa-aurora-zante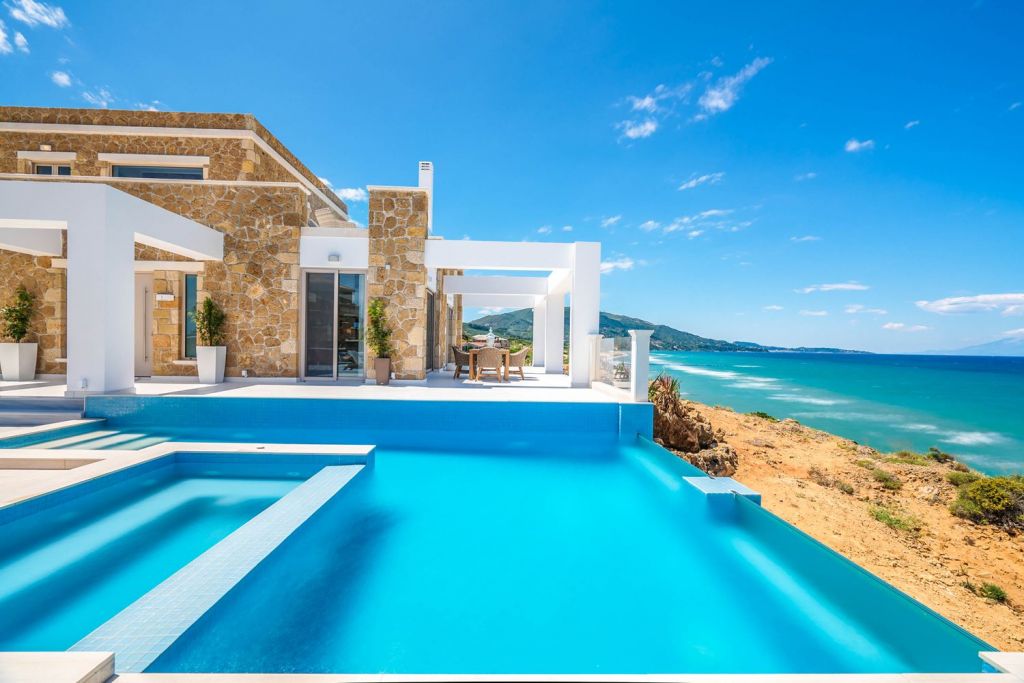 Ionian Islands, Zante, Vasilikos
6 GU | 3 BD | 3 BA | Private Pool | From: €900/nt
Villa Masada can be perfectly described as the state when traditional architectural design meets luxury. This property is all about the graceful timeless elegance with contemporary touches throughout. Within its three bedrooms, Villa Masada ensures comfort, serenity and breath-taking panoramic views, as all of the windows overlook the coastal line. Due to its elevated location, the residence allows ample daylight and warmth to enter within the common areas. One of the top features of Villa Masada is the irresistible combination of privacy and tranquillity, as the residence is surrounded by the beauty of nature in a specially designed outdoor space that includes a private pool. Hearing the waves lapping on the rocks will offer you the ultimate relaxation state in Villa Masada.
Book now: villas.byunique.com/villa-masada-zante
Ionian Islands, Zante, Romiri
10 GU | 5 BD | 4 BA | Private Pool | From: €360/nt
Villa Palazzo Di P is located in the charming village of Romiri and is constructed in a 3000m2 private property. The outdoor area ensures that there will never be a doubt moment during your stay there. Olive and pine trees, as well as vineyards, perfectly create a heavenly-made outdoor space that targets your inner peace and relaxation. The outdoor space includes also a private pool, BBQ facilities and a dining area to enhance your summer experience. Take a deep breath and allow yourself to spend some time in a stone-made residence with arches, marbles and imposing high ceilings. In what regards the interior, the Villa can accommodate and entertain up to 10 guests in extravagant and luxurious bedrooms and common areas. The classic and contemporary furniture allow visitors to enjoy the most lavishing setting that is difficult to be ignored as the property is ranked 5th in the list with the world's high end villas.
Book now: villas.byunique.com/villa-palazzo-di-p-zante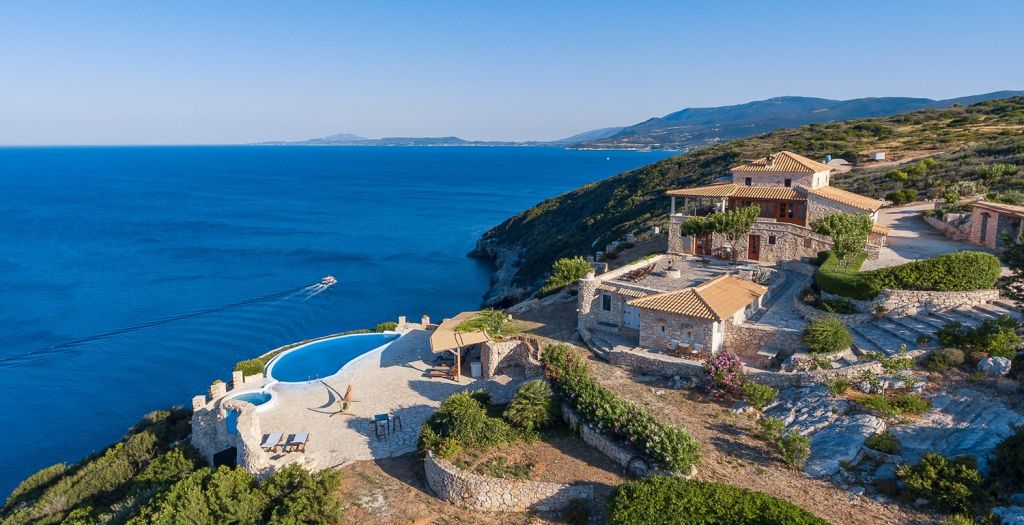 Ionian Islands, Zante, Korithi
9 GU | 4 BD | 4 BA | Private Pool | From: €800/nt
There is a flawless element of traditional Zakynthian style in this exceptionally beautiful property. Deep Blue Villa lures guests with the spectacular panoramic views over the Ionian Sea due to its elevated location, right on a cliff. With four large sea view bedrooms, Deep Blue Villa enables the ultimate rejuvenation and relaxation during your stay there. Tranquillity is perfectly paired with entertainment in the Villa's specially designed outdoor space that includes an infinity pool with hydro-massage, an outdoor dining area and comfortable sunbeds. What makes this property truly unique is that it offers direct access to the beach for a complete and exciting summer experience.
Book now: villas.byunique.com/deep-blue-villa-zante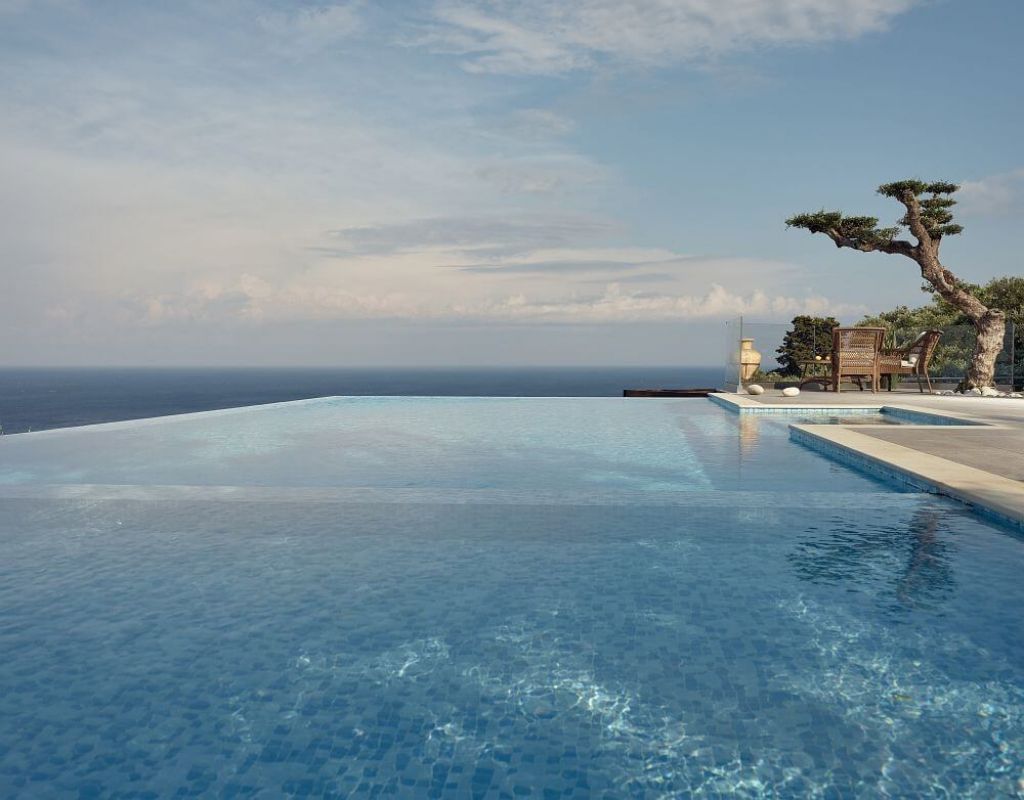 Ionian Islands, Zante, Akrotiri
12 GU | 6 BD | 6 BA | Private Pool | From: €1200/nt
Golden July Luxury Villa is capable of overcoming the expectations of even the most demanding guest. With its classic Venetian style and its elegant interior design, the property offers an upgraded accommodation experience. The Villa has three floors gracefully decorated and can offer 5-star amenities. The outdoor area has a colourful garden full of flowers and trees providing the best possible sense of calmness. Moments of relaxation can be enjoyed in the outdoor Jacuzzi, in the infinity pool or during a therapeutic and rejuvenating massage offered by professionals. For your entertainment, the Villa features outdoor BBQ facilities and a bar.
Book now: villas.byunique.com/golden-july-luxury-villa-zante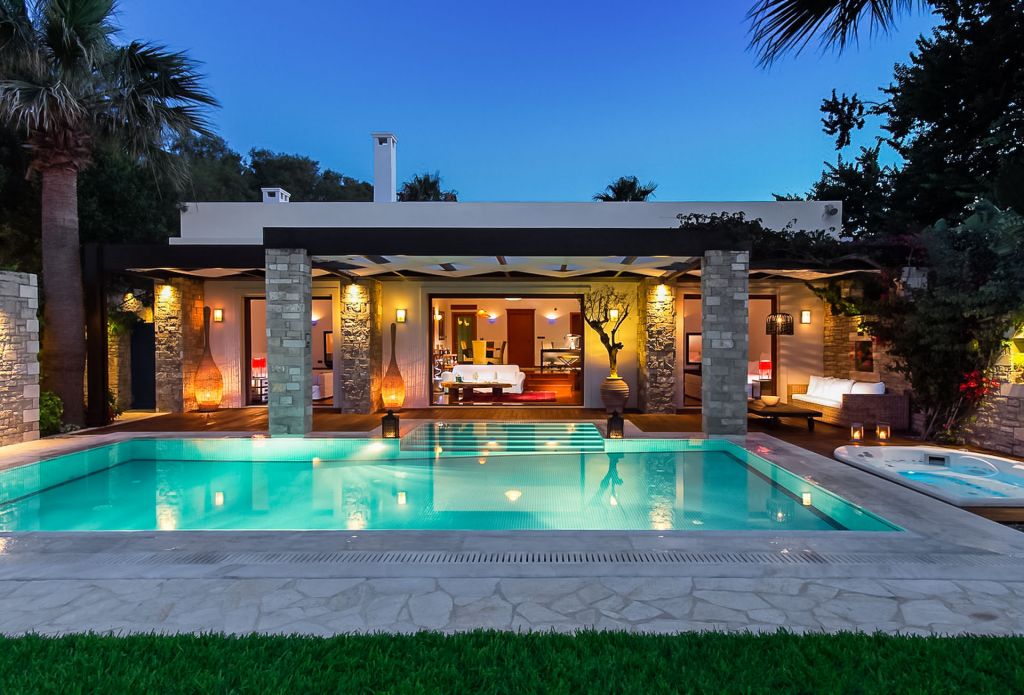 Ionian Islands, Zante, Tragaki
14 GU | 4 BD | 7 BA | Private Pool | From: €10000/nt
In an extraordinary setting consisting of four bedrooms and two heated infinity pools, Imperial Spa Villa is a pole of attraction for those searching to satisfy their high end needs. This beachfront property features an exotic garden and direct access to a private beach. Fully furnished, equipped and decorated with selected designer items, this Villa will take your breath away with its lavishing interior. More precisely, it includes four master bedrooms, seven bathrooms with Dionysian marbles, large common areas and an office that is equipped with state of the art technology. Guests can enjoy outstanding views over Kefalonia Island and admire the beauty and the serenity of the turquoise colour of the Ionian Sea. An interesting highlight is that this Villa hosted several important international personalities such as Presidents and celebrities.
Book now: villas.byunique.com/imperial-spa-villa-at-porto-zante-villas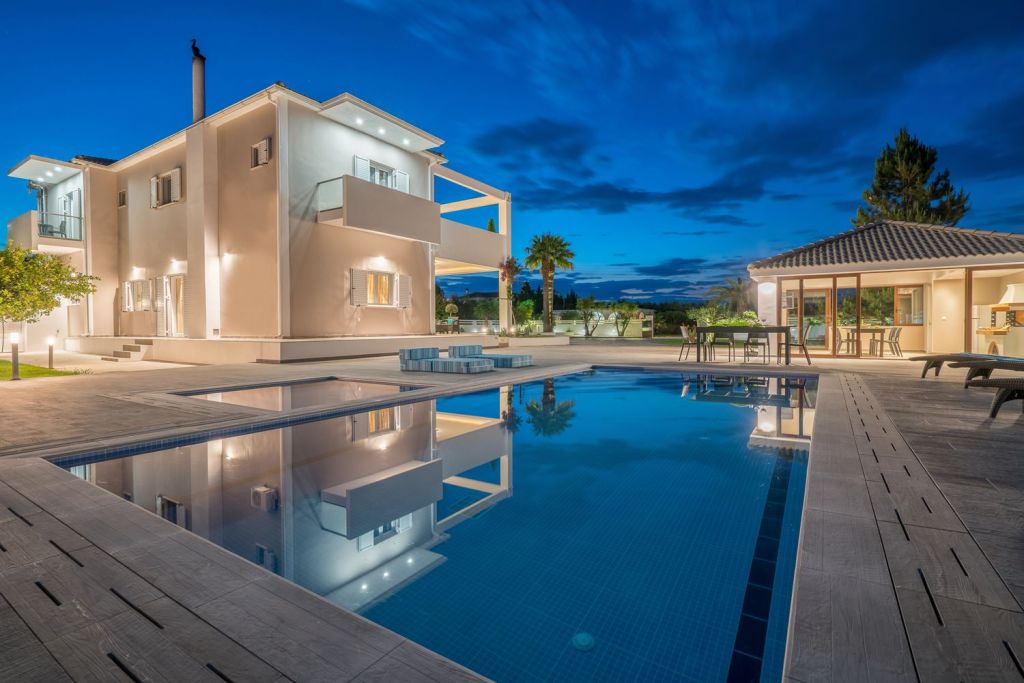 Ionian Islands, Zante, Laganas
12 GU | 5 BD | 3 BA | Private Pool | From: €390/nt
Villa Ostria defines hospitality as a balanced blend of seclusion, elegance and luxury all in one. The property includes five bedrooms that target comfort and relaxations. The common areas are spacious and follow an open plan design that allows visitors to enjoy the most of their stay. With contemporary and timeless decoration, Villa Ostria achieves an outstanding graceful atmosphere. In what regards entertainment, Villa Ostria features two different dining areas capable of accommodating up to 12 guests and a private pool in the outdoor space where visitors can enjoy sunbathing and swimming.
Book now: villas.byunique.com/villa-ostria-zante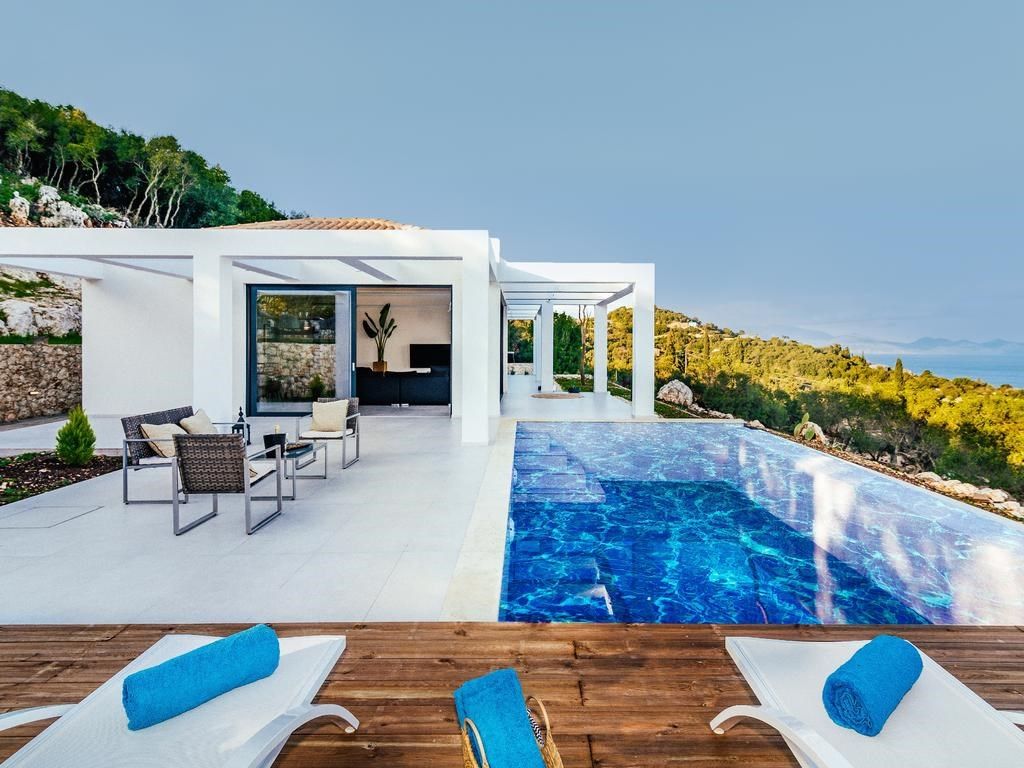 Ionian Islands, Zante, Agios Nikolaos
6 GU | 3 BD | 2 BA | Private Pool | From: €210/nt
Villa Horizon is able to meet even the most high-end needs with its exceptional design, upgraded amenities, and its exclusive atmosphere. The property has three bedrooms that were carefully designed to offer you a truly unique experience and the ultimate comfort. Both, the bedrooms and the common areas allow ample daylight to enter and offer spectacular sea views. Take a deep breath and enjoy the red sun diving into the turquoise Ionian Sea. Villa Horizon features also a glorious outdoor space with a private pool, a garden and a terrace which are ideal for entertainment.
Book now: villas.byunique.com/villa-horizon-zante