The best shops in Mykonos Island | Traveler by Unique
Shops and boutiques can be found almost everywhere in Mykonos. From the narrow streets of Chora to the beach bars, there is never a doubt moment for those who wish to immerse themselves into a never-ending shopping experience in a Greek Island. As in every other Greek Island, Chora is constructed in a confusing way, with narrow streets intersecting in every possible way. Getting lost can be really easy, but getting lost there can also be seen as a first class opportunity to shop! When shopping in Mykonos, there is a small tricky detail that visitors should know. There are no street names or any street sign therefore, finding a particular shop may be difficult.
In general, Chora is considered as the must destination for shopping. Visitors can discover charming boutiques, ultra-exclusive international brands, galleries with interesting exhibits and many other shops of all kinds. However, except for Chora, and as mentioned earlier, shops can be found almost everywhere in Mykonos. For those who are searching for the best shops in the Island, below there are some top picks that are able to satisfy even the most demanding customer.
Bazaar at Scorpios
This bazaar is hosted in Scorpios beach bar and can be characterized as a celebration of minimalism, style and elegance. The collection includes some of the most artfully produced hats, clothes and accessories. It has to be noted that all of the shop's items are specially designed for the beach bar as a private label by the textile brand Caravana and its founder Jacopo Janniello. Customers can enjoy ultra-chic shopping experience with some stunning fine jewelleries that include among others, Le Pic's Porcupine pendants and healing stones from VK Lillie. Scorpios has managed to provide customers with an exclusive and stylish environment that is ideal not only for entertainment but also for shopping.
Dew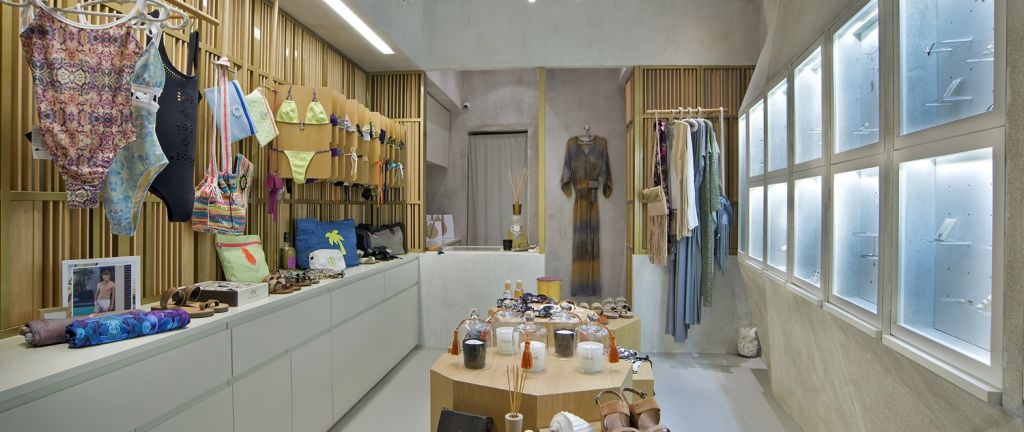 This little charming shop is a new hidden gem of the white-washed narrow streets of Chora, in Down Town Mykonos. To enter this fairy-tale like shop, one should first pass through a minimal white wall that is decorated with fragrant Greek candles. As the design suggests, this aisle is like walking into a wardrobe. The collection that is presented in Dew is all about the summer holidays. From handbags, handmade embellished dresses, elegant espadrilles, swimwear and jewellery, this tiny shopping heaven ensures a lavish, elegant and stylish summer look. The shop features some of the most exclusive Korean, Indian, Spanish and Greek designers.
Luisa at Nammos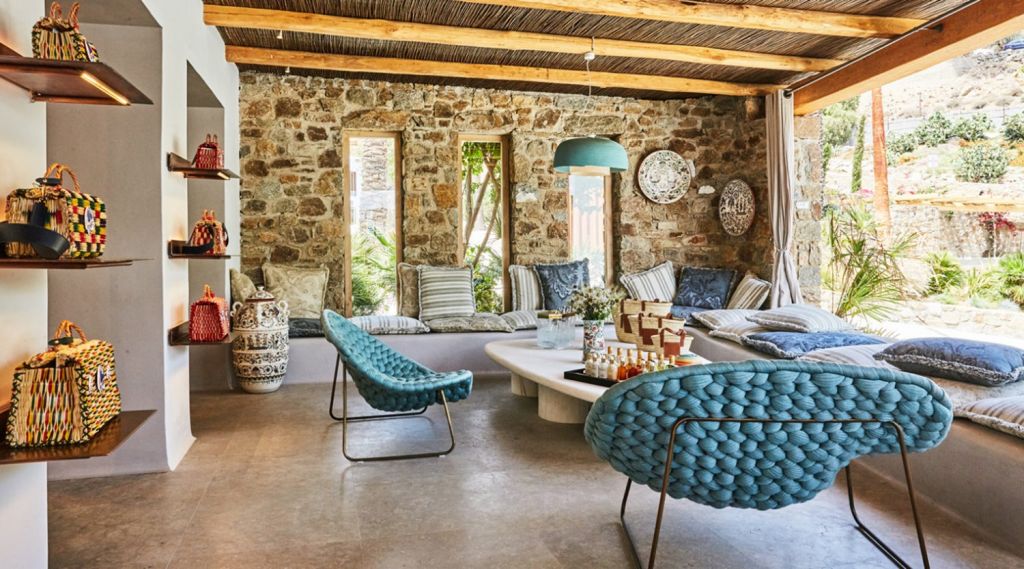 Shopping at Luisa at Nammos can be a once in a lifetime experience! This boutique is located right in the heart of one of the most famous beach bars around the world, Nammos. The boutique offers the opportunity to its clients to shop until late hours with upbeat music. There is definitely not a doubt that shopping will be not only exclusive but also extra fun! Among its collection, Luisa at Nammos offers some of the most recognizable and well-reputable international brands. Among others, clients can find Celine, Saint Laurent, Vetements and Isabel Marant. Music, fine cocktails, tailor-made customer service and a world full of luxury is what Luisa at Nammos has to offer.
Amnesia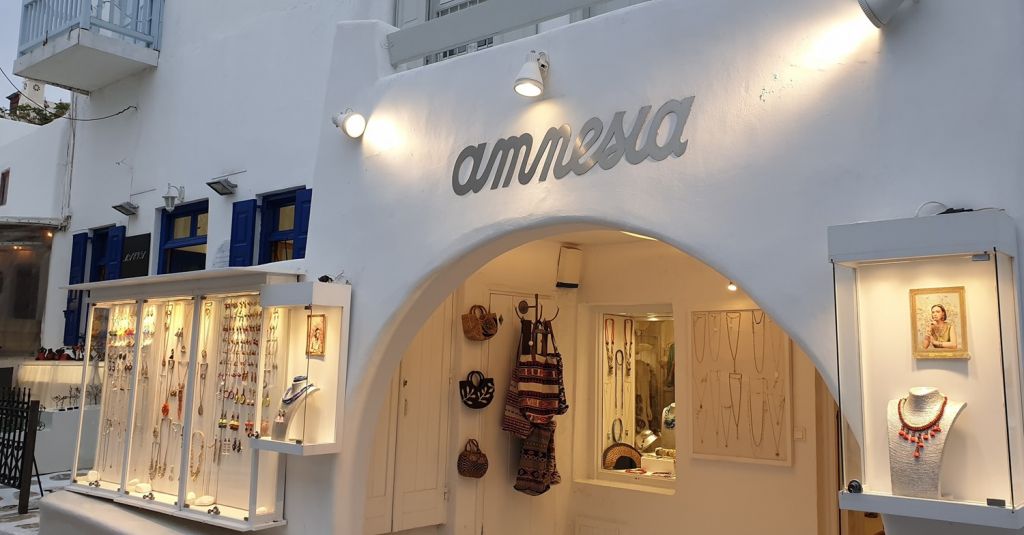 Amnesia shop is situated in the town of Mykonos and captures visitors' attention due to its elegant exterior design. Outside the shop, there are decorative handmade hats while the inside looks like a little whitewashed cave. Amnesia offers a vast variety of summer-ish items such as beach baskets, jewelleries and of course the infamous handmade Greek sandals. An interesting highlight is that the store offers the opportunity to customize your items with charms, pom-poms, ribbons and designs. This charming store can transform your shopping experience into a private, exclusive and stylish adventure that you will remember forever, unlike to what its name suggests!
Freeshop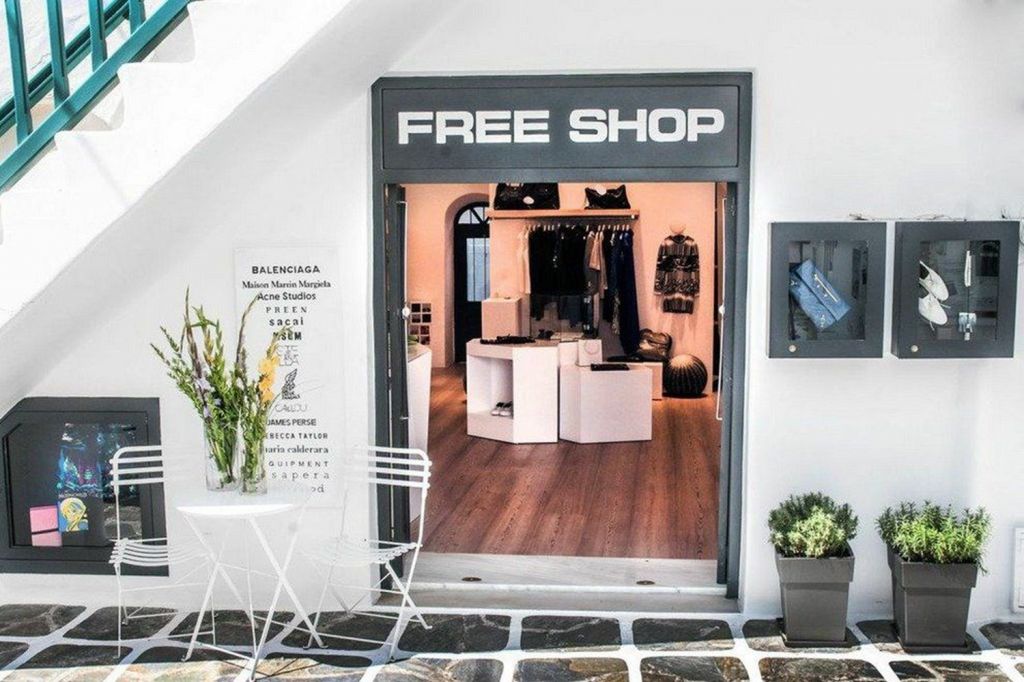 Freeshop is one of those shops that nobody wants to miss while shopping in Mykonos. The shop consists of two small shops; one is dedicated to men and the other one to women. Freeshop is the place to be for the Balenciaga lovers and this is illustrated into the staff clothes which are screaming that there are plenty of Balenciaga options. The collection also includes an interesting variety of Greek, European and International designers. Clients of Freeshop can enjoy shopping ceramic candles, sunglasses, headpieces, hats and many other elegant and fashionable items of all kinds.
Liontis
Looking for the old time classics Greek leather sandals? Liontis is a family-run business operating since 1956 and focuses exclusively on producing the best quality of leather sandals. Either for men, women or children Liontis has everything you are looking for. An interesting highlight is that the smell of leather is easily recognizable even from a distance. Therefore, this shop is the ideal one for those who know the true value and recognize the quality of a pair of leather sandals.