The best beaches in the Ionian Islands | Traveler by Unique
Zakynthos Shipwreck or Navagio Bay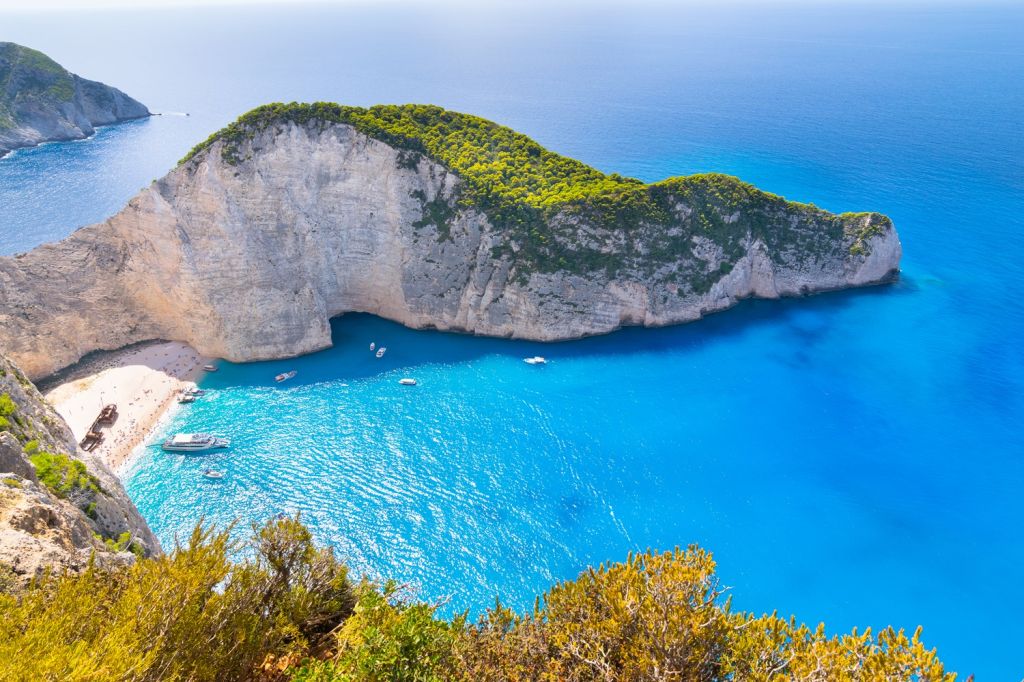 Located on the west side of Zakynthos Island, Navagio Bay is definitely one of the most photographed beaches and is listed among the best of its kind in Greece. This particular location used to be called the beach of Agios Georgios. However, due to a shipwreck that took place in the bay in 1983, the beach was renamed. Indeed, visitors can actually see the shipwreck as it can be found on the sandy terrain and can be characterized as a ship that emerges from the sand.
Except for the imposing shipwrecks, this particular beach is known for its pure beauty. The bay is surrounded by imposing white-washed mountains with cliffs which are ideal for those who wish to enjoy romantic panoramic views. The turquoise waters are ideal for swimming, while the whitewashed mountains offer exceptionally beautiful white sand which is ideal for those visitors who wish to enjoy the Greek sun. It has to be noted that, those who wish to visit Navagio Beach, should do it via the sea, as there is no other access. Small boats can transfer you from Porto Vromi to Navagio Beach every one hour.
In presenting the best beaches in the Ionian Islands, one should take into consideration the astonishing Myrtos Beach in Kefalonia. This beautiful beach has long been a spot of attraction for both, visitors and locals due to the absolutely spectacular backdrop that offers and of course due to the magnificent waters of the beach. Myrtos is located just 30km away from Argostoli and is surrounded by imposing hills which offer a unique majestic feeling throughout.
It is not a coincidence that Myrtos Beach received multiple awards due to its clean waters and outstanding beauty. Visitors once there are able to observe a beach of semi-circular shape which is surrounded by cliffs of lush vegetation. The greenery of the cliffs is what makes this beach an exotic spot ideal for enjoyable and pleasurable swimming and relaxing sessions.
Those who wish can enjoy sunbathing on the white-washed pebbles. Alternatively, the beach is organized at its greater part with comfortable sunbeds and umbrellas, where visitors can enjoy the most of their experience at this famous beach. In addition, dining options and mouth-watering cocktails are available there. An interesting highlight is that Myrtos is strongly recommended for sunsets. Therefore, Myrthos is chosen by a lot of couples who wish to enjoy a romantic and spectacular sunset.
Located just 45km away from Lefkada's capital, Porto Katsiki is definitely a must-visit beach. In fact, the beach is ideal for those who admire the beauty of nature and for those who wish to swim into magnificent crystal clear waters. In the surrounding area, visitors can observe huge white-washed cliffs which are in absolute conjunction with the deep blue colour of the sea. In the surrounding area, visitors can also observe lush vegetation which transforms the beach into an irresistible and charming spot.
The beach is fully organized with all the amenities that visitors might need. Luxurious and comfortable sunbeds with umbrellas can be found in the beach so as to offer you a sense of comfort and relaxation. Porto Katsiki can be accessed via car or via the sea. Once you are there, you may be impressed by the number of yachts that choose Porto Katsiki to be one of its swimming stops. Bars and dining options can be found on the top of the stairs that lead towards the road.
This long sandy beach is one of the best and one of the most popular options is Lefkada. Egremni is characterized by an exotic wild natural beauty as it is surrounded by cliffs that provide the necessary privacy for the visitors. The beach is organized on its greater part with sunbeds and umbrellas for the visitors who wish to enjoy a more comfortable and pleasurable time there. Alternatively, Egremni Beach features also some spots for those who wish to just sunbath on the golden sand and enjoy a more private experience.
Visitors of Egremni Beach can enrich their experience in one of the beach bars that can be found there. The beach bars offer excellent dining options as well as refreshing drinks and cocktails. In order to reach the beach, visitors should go down towards 325 steps, but the experience is totally worthy as the steps offer majestic panoramic views and upon arrival the scenery is outstanding.
Agios Gordios Corfu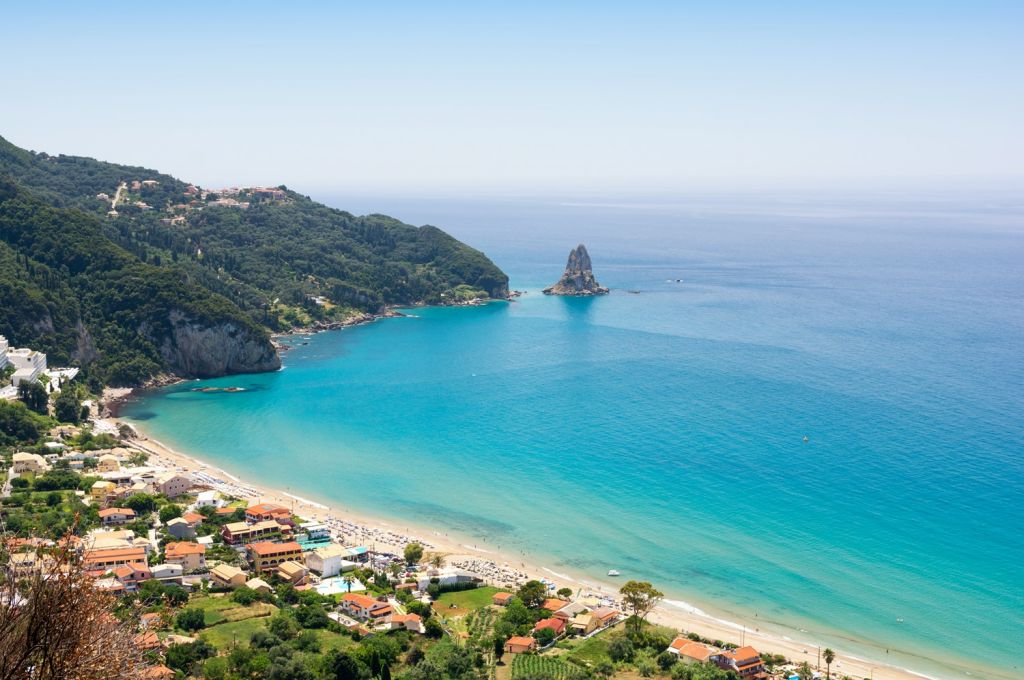 This beautiful beach includes one of the most interesting features that visitors will observe upon arrival. In fact, Agios Gordios Beach took its name from the church that can be found right at the centre of the beach, on the sea. Agios Gordios is a cove which is surrounded by olive trees, vineyards and rocky formations. As an organized beach, visitors can find multiple options depending on their needs. From beach bars to sunbeds and umbrellas Agios Gordios has everything that a visitor needs. This beach is a preferable option for families with children as the waters are clear and ideal for swimming. For those who wish to experience some adrenaline boosts, water sports can be found there for both, adults and children.